During the summer, I was asked to test the Can-Am Defender HD10 Limited in the Bas Saint Laurent.
Honestly, before this test drive, I had never taken the time to look at "utility/work" side-by-sides.
Why have I never been interested in utility vehicles?
First, because the only "land" I own is my 25 square feet of grass between my garage and my patio door… (You don't have to be a Mensa member to understand that it certainly doesn't justify the purchase of a $32,000 side-by-side).
Secondly, I've always found utility vehicles to be less attractive than sporty machines.
Plus, every time I see a utility vehicle, I can't help it, I get the image of a tiny 3-person bus with a box in the back…when what I'm really looking for is the feeling of being invincible behind the wheel of my woodland tank.
That's why I decided to compare the Defender HD10 Limited with none other than a US Army M1A2 Abrams Tank!
(We'll finally know for sure who's taking the top honors).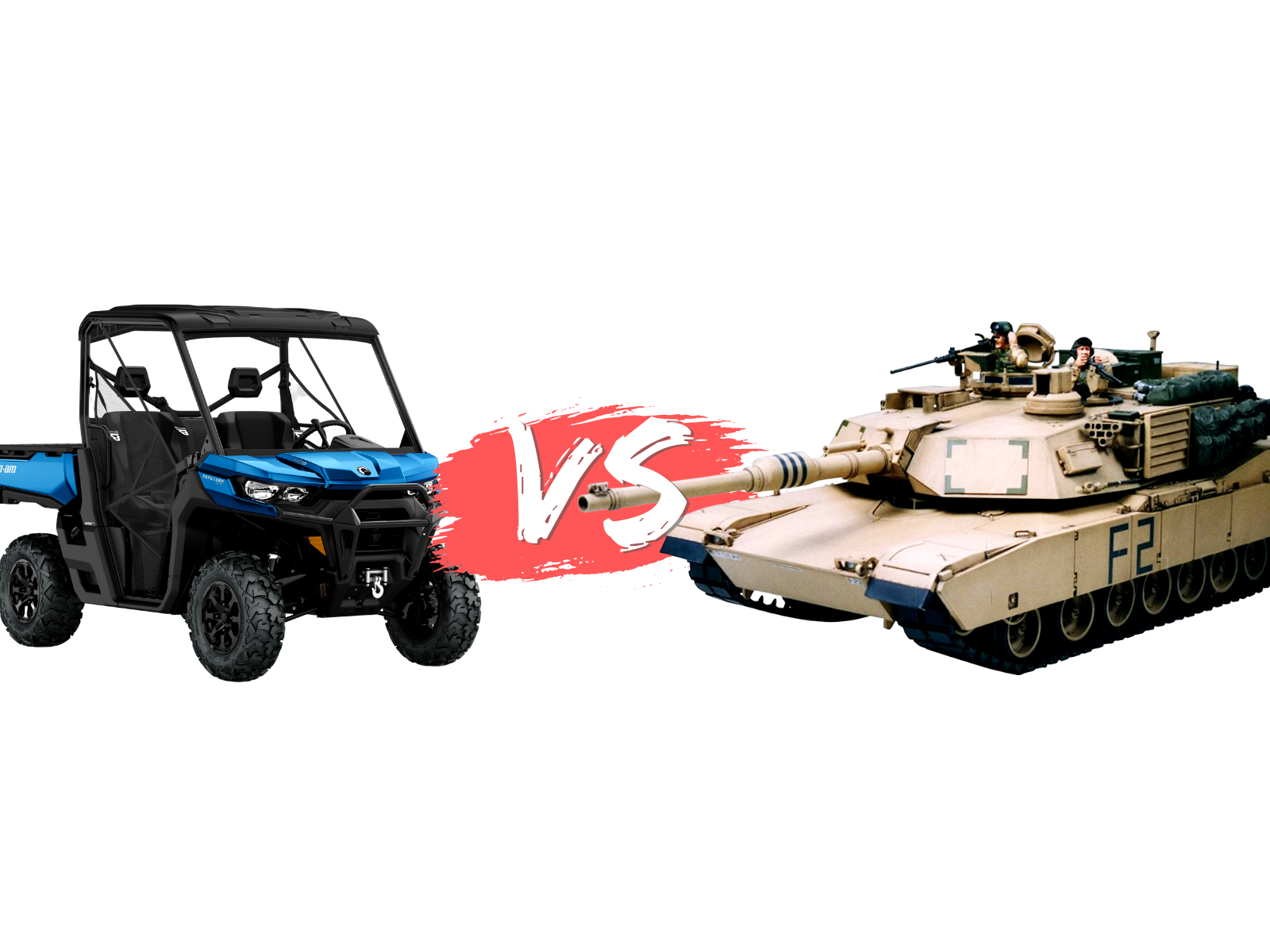 On the engine side
The Defender HD10 Limited has a powerful 976 cc engine that develops 82 horsepower. It's equipped with an intelligent throttle (iTC™) with electronic fuel injection (EFI).
Honestly, it's perfect for power. Both in terms of acceleration and for work.
The vehicle has no problem keeping pace on well-groomed trails. And when you want to work with it, it's also a charm. It can be 2 x 4 or 4 x 4 with Visco-Lok self-locking front differential.
On the Abrams M1A2 tank side, there's a slightly more powerful engine with a microscopic Honeywell AGT gas turbine engine.
This cute little engine without piston, develops a meager 1500 hp of power. This makes it 18 times more powerful than the HD10…
Well, okay, maybe this point is won by the tank… but the battle just started.
Accessories
The Defender is so complete that it turns heads. With its solid, sealed doors equipped with power windows, its glass windshield with wipers, its air conditioning and its bumper with winch, the HD10 limited is simply complete.
You really have to sit in it to understand how much is there!
Of course, the M1A2 tank has a few little accessories as well. Among other things, it has a 5 meter long smoothbore tank gun that can destroy targets from 3000 meters away.
Sure, it's a nice accessory, a gun weighing 7,000 pounds by itself and able to destroy everything in its path, but I have a feeling that it won't be very useful on your field…
So I give the advantage to the Defender HD10 here.
Consumption
You may already have an idea of who wins this round, but here is my opinion anyway.
The HD10 surprised me with its low fuel consumption. For an engine of this power, it's remarkable how little it consumes.
Of course, when you use the 4×4 to go in the mud or to pull heavy loads, it has a lot to do with fuel economy.
Still, it's much more fuel efficient than a tank…
The Abrams M1A2 consumes 30 liters of jet fuel only at startup. Then, it consumes a meager 3 liters every 6 minutes while stationary.
And even once on the road with its oversized 1909 liters tank, the M1A2 has a ridiculous range of 425 km on the road and only 200km on rough terrain.
Interestingly, it can run on 7 different types of fuel!
With these completely stupid numbers that hurt my little planet, I have no choice but to give the point to the Defender HD10 Limited once again.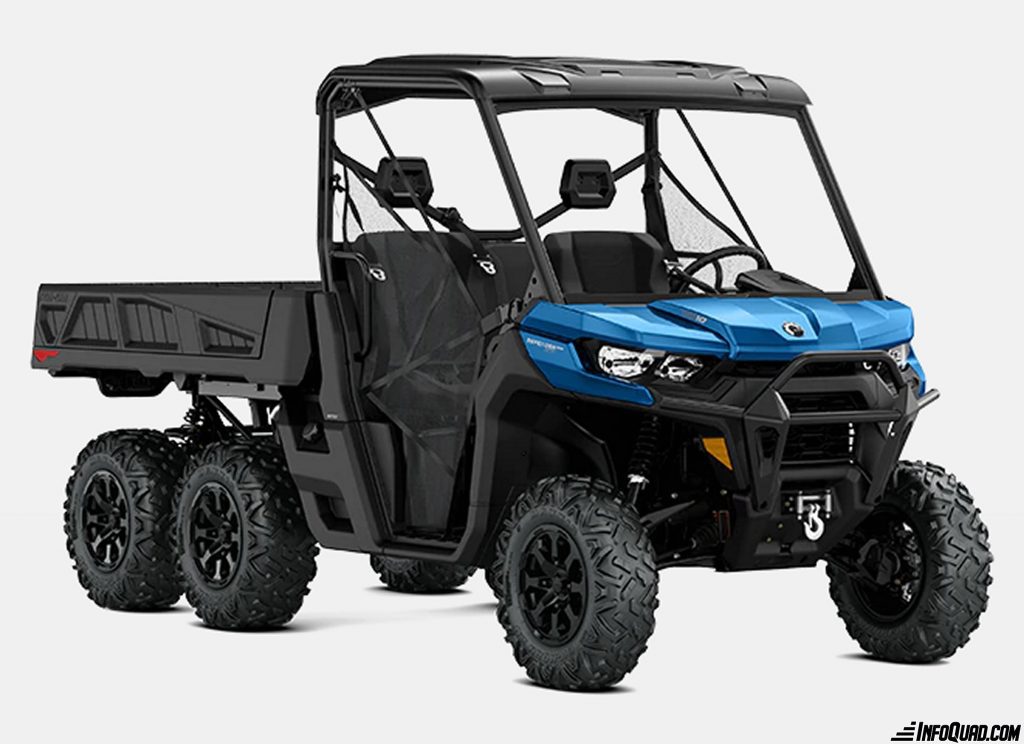 Efficiency in any terrain
I think the Can-Am did a great job. During our tests, we had to go through some very steep areas and it behaved like a boss! It was designed for work, but you should know that its top speed is still 100 km/h.
Its tiltable cargo box is ultra practical and its winch allows to pull up to 4500lbs!
Its 12-inch ground clearance and 27-inch XPS Trail Force tires help it overcome impressive obstacles.
On the other hand, let's face it, the American tank doesn't have tires, but still does well on rough ground.
At 12 feet wide, 32 feet long and with heat-treated high-carbon stainless steel tracks, it's hard to beat.
Not only can it cross just about any obstacle, it can do it at 67 km/h!
60 tons going 67km/h is amazing, but if you don't have a dump box… what good is it to you? You're heavy, you go fast, but you don't carry anything! So I give the point to Can-Am.
Finally, the price
I know, work vehicles are often expensive. They are side-by-side versions optimized for work. As I mentioned above, they are equipped to work in both heat and cold. They are durable and that is why they are worth their weight in gold.
The 2022 Can-Am Defender HD10 Limited model starts at $32,000(CAD). If that's not in your budget, the base model is more affordable at $13,500(CAD).
But what about the Tank?
The M1A2 Abrams tank, if you're interested, will cost you about $9 million (I'd wait until the exchange rate was on your side if I were you).
So if you have the budget to buy this tank, you could buy 355 Defender HD10 Limited for the same amount of money…
That's a good thought right?!
In summary
I know that comparing a side-by-side to a tank is ridiculous, but honestly, that's how I felt aboard the Can-Am Defender HD10 Limited.
Throughout my test ride, I realized that a lot of details were carefully thought out. If you are a serious person, who works on his land and needs a reliable, fun to drive machine with plenty of room to spare, you have a serious candidate here…. and no, I am not talking about the tank 😉
Thanks to Can-Am for this awesome test ride!