Are you a side-by-side enthusiast and dream of passing on this passion to your child?
Polaris has thought of this with the all-new 2022 RZR 200 EFI, specially designed for children aged 10 and over.
The trend of junior vehicles is already well established in the snowmobile market, such as the Arctic Cat Blast series, the Yamaha Snoscoot or the Polaris Indy Evo, but it's a little less present in the ATV market.
Taking the place of the RZR 170 EFI, this new vehicle for young people is very impressive with features that will surely reassure any worried parent.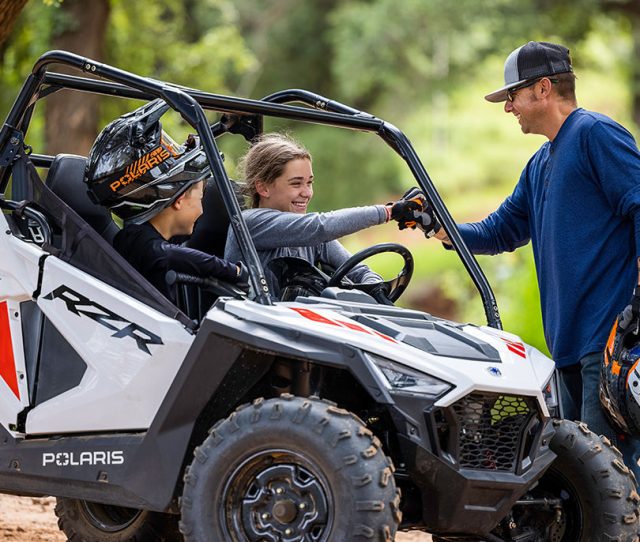 Everything for safety
Thanks to the Ride Command application, it is possible to adjust the maximum speed of the vehicle and to set limits according to the age and driving skills of your child. It is possible to know, in real time, how fast your little pilot is driving and where he is, even when he is out of your sight.
Also in this application, it is possible to delimit a zone in which the child can ride and also to control the speed inside the zones you have created.
Riding without a helmet is now impossible thanks to the "Helmet Aware" system. If you activate it in the application, you can be sure that your child will not be able to start the vehicle without a helmet! The helmets are included in the purchase of the vehicle and are equipped with the Helmet Aware technology from the start.
The vehicle can only be started with a code, so it's impossible to start it if your child doesn't know the code.
The vehicle even comes with a training DVD!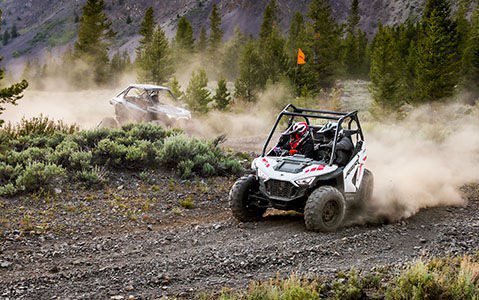 Other interesting features
The speed display is clear for the driver, it is easy to see how fast the vehicle is going. To accommodate small, fast-growing drivers, the driver's seat and steering wheel are adjustable. The hard doors allow children to have fun safely.
The RZR 200 EFI is equipped with LED headlights and taillights which improve driver visibility in low light conditions or to extend the driving day. These lights also make the vehicle more visible to other vehicles. The RZR is equipped with a flag for even more exposure.
The 180cc engine allows the child to have a great thrill and allows them to keep up with the adults without always trailing behind.
The vehicle is equipped with an independent rear suspension and double wishbone front suspension with 7 inches of travel. The ground clearance is 10 inches, which gives you a lot of freedom to explore rocky or rough terrain.
Of course, a full range of accessories is available to equip your little one's vehicle. The purchase price starts at $5899 US.
For more information, I invite you to visit the Polaris website:
https://rzr.polaris.com/en-us/rzr-200/