I must admit that I was pleasantly surprised by the opportunity I was offered to test the brand new CFMOTO Cforce 600 EPS Touring 2021 in winter conditions! On social networks and in ATV relays, the eternal question comes up every day; "Are CFMOTO ATVs good? It's a question that needs to be answered with more detail than a simple yes or no. I had the chance to try it out with my wife as a riding partner. It goes without saying that a touring vehicle really comes into its own when used for the purpose for which it was designed, the ride for two.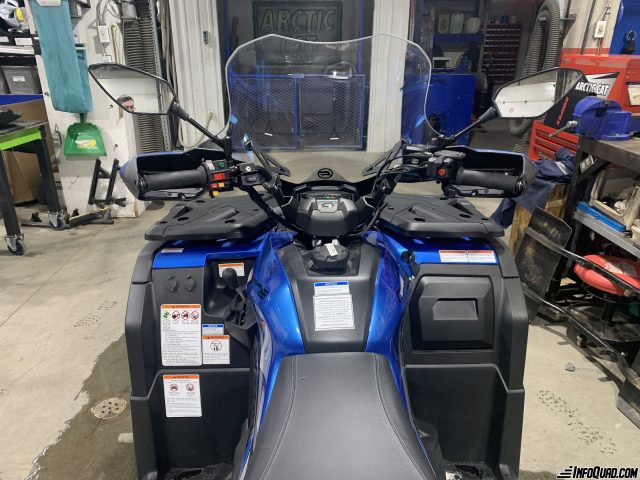 Look
I got the vehicle at Saguenay Marine in Jonquière in the last days of February to bring it home. I had to admit that it is a magnificent vehicle and all the people around me were greatly impressed by its luxurious appearance. A royal blue vehicle with well placed black accents. Its attractive appearance is one of its great strengths. Its sleek curves and aerodynamics are clearly in the forefront.
CFMOTO's large rear storage box is also a very useful addition for bringing food, beverages, a change of clothes and much more, as it is very spacious. The small waterproof storage on the front right side of the vehicle allows you to store your vehicle's papers as well as several small miscellaneous objects. Note that there is an anti-rust paint added on the muffler to keep it nice and clean. We know that most other brands have problems with discoloration or rusting of the muffler rather quickly, not for the CFMOTO CForce!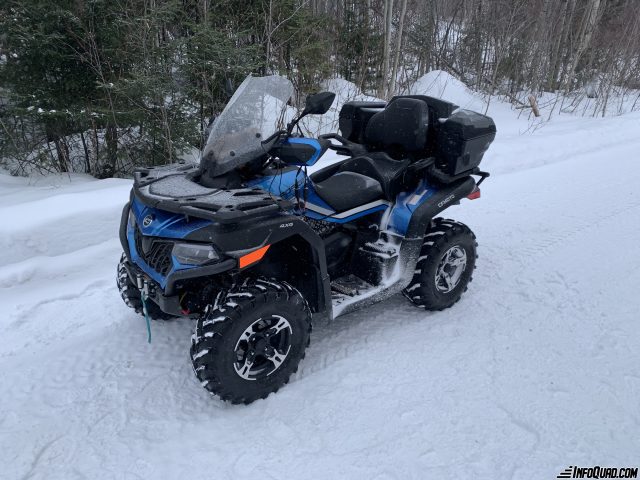 Engine
Let's talk about performance now. The 580cc engine, billed as a 600 in the model name, delivers 40 horsepower in a smooth, non-aggressive manner, which enhances passenger comfort. Even the acceleration has been designed to be as comfortable as possible. This machine was not designed for sudden, sporty acceleration, but for gradual, comfortable development. The only small limitation is that the CForce 600 EPS Touring is a bit noisy at low revs and runs at a relatively high RPM, which stabilizes at average cruising speed. It's a heavier vehicle than the norm at 415kg, which makes it a stable vehicle on its wheels and not very likely to tip over when driven normally, even with a passenger.
The CVTech-IBC continuously variable transmission (CVT) provides a smooth belt drive, without the noise or clatter that other brands have accustomed us to overhear. The 5-position adjustable hydraulic shock absorbers must be well adjusted according to the weight of the users to avoid harsh shocks. Plus, the rear drive shaft guards are smaller, which prevents snow from accumulating between the guards and the drive shafts, which is very well designed. The only limitation is the 18L fuel tank, which could be increased to allow for longer winter rides, which are always a bit more fuel hungry.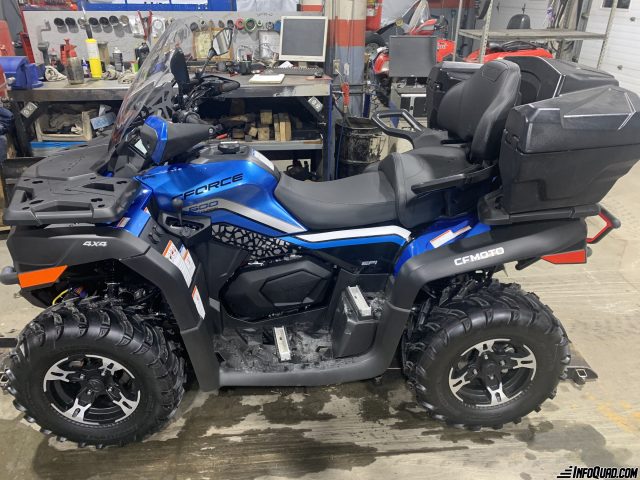 Riding conditions
As for all the little additions to the vehicle, the CForce in question has nothing to envy its competitors. It comes with RIDEVISION LED lights that light up so well that even in total darkness, during a snowstorm as we know it here, I could see where I was going and visibility was excellent.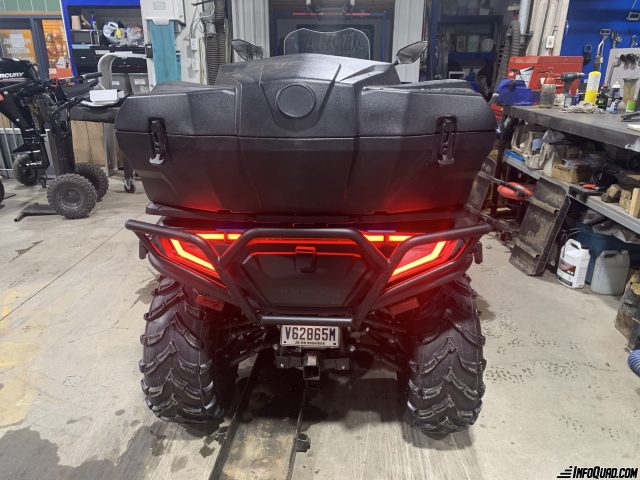 The electronic power steering is smooth and makes the Cforce a pleasure to ride, without strain, which spares my wrists already worn out by carpal tunnel disorder. Even with this condition, I didn't feel any discomfort from winter riding. The passenger seat is comfortable and the hand grips are ergonomically located. The hand guards on the handlebars are beautiful and very useful to cut the wind in an aerodynamic way. And let's not forget the Bluetooth display for our cell phones, the two USB sockets for charging them and the very easy access accessory socket on the left of the driver.
Positive feedback
In conclusion, the CFMOTO CForce 600 EPS Touring 2021 is a magnificent vehicle, which attracts the eye and stirs up discussions in the relays. People want to know, they want to see and above all, they are curious about its performance. It's a vehicle with a smooth, non-aggressive ride, and it's ergonomic for both the driver and his passenger, a passenger seat that I was able to try out myself to fully appreciate.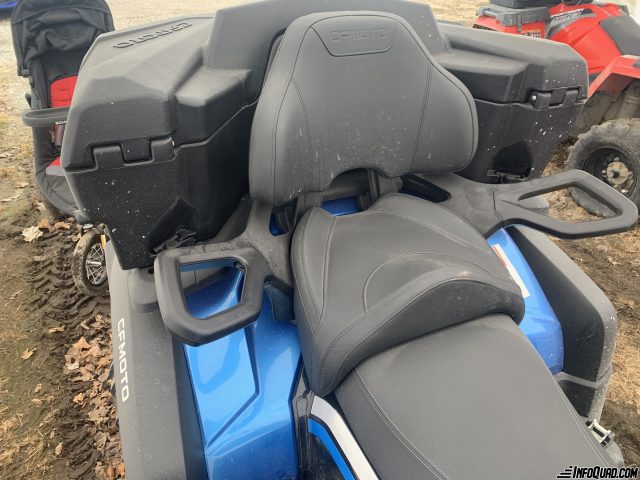 Its price of $10,499 fully equipped, its 5-year warranty and its ease of access make it an excellent vehicle for all those who want to have a good time without breaking the bank and with a reliable vehicle that is the envy of the neighborhood. Honorable mention to Saguenay Marine for the outstanding service and to CFMOTO CANADA for giving us the chance to try out the "brand new and beautiful" such as this ATV that I highly recommend. I would have liked to be able to try it in summer conditions as well, file to follow!