That's what the Quebec company EWOOL is offering us. I had the chance, in collaboration with INFOQUAD.COM and MOTONEIGES.CA magazines, to test their two star products. EWOOL is a company that specializes in heating accessories for our Quebec winters. For now, they offer us a heated jacket and heated gloves. The jacket is available for men or women and the heated gloves are unisex.
At the end of last winter, which was out of the blue, I got my hands on a jacket and a pair of gloves. Despite the lack of cold weather during this test period, I am able to give you a fairly representative review of this supplier's products.
The box is just opened and already, I notice the quality of the jacket by the choice of fabrics and materials. Everything seems to be well integrated and designed solid to have a very good durability. On the other hand, I noticed that the battery, which must be used in the jacket to operate it, is still imposing. Once inserted in the pocket on the back of the jacket, the equipment is very comfortable and it fits very well. Its weight and size do not disturb our comfort at all. I also want to mention that the jacket is machine washable once the battery is removed.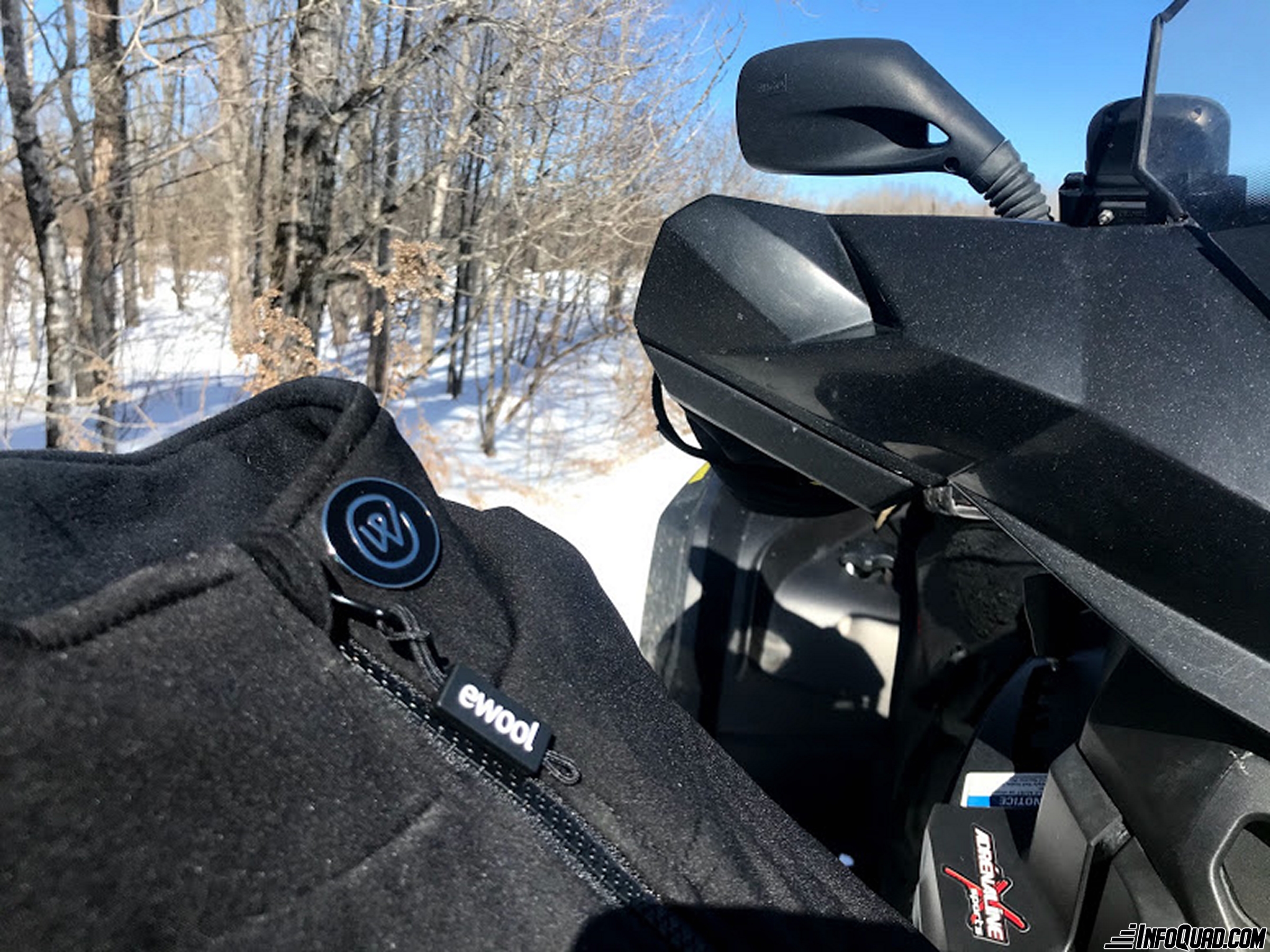 Now let's get down to business. Does it work well? Well, yes! With temperatures around -20 degrees Celsius, I put on my heated jacket under my snowmobile jacket and activated it with the single control button located at the bottom of the jacket. Two power levels are available: low (white) or high (red). With the same button, we can also see the level of charge of the battery which, by the way, has an autonomy in normal mode (low) of about 8 hours and in high mode, of more than 4 hours. There is even an auxiliary socket inside the jacket to connect a 12 volt source. So you can plug it into your snowmobile or ATV and the heating time will be unlimited.
I did a 150km ride and I loved the jacket. Within seconds, I felt warmth enveloping me. The heating elements go all over the jacket or almost all over the jacket and make the warmth spread all over your body. It's perfect for not needing to put an extra layer under our coat. Plus, during my few stops, it kept me warm without having to move. So I have seen the versatility of the product and its effectiveness.
Now let's talk about the heated gloves or rather the heated liners. I found the design of the gloves to be well done, but again, the battery to be inserted into each glove at the wrist is a bit large. This time, when the glove is put on, the battery is slightly distracting. I still used the gloves for a short ATV ride without anything else for hand protection. No heated grip and a -10 degrees Celsius felt. Everything was perfect, they kept me warm without any problem, but I'm not sure I would like to wear the gloves for a long 150km snowmobile ride, as the batteries cause discomfort under the coat at the wrist and with fairly tight fitting snowmobile gloves, the liners hardly fit inside them.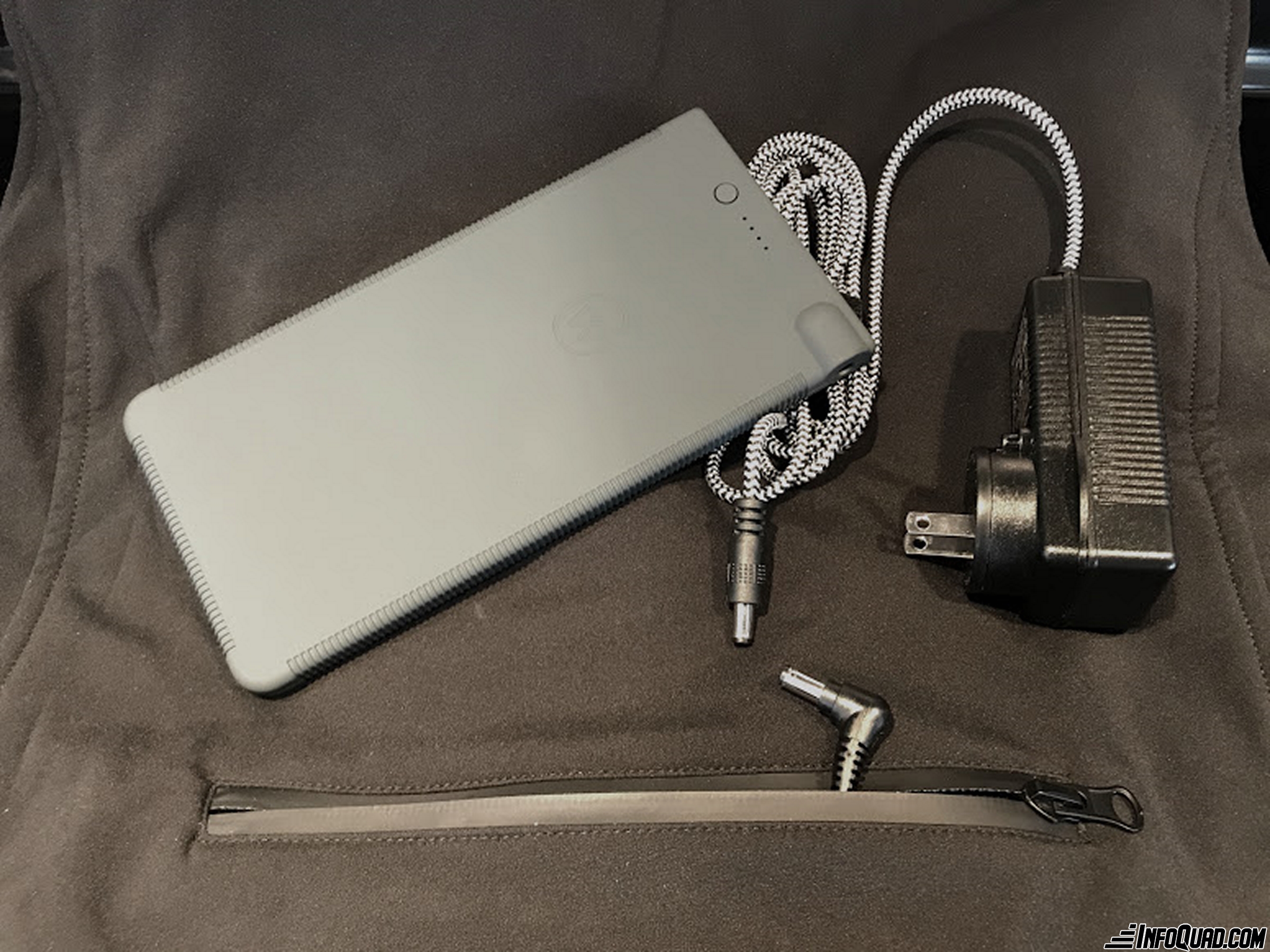 However, I did appreciate the three levels of warmth that the gloves offer and also the textured fingertips that allow me to use my smartphone without removing them. Using them outside to prepare for my hike was very welcome. Loading and securing the snowmobile with warm hands. I did not test their waterproofness, but according to the manufacturer, they are water resistant and machine washable.
All in all, I found that both products are very well designed and offer a whole new dimension to our winter activities. Available in all sizes for both men and women, the jacket is a must-have in any situation, whether you are a person who shivers easily or simply looking for more comfort. It can be used for all occasions and will be an asset in your wardrobe.
For the gloves, I see them as more of a secondary use when you stop by or when you're out and about. Slipping easily into a carry-on bag, they are a must-have accessory to add. For long hikes, I think that the comfort should be reviewed by EWOOL, especially in terms of positioning and size of the batteries.
I would like to finish by thanking EWOOL, MOTONEIGES.CA and INFOQUAD.COM for allowing me to do this test. I discovered two products that I will continue to test and that I will appreciate during my next winter season.