Your father is the one who taught you the rudiments of motorized sports. He's the one who brings you gas when you've gone too fast and run out of gas. How many times has your father helped you repair your ATV, side-by-side or even your motorcycle? He's the one who convinced your mother to accept your motorsports project. You can't buy love and time, but to celebrate these gestures, why not treat him to something special? CAN-AM has everything fathers could want.
Here are some ideas for under $100, listed in 3 categories: fashion & apparel, household products and accessories.
Clothing Section.
For clothing and fashion, you'll find a wide range of warm, professional and casual garments from CAN-AM.
So why not start this presentation with a suggestion that will keep Dad warm on those chilly summer evenings?
Can-Am Premium Hooded Vest
Without further ado, we start with the Can-Am premium hooded vest, pure comfort and warmth.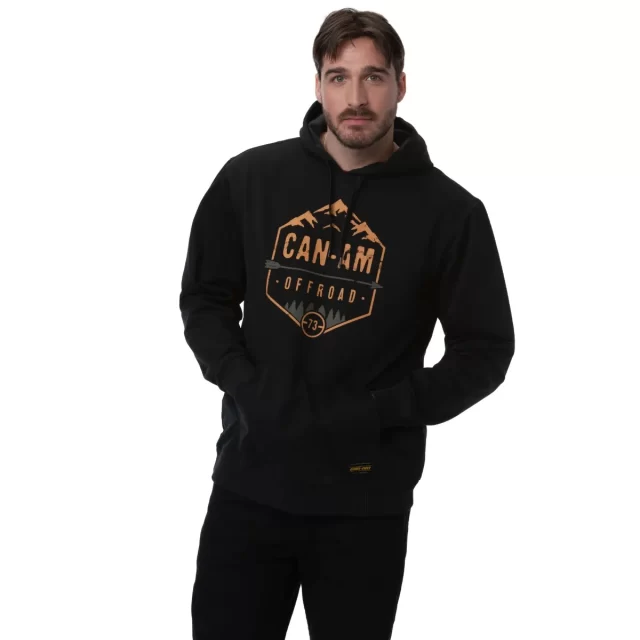 In detail:
Made from 72% cotton, 23% polyester fleece and 5% Spandex.
Fleece: 320 g/m².
Knit cuffs and hem.
Adjustable hood with cords.
Kangaroo pocket for hands.
Lined hood: 100% cotton
The Garage Shirt
If dad likes to work and do mechanics while looking like a professional, this shirt is ideal. It'll keep him looking and feeling like a pro. The Can-Am, Xps and Rotax Garage Shirt is made of durable materials and resists the toughest stains. Plus, he'll look like a real Can-Am technician.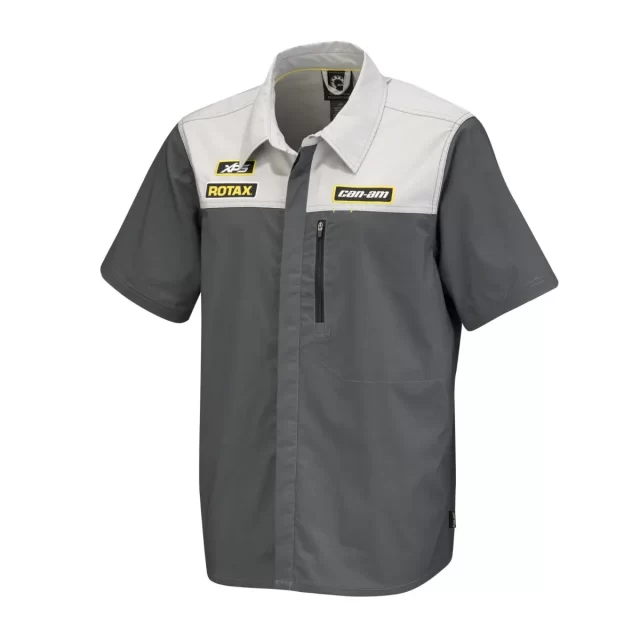 In detail :
Made from 60% cotton and 40% polyester.
Teflon fabric protector; protects against stains.
Front zippered pocket (left when endorsed).
Buttons concealed by central plate. 
T-shirts from the Can-Am Collection
T-shirts from the Can-Am collection are comfortable and fun to wear for work or play. A casual, versatile look for every occasion.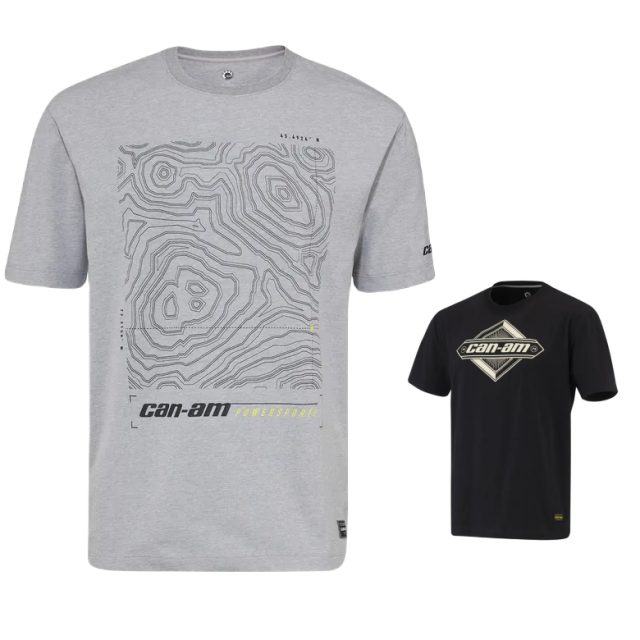 In detail :
The soft fabric is made of 100% cotton
The logo on the front: Can-Am Triagonal.
Classic crew-neck design.
Regular cut.
Can-Am Flex-Fit Cap
For breaks or sunny days, protection is a must. I've got a practical and affordable suggestion to keep your dad's mind fresh. The headgear is casual so he can slip it on and go quickly. The curved palette of a design means he'll feel comfortable wearing it to work or any other occasion.
Photo 04
In detail:
100% cotton.
Embroidered Can-Am logo on front and back.
Can-Am decorative interior strips.
XPS Care and Aesthetics Section.
Your father is proud of his ATV or Cote-à-Cote, so why not show him that you appreciate his efforts? Here's a range of top-quality products with which he can take good care of his vehicle.
Mud and Dust Cleaner for ATVs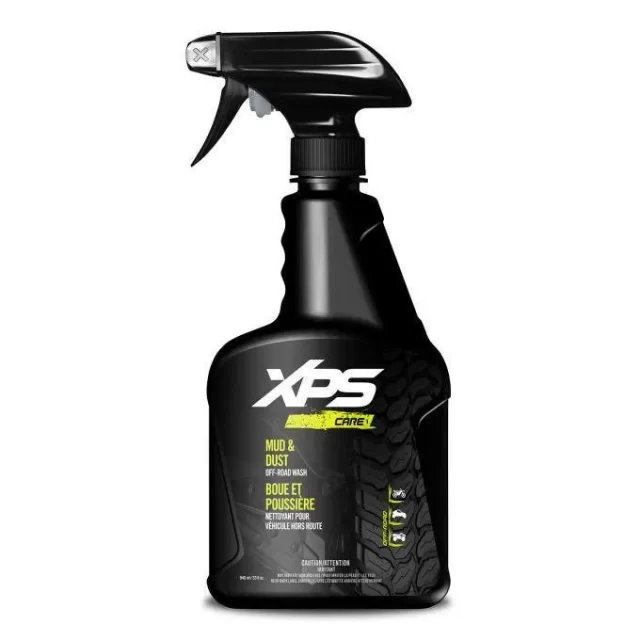 ATV Mud & Dust Cleaner, specially formulated for off-road vehicles, is made for use in the worst conditions. It breaks the bond that holds dirt and dust to the vehicle's finish. The biodegradable formula, free from phosphates and corrosive chemicals, produces little foam for quick, easy rinsing. It's equally effective at removing oil, grease and other stubborn stains. Safe to use on all surfaces. With this product, your father's ATV will regain its original cleanliness.
Gloss Enhancing: Quick Detailer

Then apply Quick Detailer gloss enhancer. It provides a protective layer with a high-gloss finish. This product repels mud, grime and dust quickly and easily. The nanotechnological polymer formula penetrates the surface with submicroscopic adhesion. It adds shine to plastic, paint, metal, glass and chrome, while eliminating static.
The product also cleans away dirt, fingerprints, dust and water spots between washes. Waterless use makes it easy to apply anywhere, anytime or in direct sunlight. Your car will look as good as the day it was delivered.
Black Plastic and Rubber Restorer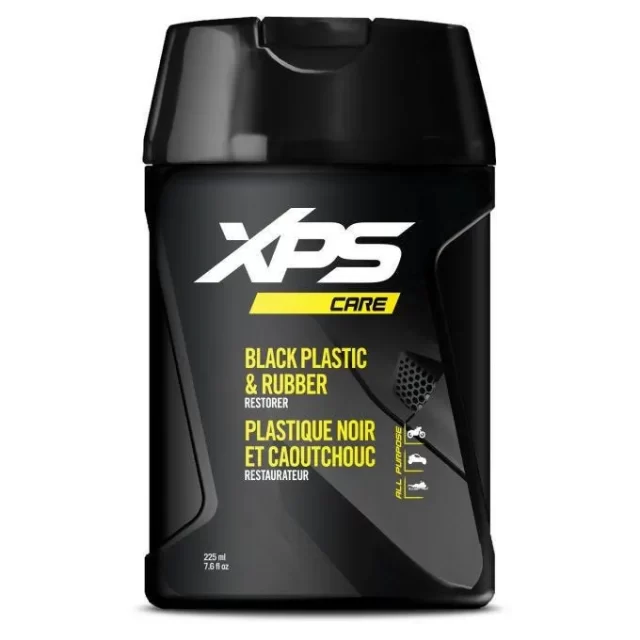 For vehicles that have had a hard life or are old, you'll find the : Black Plastic and Rubber Restorer. Dad can always give them a facelift. The Black Plastic & Rubber Restorer restores unpainted rubber and plastic surfaces to like-new condition. Ideal for exterior moldings, bumpers, plastic and rubber trim. Provides long-lasting UV protection.
Section: ATV and Side-by-Side Accessories.
For this section, I'm going to present you with a few additions that your father will need or would like to add to his chests.
Replacement Steel Cable and Shovel Pulley Kit
Offer him the new Steel Cable for his winch. Or the Shovel Pulley Kit, and say thank you for putting me "out of my misery".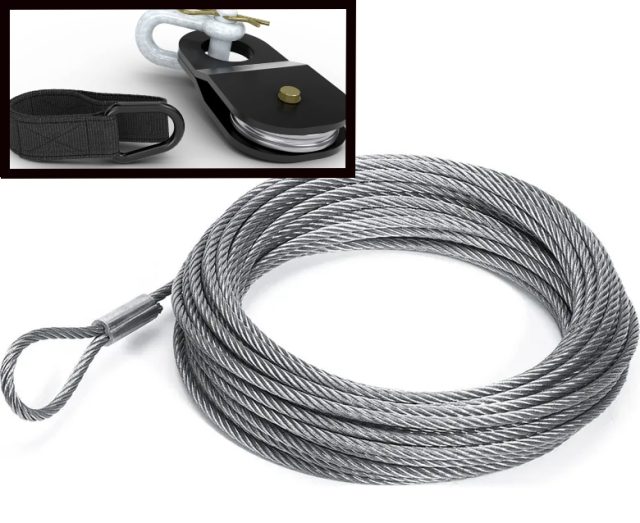 In detail :
3 mm (1/4 in) steel cable, 14.3 m (47 ft) long.
(Cable) Pulling force 2,041 kg (4,500 lb).
(Pulley) Improves winching efficiency
Some items from the LinQ Collection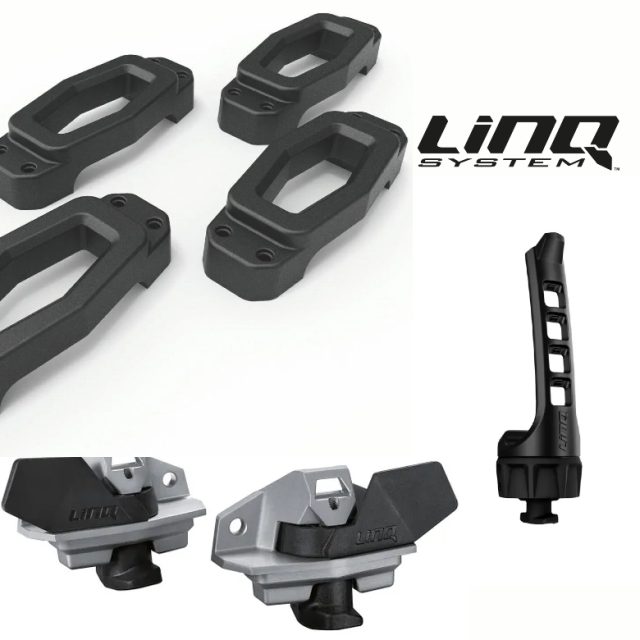 Your father can't get enough of these products, and LinQ systems are a safe and practical bet. With LinQ clamps and LinQ bases, the configuration possibilities are limitless. Find a surface for the bases, install the clamps on your equipment and you're done. It's fast, efficient and solid.
LinQ Fasteners
They are uniquely adapted to all LinQ accessories. No tools are required for installation or removal. Available in pairs. The unique fastener can be used on all LinQ system accessories.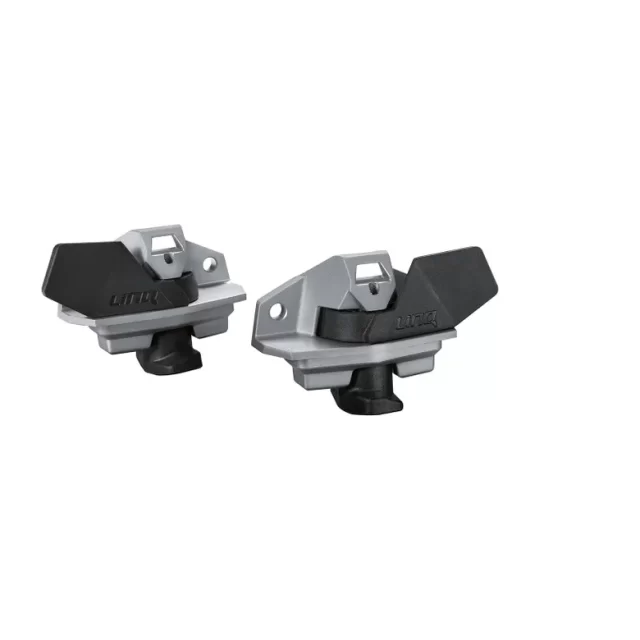 In detail :
Includes two fasteners.
Left and right work with LinQ racks on Can-Am Outlanders, Commanders, Mavericks and with Ski-Doo LinQ accessories.
LinQ Tool Carrier
Your father can't fit everything into a box or bag. That's why the LinQ Tool Carrier for Can-Am vehicles could be the ideal accessory. Ultra-versatile and equipped with a pivoting latch, it will allow him to store his equipment in any direction. He can attach it to his vehicle and explore wherever he likes. No need to worry about the safety of his tools.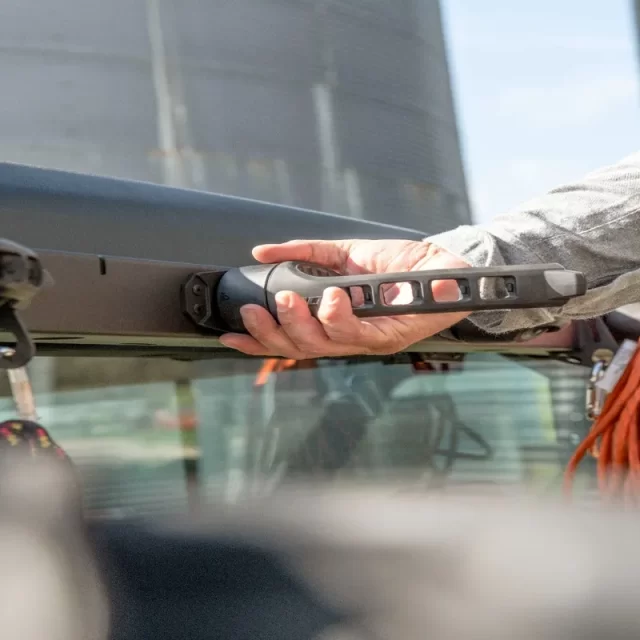 In detail :
Ultra-polyvalent tool holders.
Convenient swivel latch for storing tools in the correct orientation.
Sold in pairs.
LinQ Bases
With LinQ Bases, you can install them wherever you like on your vehicle, and find the fastener that goes with them. For a spare fuel tank or a storage box, LinQ Bases will hold your items securely.
Photo12
In detail :
Made of glass-fibre-reinforced polypropylene.
Allows installation of all LinQ accessories.
Dad can discover all the options and possible configurations of LinQ Systems at: can-am-shop.brp.com. Quality and durability will always be there, and your father will be more than happy.
Ratchet Straps.
The ideal solution if your dad's more of a planner and needs to bring everything along, but storage space is at a premium. Here's an idea for the "just in case" guy: BRP ratchet straps. Whether for securing a spare tire, a cooler forgotten at the last second or any other scenario, this is a must-have.
All-Purpose Ratchet Strap Set.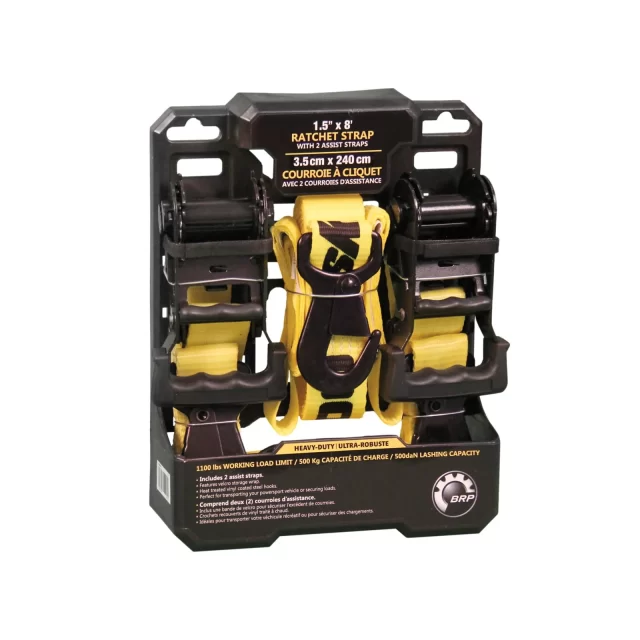 In detail :
For loads up to 181 kg (400 lb.).
5 cm x 3 m (1″ x 10′) strap with Sea-Doo, Ski-Doo and Can-Am logos.
Deluxe ratchet with rubber handles.
Covered S-hooks.
Comes in a pack of two.
Ratchet Strap for Spare Wheel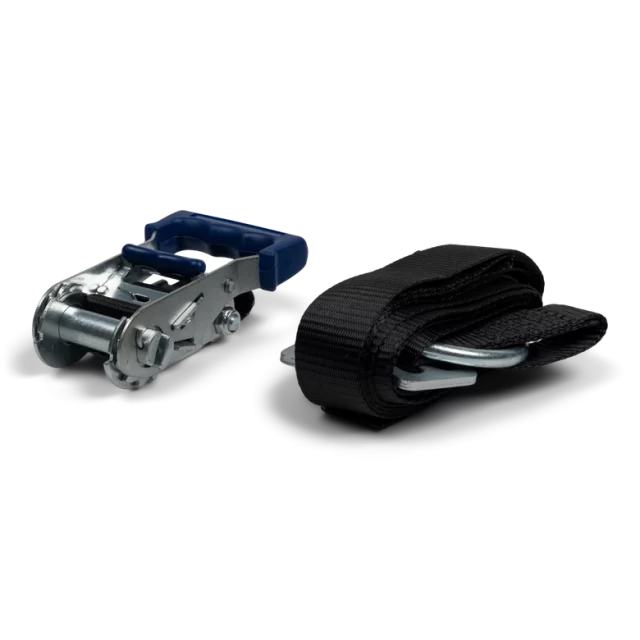 In detail :
Three-way ratchet strap with loop ends.
Designed to securely hold the spare wheel to accessories equipped with integrated spare-wheel mounting points.
Adjustable to fit most side-by-side vehicle tires.
Pawl and connecting ring made of durable zinc-plated steel.
Bolt-On Retractable Ratchet Straps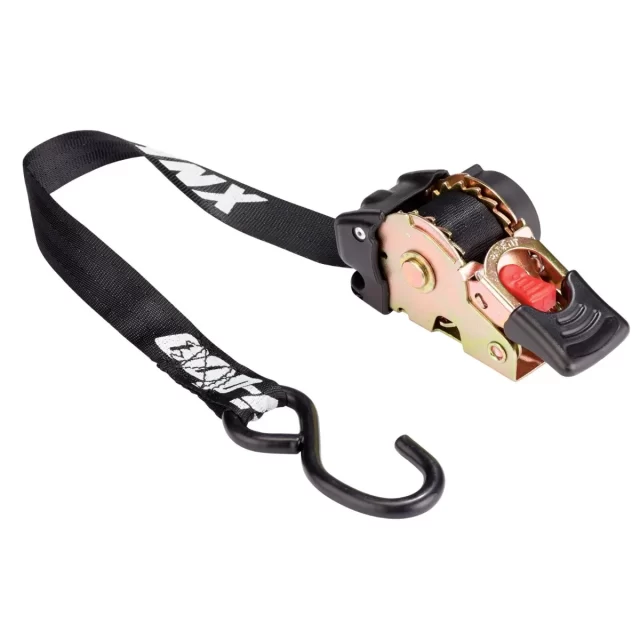 In detail :
Ideal for transporting your recreational vehicle or for securing goods.
Easy to assemble: bolt onto any flat surface (e.g. body or chassis).
5 cm x 1.8 m (1″ x 6′) ratchet webbing with heavy-duty seams, offering a load capacity of 226 kg (500 lb) and a breaking strength of 680 kg (1,500 lb).
The push-button release allows the strap to relax and then automatically wrap around itself. The ratchet mechanism tightens the strap firmly, so that it holds your vehicle or load securely in place.
The rubber grip ensures a firm hold. Vinyl-coated hook protects the surface to which the ratchet strap will be attached.
Sold in pairs.
In Conclusion
As mentioned at the beginning of this article, a father's love and time cannot be bought. However, there are so many ways to say thank you and show your appreciation for all his efforts. This list is just a taste of what's in store on the Can-AM website. Check it out and find your own way to say thank you.
Other ideas: