Father's Day is coming soon and it is not always easy to find a gift for dad. If he is a quad enthusiast, here are some ideas that will undoubtedly please him!
Kimpex NOMAD 2-Up Trunk
The NOMAD trunk is the ideal solution to significantly increase the storage space on your ATV while transforming a single-seat ATV into a two-seat vehicle. Offering a storage volume of 115 liters, it is a very versatile trunk. The interior can be compartmentalized to suit your needs.
The integrated passenger seat is comfortable and ergonomic. The side handles provide a good grip for the passenger in rougher terrain. The trunk is available with or without heated handles.
Price :
Without heated grips (SKU 458001) $288.99
With heated grips (SKU 458011): $354.99
Link:https://www.kimpex.com/fr-ca/produits/vtt/boites-sieges-bagages/coffres/kimpex-coffre-nomad-2-up-arriere?keyword=458011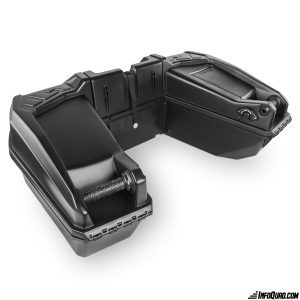 Kimpex 3500 lbs winch kit
Does your daddy love heavy duty work or does he love to ride rough trails? He'll love the Kimpex 3500 lb winch kit. Equipped with 50 feet of 5mm (3/16″) cable, your adventurous dad will be able to take on the biggest challenges!
Price $299.99
SKU 458211
Link: https://www.kimpex.com/fr-ca/produits/vtt/treuil/treuils/kimpex-ensemble-de-treuil-3500-lb?keyword=458211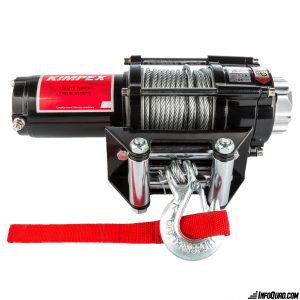 Loading ramp
Loading and unloading the quad in the truck bed is always a challenge? Make life easier for your daddy-quadist by offering him a Kimpex loading ramp. With a length of 88 inches and a capacity of 750 lbs, the ramp folds in half for easy transport or storage.
Please note that the ramps are sold individually.
Price 139,99$.
SKU 312606
Link: https://www.kimpex.com/fr-ca/produits/moto/remorques-rampes/rampes-de-chargement/kimpex-rampe-de-chargement-pour-vehicule-sport-motorise?keyword=312606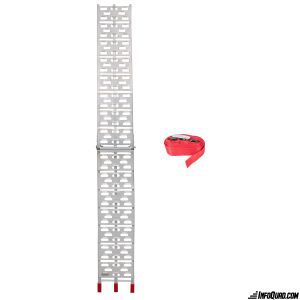 Kimpex Curved LED Light Bar
Are night rides an integral part of your dad's riding season? Why not give him an LED light bar to help him see better on the trails after dark?
Here are some of the features of this light bar:
– "Spot" lighting: each LED light is composed of spotlights for full illumination and increased visibility.
– Impact resistance for use in the worst conditions. PMMA lens is lightweight and scratch resistant.
– IP-68 certified sealed housing, resistant to underwater immersion.
– 6000K white illumination temperature, which is close to daylight.
– Lifetime of over 50,000 hours.
– Wiring harness included, which includes an illuminated dashboard mounted switch, relay and fuse for circuit protection.
– Center attachment allows the LED light to be securely fastened and angled as desired. Additional clips may be required depending on the type of installation.
Price $239.99
SKU 175488
Link: https://www.kimpex.com/fr-ca/produits/vtt/electrique/lumieres/kimpex-barre-de-lumiere-a-del-courbee-pour-utv-et-vtt?keyword=175488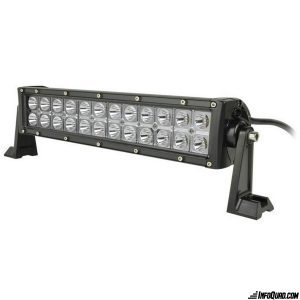 Kimpex Trail Warrior Tire
Your dad's quad tires are at the end of their life. Why not give him a set of new tires? Available in a variety of sizes, Trail Warrior tires have a specially interlocking non-directional tread pattern that provides a wide contact patch for exceptional stability in the turns.
Extra large sidewalls protect the tire sidewall while providing exceptional ride and stability combined with excellent traction on all types of terrain.
Price: $196.99 to $289.99 per tire depending on size.
Link: https://www.kimpex.com/fr-ca/produits/vtt/pneus-roues/pneus-de-vtt-utv/kimpex-pneu-trail-warrior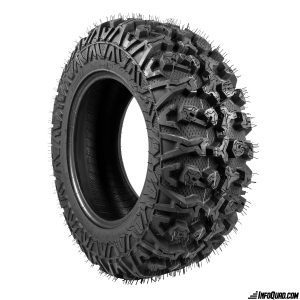 Kimpex Trail Trooper 2 Tire
Is your dad looking for new tires that give him optimal handling and excellent traction? The Trail Trooper 2 tires are just what he needs. They're also designed to provide a smooth ride off-road or on gravel trails.
Price: $124.99 to $282.99 per tire depending on size.
Link: https://www.kimpex.com/fr-ca/produits/vtt/pneus-roues/pneus-de-vtt-utv/kimpex-pneu-trail-trooper-2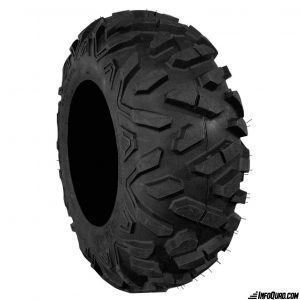 Kimpex ATV/CCV Catalog 2021
Many other products are available at Kimpex retailers. You can discover them by consulting the online catalog at the following link: http://catalogues.kimpex.com/vttpieces/2021/fr-ca