For 2022, Kawasaki's sporty line of side-by-side vehicles is back. The Teryx KRX 1000 is ready for any adventure. As one of the most durable and reliable machines in the sport side-by-side category, the 2022 Teryx KRX 1000 line is built to take on the toughest trails.
The Teryx KRX 1000 is built for adventure and conquering tough terrain. Powered by a durable 999cc parallel-twin engine, the Teryx KRX can tackle the most technical trails of sand, mud or rocks. It features electronically selectable 4-wheel drive on the fly and a front differential lock, as well as two power modes (Full and Low) that allow the rider to adjust the power delivery to suit their preferences and conditions.
Available in 2-seat Teryx and 4-seat Teryx4 configurations, both models feature the powerful 783cc twin-cylinder engine. Electric power steering (EPS) is standard across the lineup, as is a three-year limited warranty. Only the two-seat S and S LE versions return in 2022. For the four-passenger versions, only the Teryx 4 and Teryx 4 S LE models are available in Canada. They are equipped with a Fox suspension and specially designed A-arms to maximize ground clearance.
As for the Mule family, the only change for 2022 is the absence of the Mule Pro-FX EPS model. In fact, it is only offered with the LE package, which is making a comeback since it was not offered in 2021. This family offers many models of 2, 3, 4 or 6 passengers. There is also a choice of gasoline or diesel engines. There is something for everyone!
Finally, we notice that most of the 2022 models have the same colors and decals as their 2021 counterparts. Thus, we should not expect any changes in the look of these models.
Below are the specifications of a few model families. For more information, visit the Kawasaki website by clicking here.
Teryx KRX 1000 Sport
Designed to give its passengers a strong adrenaline rush, the Teryx KRX 1000 has everything to satisfy performance-hungry riders. Its only flaw is its width, which exceeds what is allowed in Quebec. Its aggressive and sporty look, the performance of its engine, its long-travel suspension and its large 31-inch tires are just a few of the features that allow it to compare favorably with other models in its class.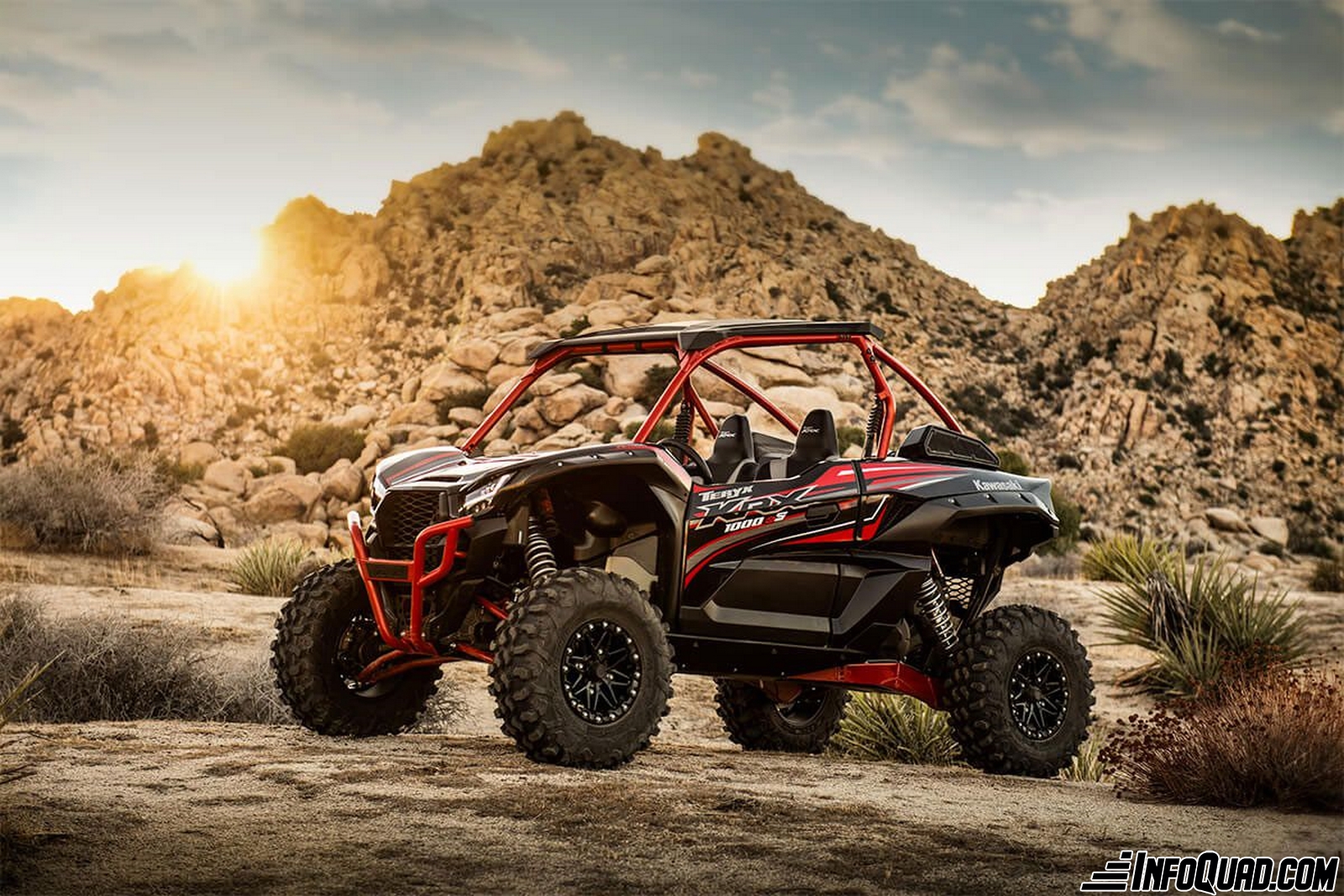 ENGINE: 999 cc, 2 cylinders
DIMENSIONS: 3 30.5 x 173.0 x 1 90.5 cm (130.1 x 68.1 x 75.0 in)
Ground clearance: 35.5/36.5 cm
TANK: 40 liters
READY TO RIDE WEIGHT: 860 kg (in running condition)
COLOURS: Multiple
MSRP: $27,499 to $31,199
Teryx / Teryx 4 TOURING
The Teryx is a vehicle worth considering. Its comfort is outstanding, helped by the easily adjustable FOX Podium 2.0 shocks. It's economical on gas and the transmission is nice, as is the CVT system and the lockable 4×4 mode. Its 1300 lb towing capacity makes it versatile. Too bad: it's electronically limited to 80 km/h…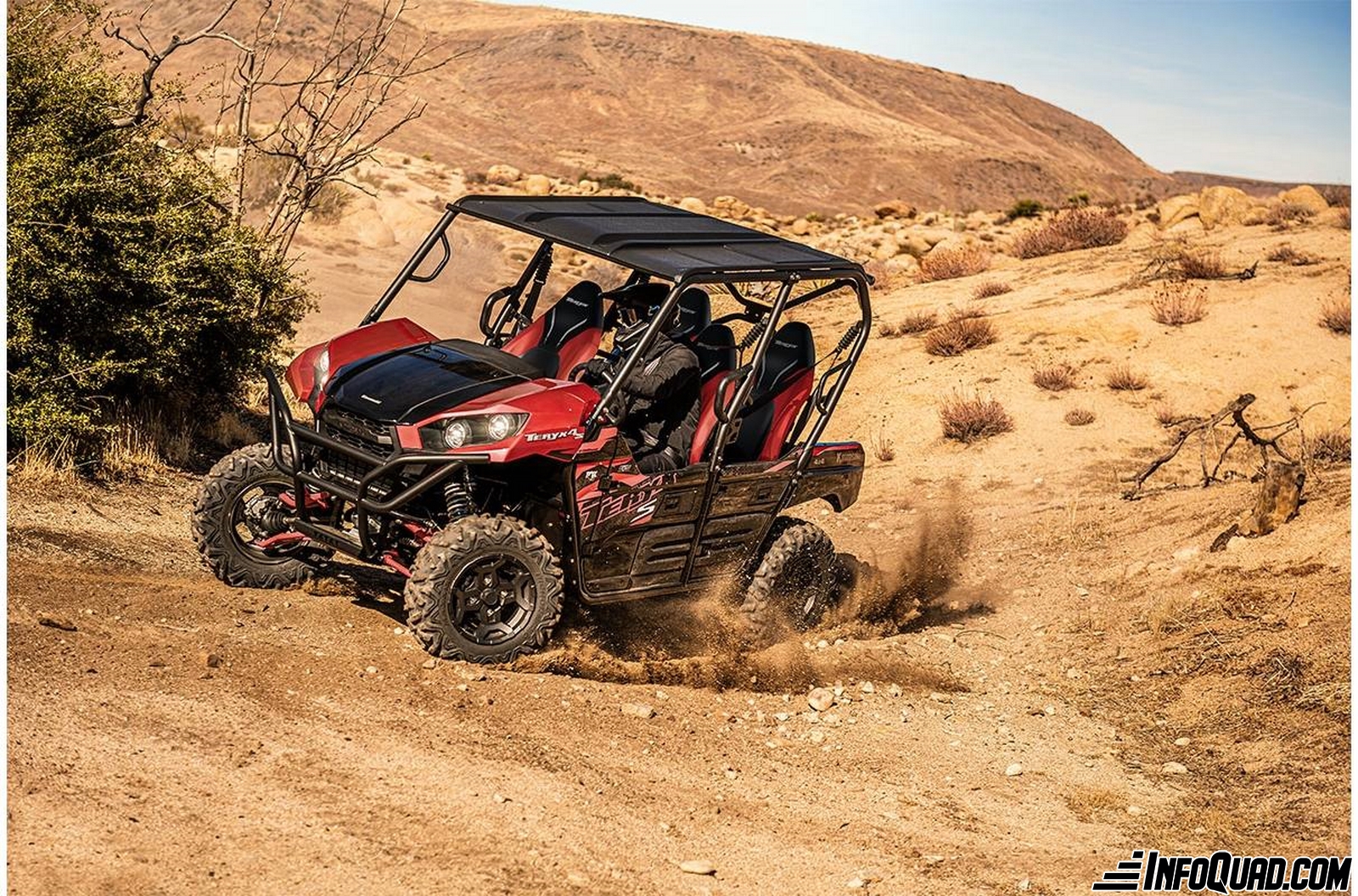 ENGINE: 783 cc, V-twin, 4-stroke, liquid-filled
DIMENSIONS: 300 x 152.5 x 192.5 cm / 318.5 x 152.5 x 197.5 cm
SUSPENSION : Front and rear : double A-arm
Ground clearance : 28,5 cm
TANK: 30 liters
WEIGHT READY TO RIDE: 712 kg and more
COLORS: Multiple
MSRP: $16,899 to $20,699
Mule Pro UTILITY
The Mule Pro is available with FXT, FXR and FX for 812cc gasoline engine models, MX in 695cc and DXT and DX with 993cc diesel engines. The Mule Pro models are ideal for work. At 64″ wide, they are stable and can handle federated trails, even if that's not their primary purpose. With a wide range of configurations and engine options, there's sure to be one for your job. Prices are no surprise and the warranty is three years.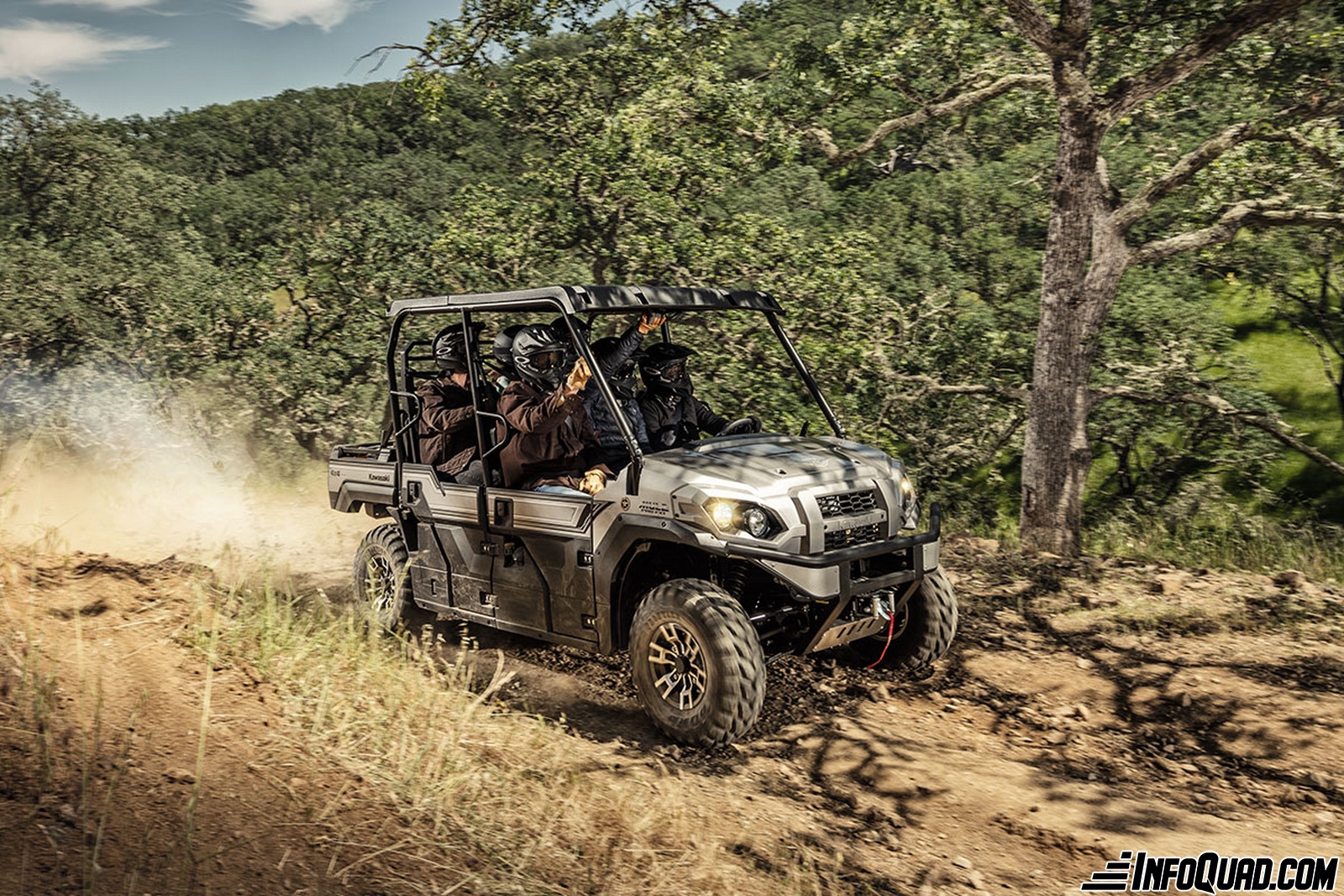 ENGINE: Several choices
DIMENSIONS: Varies according to options and models
Ground clearance : 26,5 cm
TANK: Several choices
WEIGHT READY TO DRIVE: 637 kg (variable)
COLORS: Multiple
MSRP: From $13,299 to $20,599