No need to tell you that it is possible to practice the activity of quad biking almost everywhere on the globe. However, it would be best if you did some research because the application is a little different. I am already on my third trip to Hawaii and each time I take the opportunity to explore areas that are not otherwise accessible.
However, we must be aware that the landlords do not allow us to do what we want and we are forced to follow a guide who limits our actions. It is important to understand that most of the land on the islands of Hawaii is privately owned and we must abide by their rules.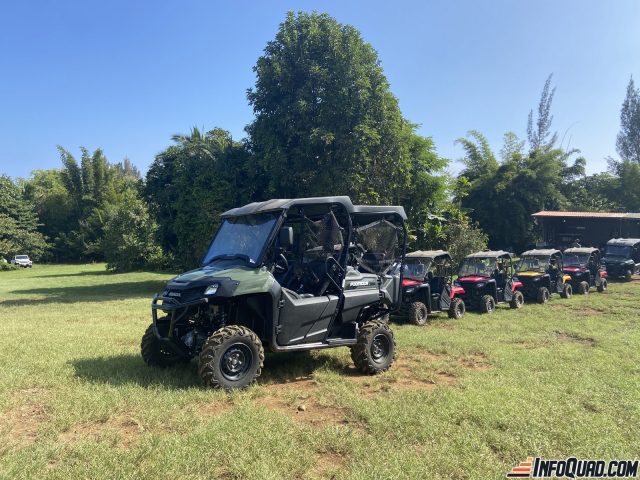 All About The View (AATV)
We were hosted by the Waipi'o on Horseback Ranch team on the Big Island of Hawaii. They offer supervised auto quad rides on their ranch's many acres of land. This scenic opportunity allows you to travel through a traditional land division (Ahupua'a) that stretches from the mountains to the ocean and is home to native flora and fauna.
What awaited us: A 500-acre mountain and cattle ranch overlooking the ocean. A large coconut orchard, banana plantations and fish ponds. This location allows you to walk along the historic Hamakua Ditch and up into pastures blooming with purple flowers, guava tunnels and forests. There are baby sheep, horses and calves at any time of the year! Mind you, we have to watch where we step if you get my drift.
All in all, this ranch has everything you need for hours of wilderness fun in paradise. However, be sure to bring a change of clothes, as yours will definitely be soaked in the local dust.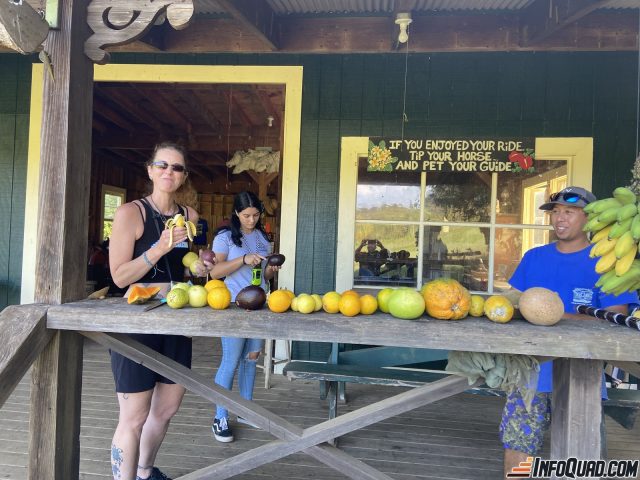 A lovely welcome awaits you
As soon as we arrived, we were welcomed by our guides for the day. To top it all off, several fruits were at our disposal with local flavors picked on their land. I was amazed at the size of the bananas. They had a size that I had never seen before. For those of you who have already experienced this, you will be able to confirm that there is nothing like tasting a good tropical fruit in its environment.
After reviewing the safety instructions, we set out to attack the various trails on the huge property. Our first stop was near the fish ponds. The surrounding gardens glowed with fertility as we walked along the ponds filled with Hamakua sunfish on our visit.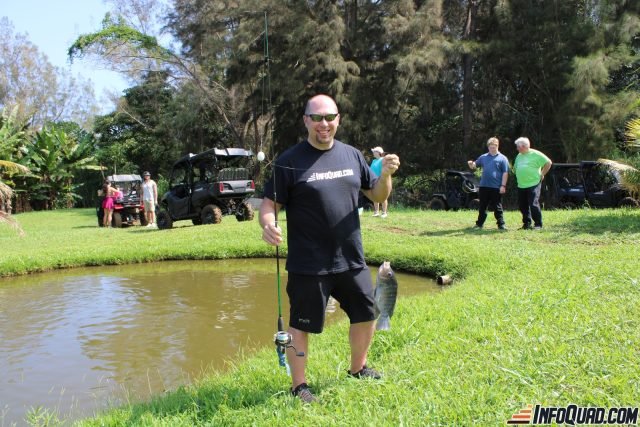 Successful fishing!
Our guides allowed us to cast a few lines, but with a release of the specimens that were caught on our hooks. These breaks also allowed us to exchange with our fellow hikers as well as our guides who told us the history of the place.
Dwarf coconuts, breadfruit, kukui nuts, sugar cane, taro, sweet potato, and multiple varieties of ancient bananas were just some of the plants that awaited us before we walked along the historic Hamakua Ditch. This engineering masterpiece built in 1906 was the lifeline of sugarcane's century of success and now benefits farmers and wildlife.
On our journey, we passed a spring-fed reservoir where cattle roam and horses bathe quietly before driving into the mountains, vast meadows and panoramic views. Unspoiled old-growth forests stand at the bottom of ravines where hawks and Hawaiian owls nest.
Wild boar frequent the cool diggings, turkeys flock, and Hawaii's beloved nene goose grazes during our adventure. From an elevation of 2,350 feet, our journey headed toward the ocean and down to the lower ranch meadows, home to their herd of donkeys. To be honest, this was the first time in my life I had encountered this animal in the flesh.
These little donkeys are descendants of a bygone era when coffee plantations depended on their muscles and sturdiness. If left alone at night, they would bray to companions in the distance, inspiring the name "Nightingale" from the night songbird.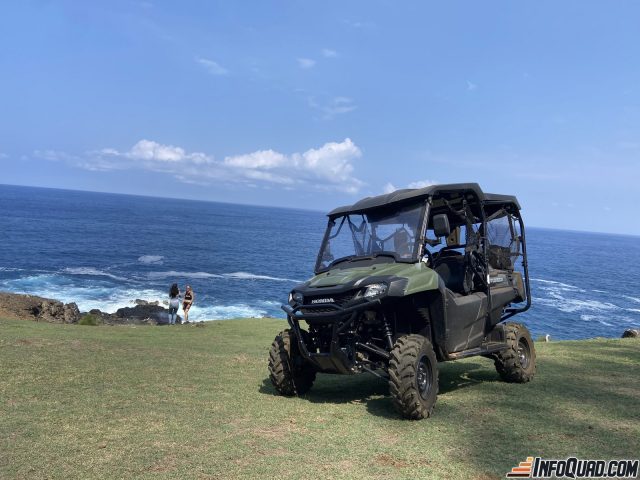 We were almost speechless…
We paused on the closest ocean portion of the property at the halfway point. We tasted the salty wind and watched the waves beat against the steep cliffs as we noted the remnants of ancient Hawaiian settlements.
During this interlude by the ocean, we enjoyed the beautiful Hamakua coastline. The clear weather allowed us to admire the cliffs facing north of Waipi'o, Pololu and even Maui on the horizon. This site was once a delivery point for Hawaiian sugar. Large sacks of raw sugar were cabled to moored ships waiting offshore. Today, fishermen still make their living from these cliffs by catching delicious Ulua, mahi-mahi and barracuda. (PHOTO: Photo 4)
This place allows us to search the shoreline to watch turtles riding foamy waves, nodding their heads to breathe before descending into the deep blue Pacific. These sites are Hawaii's treasures, a must-see.
All good things must come to an end!
We got comfortable in the auto quad for the return trip to where the trip began.
In the background, this trip allowed us to learn more about the local history and customs. These are experiences that will stay with us for a long time and I swear, we are different humans as a result of every trip around the world like the one we took on this portion of the Big Island.
Other travel articles: