Today, I present you with an article that will answer several questions that come up regularly on social networks about planning a successful ride. For example, which GPS to use? Which map to put on it? How to know if the trails are open or closed? Etc.
PLANNING OF A SUCCESSFUL RIDE
First of all, you must plan your hike well. To do so, the place to refer to for information on trail conditions (opening/closing/warning) is definitely Iquad and/or the FQCQ interactive map. Don't forget to select the appropriate trail type for your riding season. Please also refer to the Facebook pages of the clubs you will be visiting. You will sometimes find important information that will complement the information displayed on the interactive map.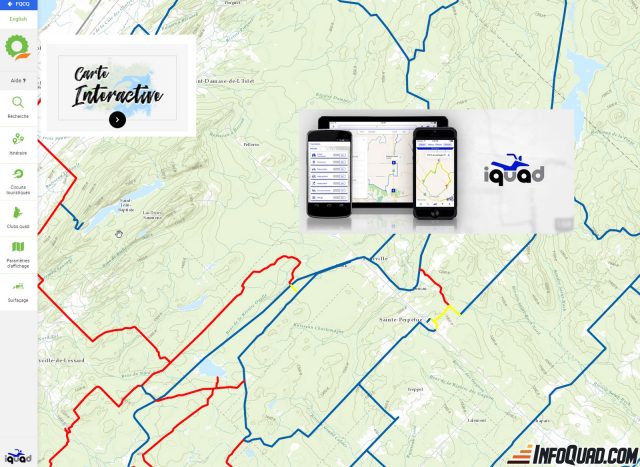 On the interactive map of the FQCQ, you will find, in addition to the "standard" colors of the trails, the yellow and red colors which indicate respectively warnings (yellow) and closures (red).
You can then click on the colored trail and a message will be displayed informing you of the reason for the warning or closure as well as the expected date that this state will end.
PC Quadgen Software
Be aware that a market map installed in your GPS will show you available trails, but will not alert you if they are open or closed.
To help you with your planning, I definitely recommend the PC Quadgen Software.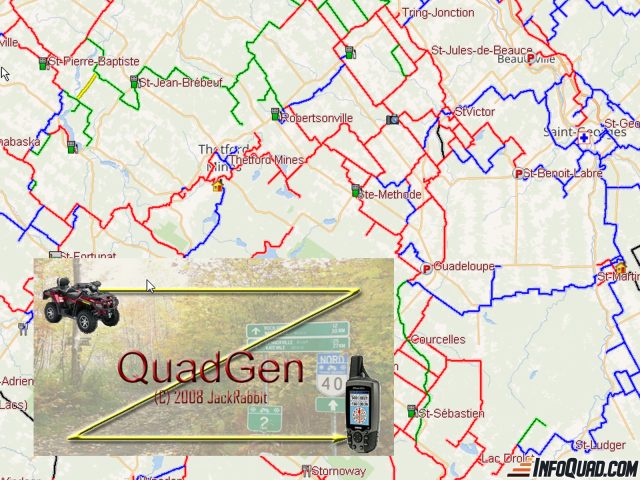 This software allows you to plan your GPS tracks. (Generally one track per day of hiking). The latter will produce a file containing a "trail" only. You can then export it to your GPS or mobile application of your choice to follow it. QuadGen offers you all the federated trails as well as a multitude of unmarked forest roads. These can be used but are validated for the more adventurous quad riders.
QuadGen also informs you of where you are riding in a ZEC, it includes thousands of points of interest with contact information for them. You can also quickly find contact information and territories for quad clubs.
Once your ride is well planned, you can move on to the next step: export your trail to your GPS or your favorite mobile application. Obviously, I will not cover the multitude of possible GPS/mobile applications.
GPS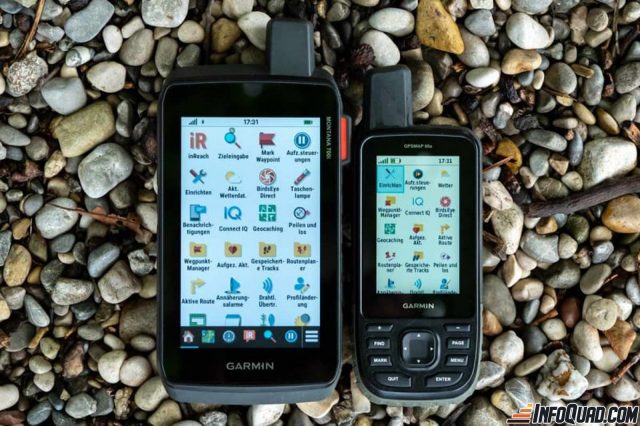 Garmin's Montana Range
The Montana series is offered in multiple products. Until recently, the most popular line was the "600". About a year ago, the 700 series appeared with 3 products: the 700 (GPS only), 700i (GPS and InReach technology) and the most complete, the 750i (GPS, InReach technology and 8 Megapixel camera). The geotagged photos offer a very nice resolution for most of us who just share them on social media. The Montana 700 now offers a 5-inch touchscreen. An essential accessory to the purchase of the GPS will correspondingly be the "AMPS" cradle that will allow you to never worry about the battery's state while hiking. The GPS will be connected directly to the Quad's battery.
Garmin's GPSMAP Range
Garmin also offers another line of GPS devices that are just as powerful, but much smaller! The screen of the GPSMAP 66, for example, is 3 inches, and it can also be plugged in so that you don't have to worry about the battery's condition. For the latter, you'll need to connect it with a USB cable that you'll power as you see fit (12V outlet, Quad battery, etc.). You will also need a cradle to install it on the Quad.

A final alternative that will allow you to follow your planned route is the "maps.me" application. This application is free on Android or Apple and it offers you maps that can be downloaded automatically when you enter an area for which you do not have a map. The problem with these maps is that they contain very little detail. So, maps.me is, in my opinion, only useful for tracking your route. Don't expect to find many details.
There are many other GPS units available on the market. Obviously, I can't cover them all in this article!
MAPS FOR A SUCCESFUL RIDE
If you choose a GPS, you should know that any GPS without a map is like an ATV without gas! If you do not install a map on your GPS, you will only see your route without any background layer. You will probably not see much interest in it!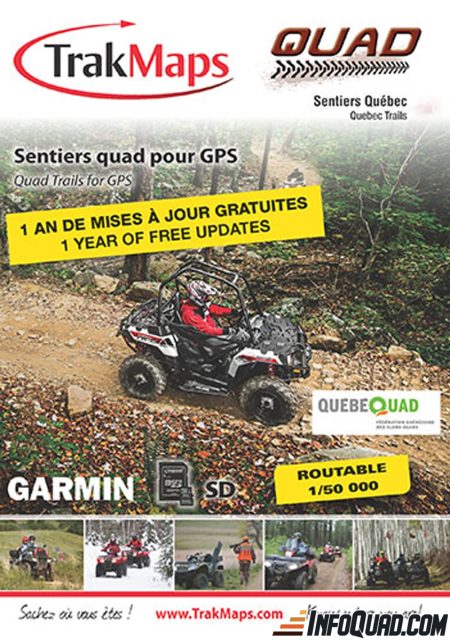 At the very least, I recommend that you install the Quad Quebec maps from TrakMaps. These maps are season-dependent (summer/winter) and will show you the trails of the network while not showing their status (open/closed) as mentioned above.
Other maps can complete your collection for even more details. The Topo Quebec map from TrakMaps is very practical. It offers you many forest roads, crown lands and a lot of other details that the Quad map does not contain. This map is optional but remains a very good complement to the Quad map.
 ENJOY YOUR RIDE!
You are now ready for your ride. All you have to do is follow the route you prepared and downloaded to your GPS or mobile device and enjoy the beautiful scenery of the area you chose when you plan your trip. Take pictures with your GPS and have a great day without getting lost.
When you return, if you have the QuadGen software, you will have the opportunity to retrieve all the data from your GPS (LOG, actual track, waypoints and photo). You can create an adventure on your computer and quickly review your route with thumbnails of your captured photos geotagged at the location of your shot.
Other related links: