When we practice activities in winter, it is necessary to have the right equipment. Moreover, we must be prepared for any eventuality. That's why I bought a set of ConforTeck heated insoles a few years ago.
We are well aware that our body heat loss is usually through our extremities. Our feet are therefore a place where we are likely to feel the cold of winter.
Why do our feet get cold?
Cold feet are often caused by poor blood circulation. When certain limbs are not stimulated, there is less blood flow and a cold feeling is quickly felt.
During the motorized activity, the upper body is usually more solicited. However, this is not always the case for the lower limbs. Therefore, providing warmth to our feet for comfort and pleasure during our activities is important.
Test: ConforTeck® Heated Insoles
ConforTeck offers several sets of heated insoles, some of which can connect to a 12-volt outlet that we usually find on our vehicles. For my part, I selected the lithium insole kit for autonomy when I also want to practice non-motorized activities.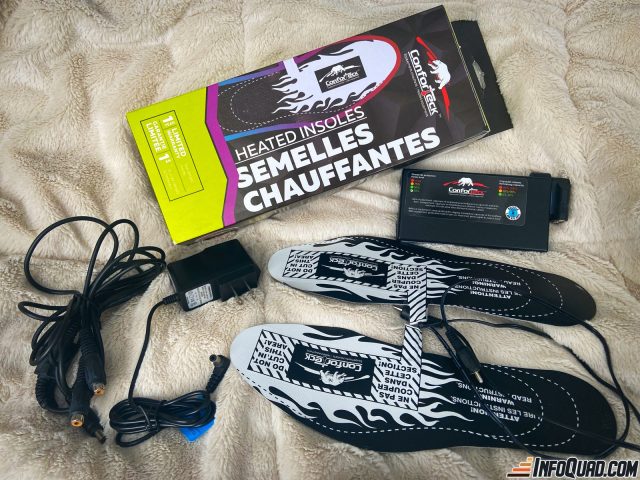 This kit includes of course a pair of insoles that can be cut to the desired length, a Y-connection wire, wall plugs and a rechargeable lithium-ion battery at 12 Volts DC 5200mAh. This battery fits very well in my pants or coat pocket. It also has 2 plugs for connecting a second heating accessory if the desire arises.
The Installation
You'll agree that it doesn't take a university thesis to understand the mechanics of installing these ConforTeck insoles. However, for best efficiency, I strongly recommend not installing them under the removable liner, if your boots have one. Installing them directly in contact with your feet while wearing socks is preferable.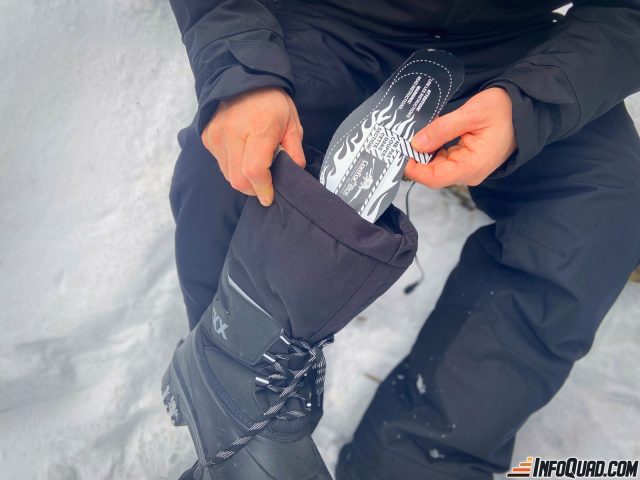 Then, the connection to the Y wire is made (previously inserted in each leg of our pants). Finally, we only need to connect the wire to the battery to take full advantage of the heat they offer.
Several power levels
The battery offers us 4 levels of heat intensity according to our preferences.  To turn it on, I only have to press the red button on the battery for 2 seconds and a red Del indicates that the battery is working at maximum. Afterwards, I only have to press the red button again to change the intensity and thus, obtain the best possible comfort.
| | |
| --- | --- |
| Red Del | 100% of intensity (at maximum) |
| Orange Del | 75% of the intensity |
| Green Del | 50% of the intensity |
| Flashing Green Del | 25% of the intensity |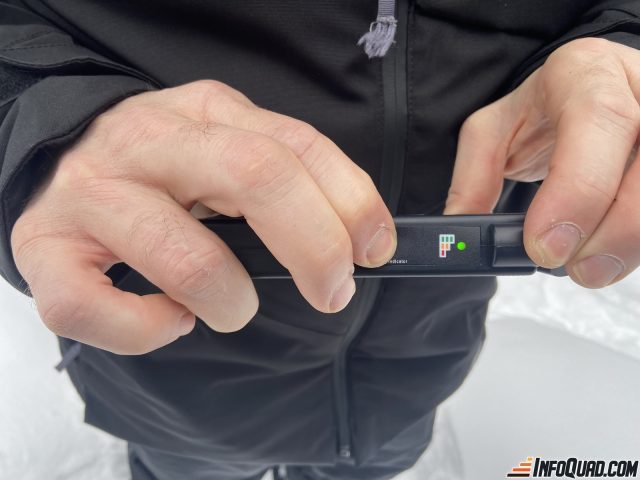 Battery life
The battery life differs from the way I use it. ConforTeck has data on this; from my findings, it is close to reality. With a full charge of the battery in full intensity use, the battery life will be 6-7 hours. On the other hand, when used at its lowest power, it will provide continuous longevity of up to 30 hours.
It is possible to check the remaining battery capacity by pressing the red button when there is no equipment connected.
| | |
| --- | --- |
| Red Del | 90 — 100% remaining |
| Orange Del | 30 — 90% remaining |
| Green Del | 0 — 30% remaining |
I strongly advise you to recharge your batteries every 3 months when not in use for a long time. This will ensure that it will work properly when you need it again.
ConforTeck Heating Insoles: My Verdict
These heated insoles work well beyond my expectations. I have noticed that the maximum intensity setting is much too hot for my personal comfort, but would be applicable to those with poor circulation. I personally prefer the 25% or 50% intensities for continued comfort without experiencing sweat that would cause me discomfort.
On a few occasions, I had to press the red button on the battery to turn it back on, because it had stopped working. This happened when I accidentally made too many movements, resulting in a disconnection. In this situation, the battery has to be put back into function. Therefore, I now store it in my pants pocket to prevent this from happening again.
The soles are pretty flexible though and they fit my feet well. Since it is a heated insole, I feel very natural when walking. I noticed that I forgot they were there, which is a good sign under the circumstances.
However, it was really during the harsh winter weather that I appreciated their presence. That's when I think these soles shine. I have spent countless hours on the trail in almost Siberian cold and never had to worry about my feet because they were so well cared for. Sometimes, I have to stop for a few moments, without more, to readjust the intensity.
Conclusion
In conclusion, there is nothing worse than coming home early after what should be a beautiful day. All because all the heat has left your toes, or having trouble concentrating because all you can think about is the cold seeping into your insoles.
ConforTeck heated insoles can quickly and comfortably eliminate any unwanted chills that come your way. This impressively compact accessory can make your life easier and enjoy our cold winter weather even more.
More heated clothing and accessories reviews here: