Forget all about work and play; here, we're going to focus on PERFORMANCE with the YZF450R 2021. If you're the medal collector type or want to play INTENSIVELY, this is definitely the quad for you!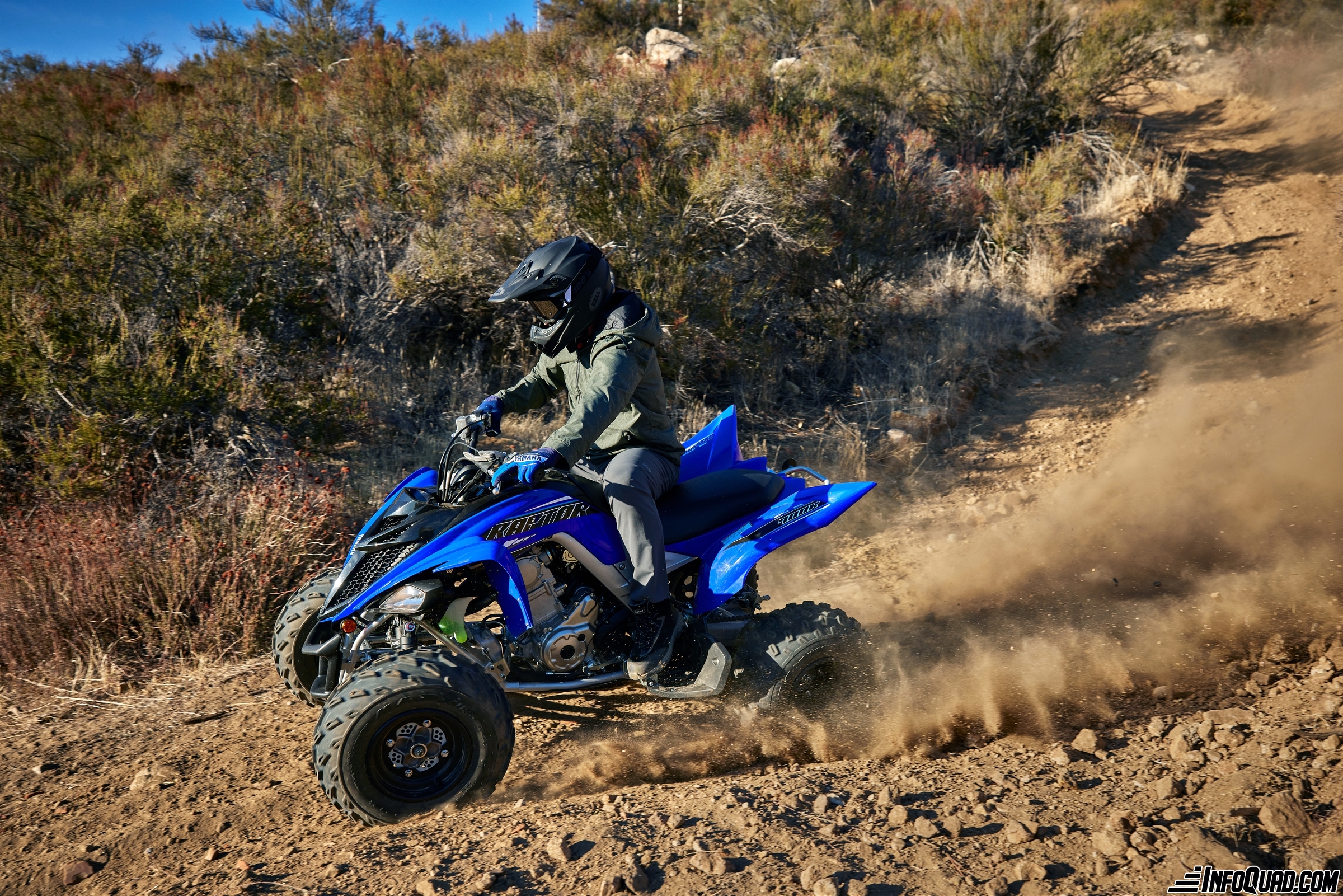 When a manufacturer makes a 449cc liquid-cooled, single-cylinder engine with dual overhead camshafts (DOHC) with five 42-mm titanium valves and 12-hole injectors to maximize fuel delivery (Yamaha Fuel Injection – YFI), it's no wonder it's serious. Add a U.S.-made chassis whose "vehicle" portion is made of ultra-light aluminum, bolted together instead of welded (for greater durability strength), and the "engine" portion is made of super-strong steel alloys. Also, remember to put the oil tank in the engine since together, they represent a considerable weight on the vehicle and place them very low. Close to the ground, they lower the center of gravity and make it easier for the driver to maneuver. These are engineering feats of strength, and Yamaha hasn't finished showing off yet.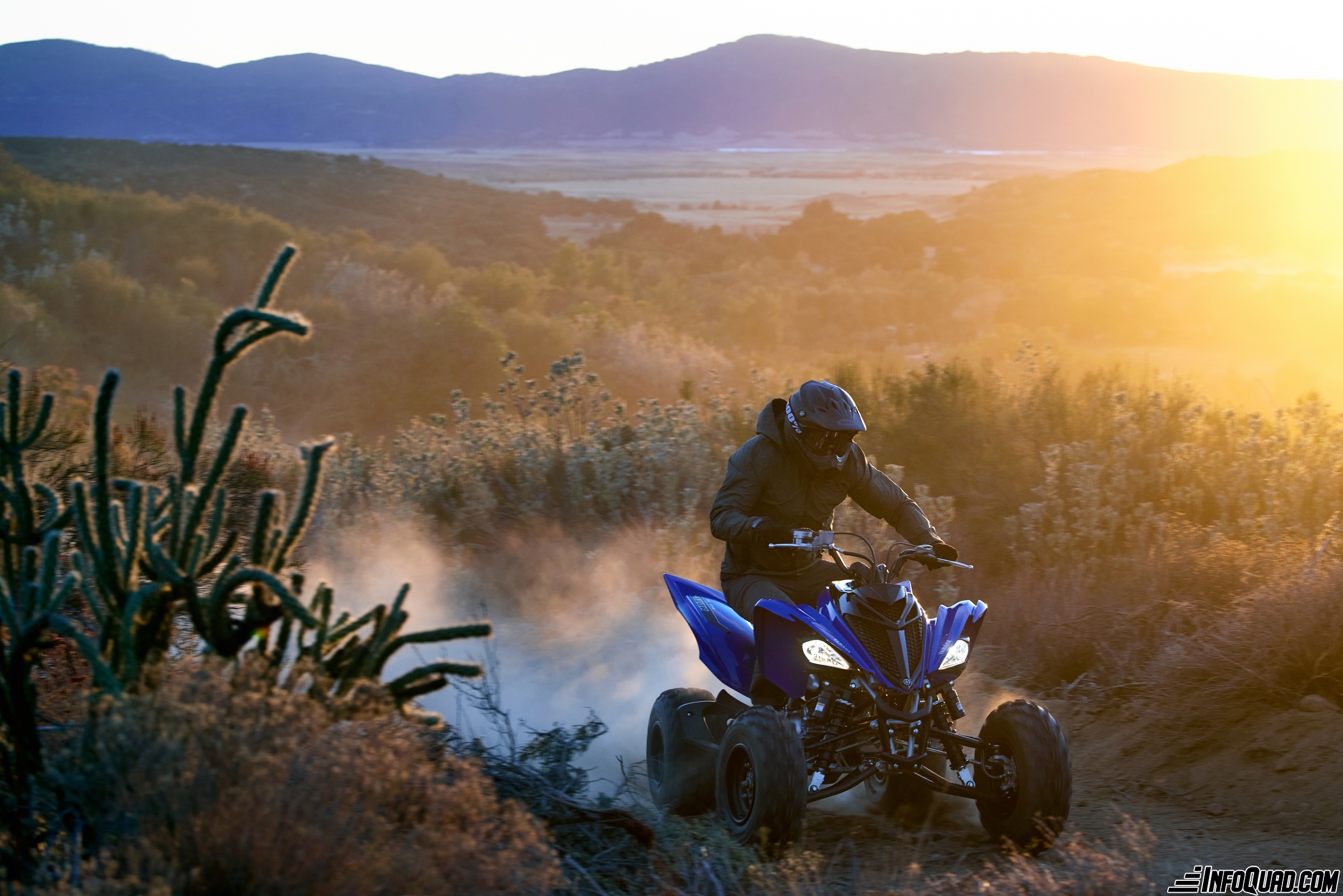 The YZF450R 2021's clutch assist system combines the best of both worlds, minimal effort for the user at the lever, and increased pressure on the clutch plate. This makes gear changes straightforward and direct and also reduces engine braking when downshifting in curves because in racing and very sporty driving, speed counts!
The YZF450R 2021's front frame is very narrow to optimize the user's driving experience. This allows for longer suspension arms, more room for KYB shocks with 9.8 inches of travel, and less plunge in tight corners. Always with performance and efficiency in mind, the seat is also narrow and thin at the front to facilitate the driver's movements when counter-steering. The handlebars are adjustable in multiple positions. The running boards are wide and stable for an aggressive, upright riding position.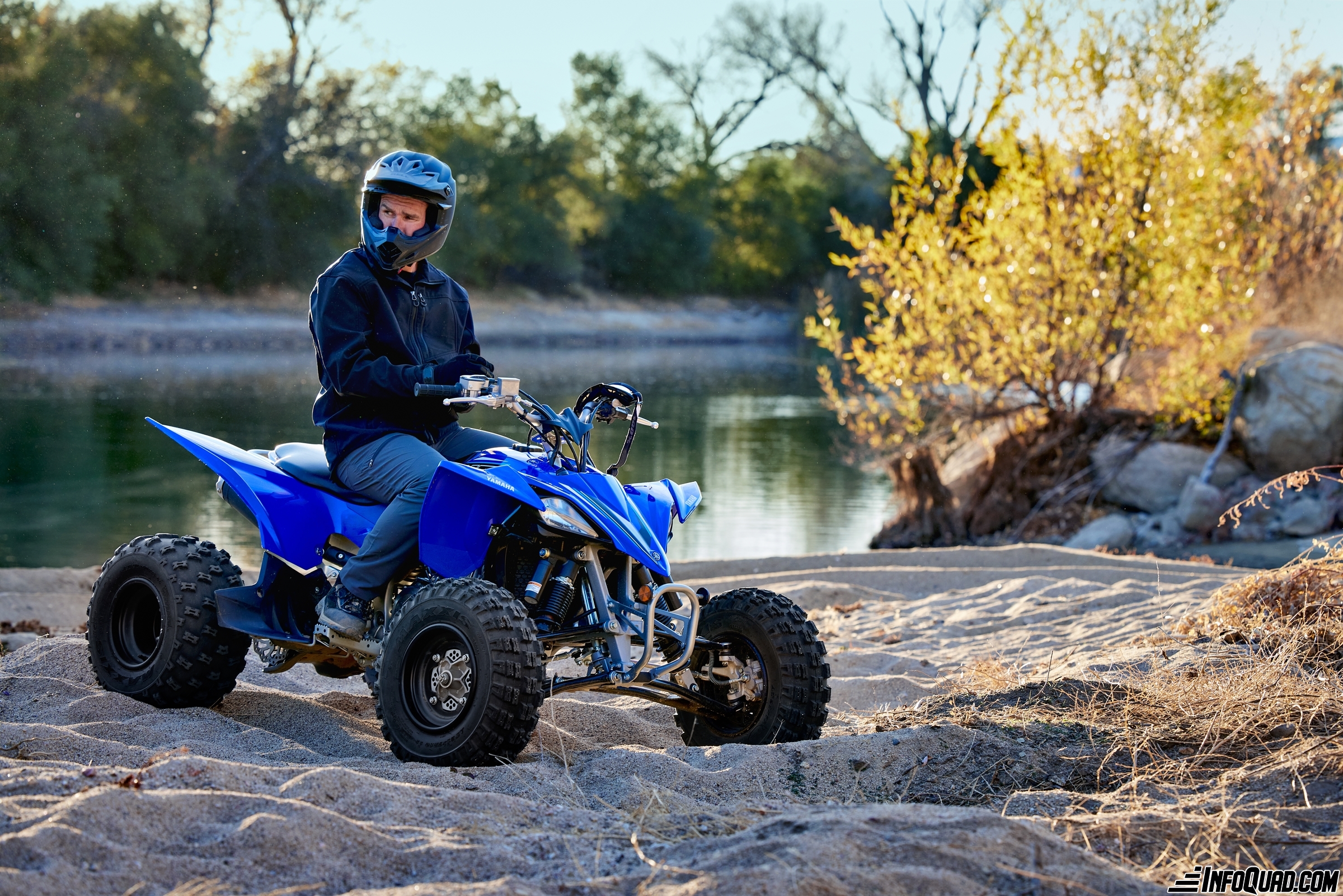 With its 50-inch wheelbase offering exceptional stability and speed in straight lines and especially in curves, this ultra-sporty ride requires solid and sturdy wheels that are often heavy. So Yamaha designed wheels with an inward-folded lip. This design considerably strengthens the wheel structure without adding weight. Add aggressive 21-inch Maxxis tires in the front and 20-inch tires in the back… It's a seriously sporty setup!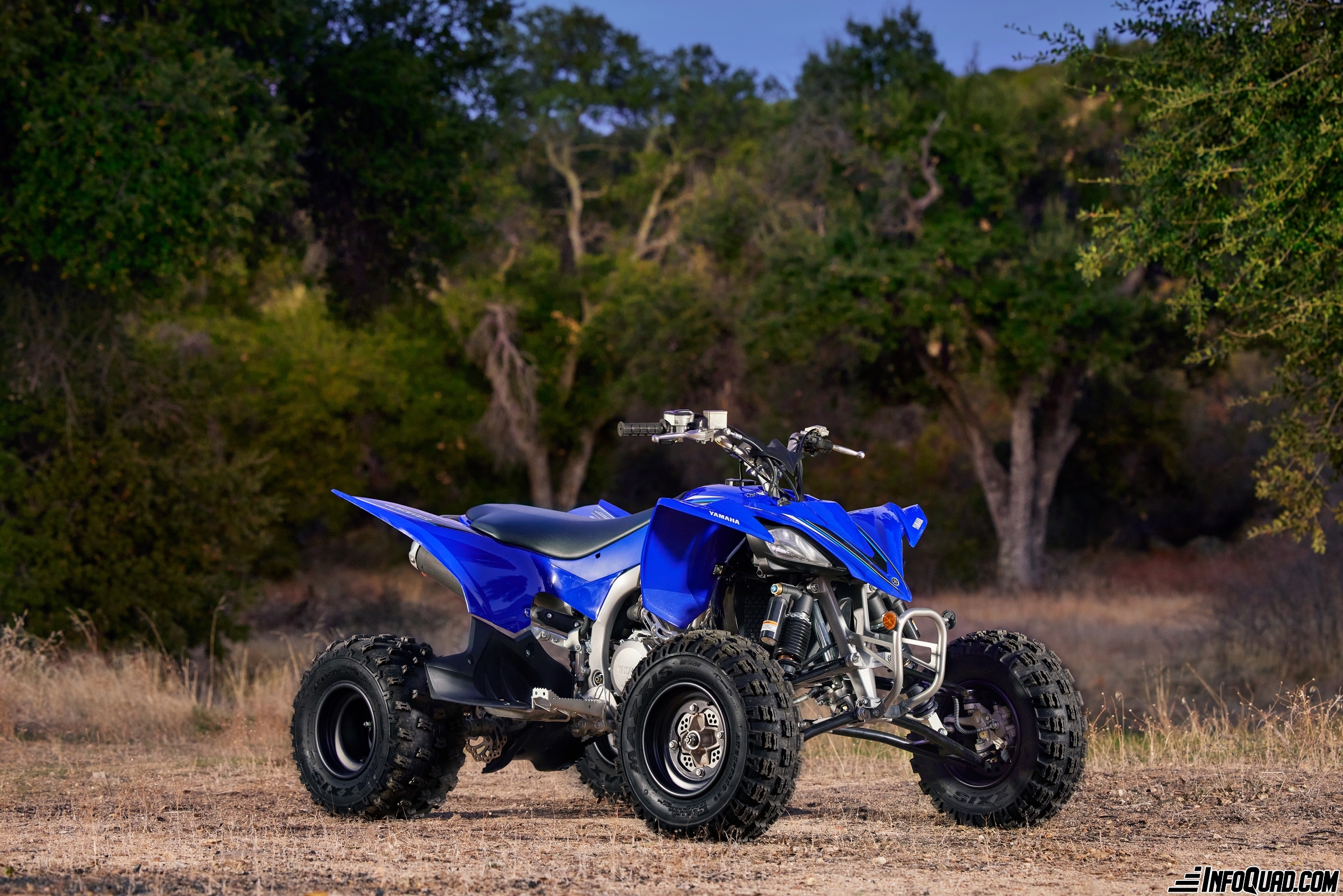 The rear suspension hasn't been overlooked either: an aluminum swingarm with adjustable 46 mm diameter KYB piggyback shocks and an impressive 11 inches of travel, easily absorbing every portion of your route, even the most rugged. Another interesting detail is that the plastic fairings can be removed without tools, allowing quick and easy access to the mechanical components.
Yamaha announced for their 2021 unveiling that: "The YFZ450R is currently the most advanced sports ATV on the market," and they were absolutely right, in every way!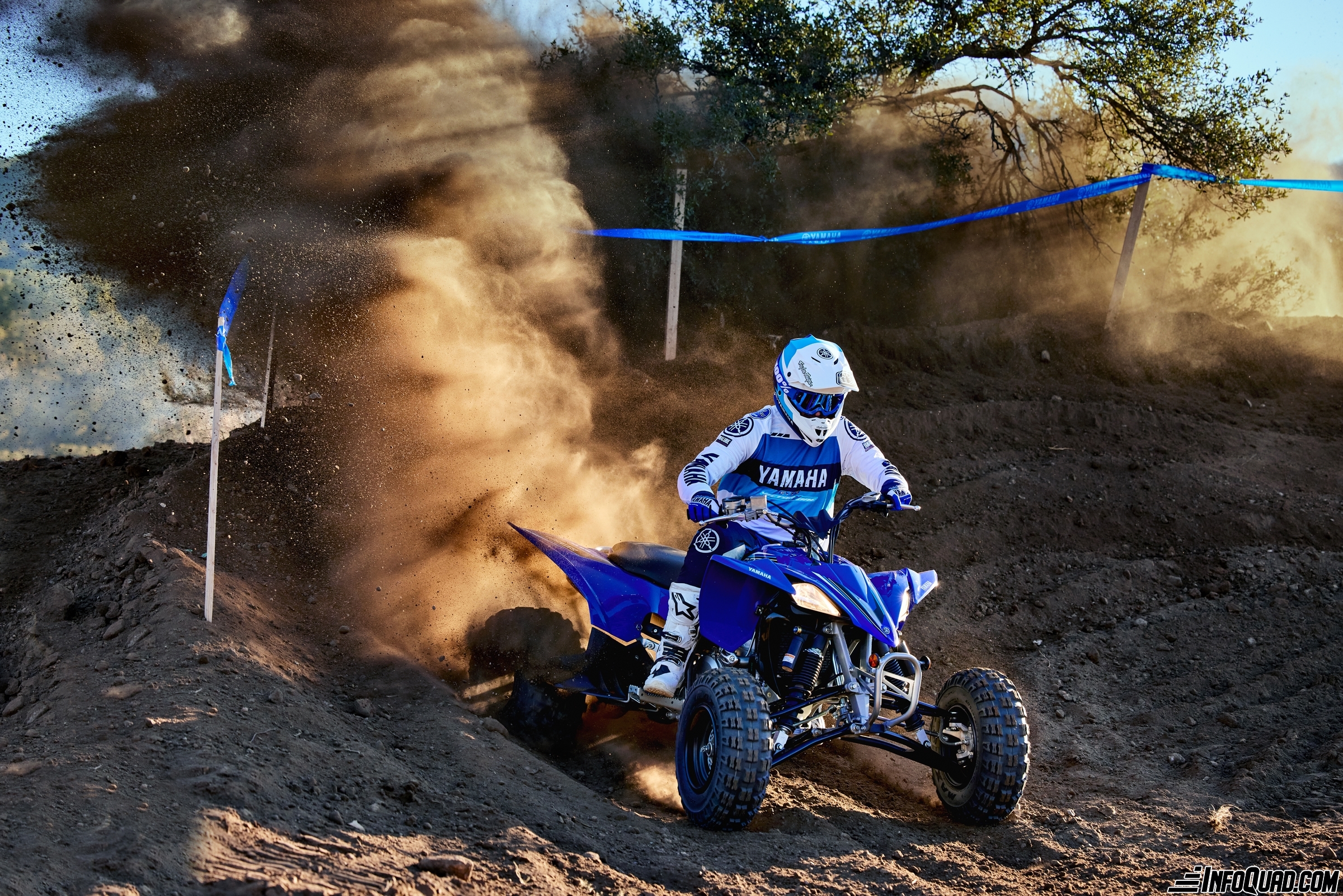 You liked what you just read, but it's the trails that interest you, more comfort and … more engine? Opt for the Raptor 700R 2021.
686cc liquid-cooled, single-cylinder, overhead camshaft (SOHC) engine with 44mm electronic fuel injector system (YFI), 5-speed circuit-worthy transmission, heavy-duty clutch, torque to spare and that at all speeds, POWERFUL in its raw state!
It has many similar aspects to the YZF450R, including a design that's just as spirited on the performance side and less minimalist on the weight side, for users who use their quad intensively. In order to "civilize" this spirited quad, it is equipped with an electric starter and a reverse gear. The power-to-weight ratio is amazing, 20 pounds more than the YZF450R, but 237 cc more: you're a winner for sure!
In conclusion, Yamaha has been on the podium for several years and is an indisputable leader in SPORTS quads. With its 2021 unveiling, they are confirming that they will remain at the top of the list… One more year!