Yamaha brand loyalists will not be left out once again this year with the presentation of pure sport quads and auto-quads. The range is also very varied for all types of riders who are looking for a vehicle that will meet their specific needs.
Last September, Yamaha unveiled its recreational, utility and children's vehicles for the 2022 model year. It took the opportunity to further redefine the SxS recreational segment by highlighting the new high-performance Wolverine RMAX2 1000 Sport.
Noteworthy, each full-size ATV for the global market is proudly built and assembled in the United States at Yamaha's state-of-the-art manufacturing facility in Newnan, Georgia. The factory recently reached a historic manufacturing milestone, celebrating its 4 millionth vehicle produced.
Recently, Yamaha unveiled a second showcase that is sure to please adrenaline junkies. Yamaha is one of the last manufacturers to offer sport-oriented quads that are very similar to motocross bikes. These quads are designed with lightness in mind and are free of artificial devices to perform maneuvers that no other conventional quad could do.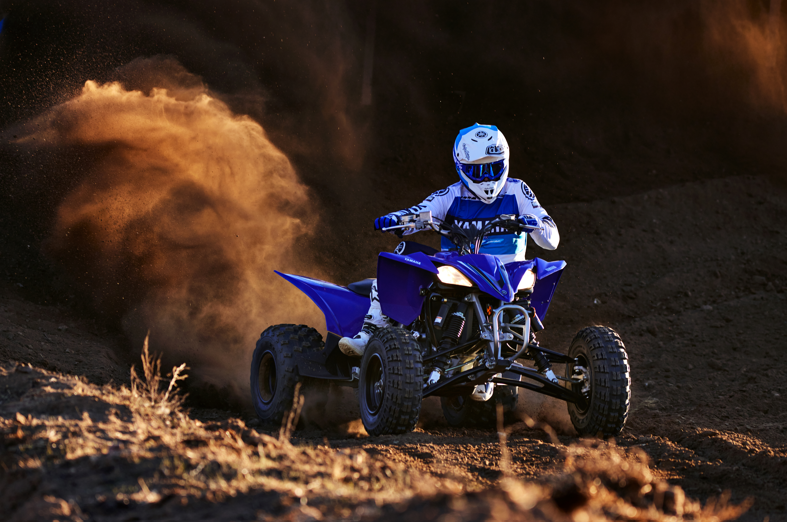 2022 Yamaha YFZ450R
Yamaha's YFZ450R is much more than a sport quad. It redefines the ATV experience with a full-blown adrenaline rush. The distinctive body lines don't lie about its attributes, and they blend into aggressive angular points, so the YFZ already looks fast at first glance.
However, you don't really get the thrill until you firmly press the start button. Electronic fuel injection and ignition bring the Yamaha YFZ450R's powerful engine to life. Although the engine remains an aggressively tuned 449cc EFI, this dual-cam powertrain has a five-valve head and titanium cylinder head. It's liquid-cooled and all the power generated by this sophisticated engine is multiplied by a five-speed manual transmission.
To experience all the power the 2022 YFZ450R has to offer, and to intensify the excitement even further, simply shift into first gear, increase the engine speed and release the clutch to discover its full potential.
Another advantage of Yamaha's power assist and slipper clutch setup is the light engagement and feel. The ramps built into the clutch pressure plate increase the tension on the clutch block as the rpm increases. This requires less effort from the lever to deliver as much power as needed, which translates into more control on the quad.
The chassis is designed for motocross and is seamless and professional grade. It's constructed of lightweight aluminum with a high-strength steel subframe that allows the engine to be positioned lower for excellent mass centralization. Suspension components and settings further reduce weight while providing light, precise handling and optimal riding comfort.
This quad has been designed and engineered to make cornering easier and achieve faster lap times than anyone else. Riders can also easily remove the body panels without the need of tools, allowing quick access to key maintenance areas without having to remove the battery or other components.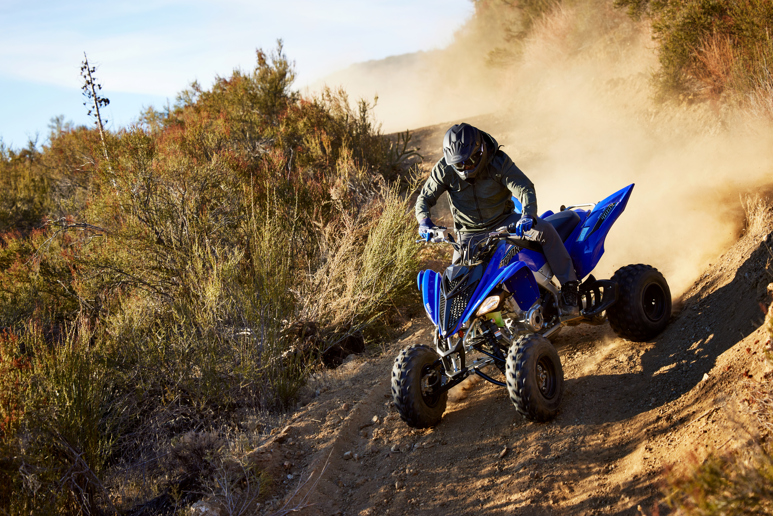 2022 Yamaha Raptor 700R
If you want to own the ultimate in sport quads, the Raptor 700R is definitely on the top of the podium. Powered by a next-generation 686cc engine, this single-cylinder, four-stroke machine is liquid-cooled and fueled by a 44mm electronic fuel injection system. A strong thumb throttle push can rev the engine to 9,000 rpm.
"The Raptor 700R offers a high level of comfort and unmatched performance," said Andrew Scott, Powersports Product Specialist for Yamaha Engine of Canada. "With its powerful engine, perfectly balanced chassis and legendary Yamaha refinement, it has set the standard for sport ATVs for more than a decade."
Power is transferred to the rear axle via chain and a sequentially staggered, clutch-operated five-speed transmission. A reverse gear is designed for the transmission. It's easy to engage and quite convenient to have at your disposal on the trail.
The power of the Raptor 700, combined with its lightweight steel-aluminum hybrid chassis, aluminum subframe and cast aluminum swing arm, makes for a durable and solid structure with an exceptional power-to-weight ratio. It beats the competition as the lightest ATV in its class.
The suspension is smooth and forgiving for the average rider. The front end offers 9.1 inches of travel with a double wishbone suspension. Most ATVs use this setup, as it is solid and simple in design while remaining light. The rear of the Yamaha Raptor 700R uses a swing arm that offers 10.1 inches of wheel travel. A straight axle holds the rear wheels in place and allows the Raptor to glide easily through corners. In addition, the top-of-the-line suspension features low- and high-speed compression and rebound control, allowing it to adapt to the most aggressive riding.
The 2022 Yamaha Raptor 700R also offers several standard features such as an electric starter and a comfortable, padded seat. There's no doubt that this is the quad you want to own for great thrills on all types of terrain.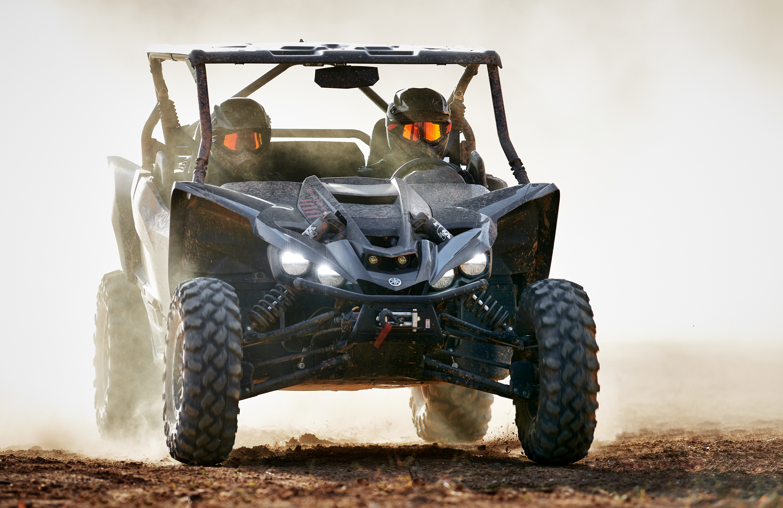 2022 Yamaha YXZ1000R SS SE
When Yamaha unveiled the YXZ in 2016, it surprised the world with its innovation in the hyper-sporty auto quad category. At that time, Yamaha contradicted its image as a conservative manufacturer. Let's be honest, it was a breath of fresh air in the industry.
Powered by a 3-cylinder, naturally aspirated 998cc engine with enough torque to take you to nirvana. It makes a lot of torque for a triple non-turbo engine, but it takes some revving to get there. Normal riding takes place above 4,000 rpm, so calling it moderate or quiet would be a lie.
This manufacturer can justifiably pat itself on the back for introducing the first 5-speed manual transmission in the quad market. Yamaha is so confident in this revolutionary technology that they have filed a patent for it. All other sport ATVs (except for the Honda Talon) use a belt-driven, automatic CVT transmission. Giving the driver control of the transmission creates a driver-centric experience, much like a rally car.
For 2022, Yamaha is equipping its YXZ1000R SS SE with large Maxxis Carnage tires. These tires have a design and footprint that leaves no doubt about their intentions. They have the potential to deliver the full power of this dune buggy to its furthest reaches. They offer exceptional traction, durability and steering precision in the most extreme off-road environments. As part of the package, the tire's rugged tread is mounted on ultra-durable beadlock rims ready for the toughest terrain conditions.
In addition, the 2022 YXZ1000R SS SE is equipped with a factory-installed WARN winch as standard. To get you out of the toughest spots, the WARN VRX 4500 winch is mounted via a new custom front grab bar. In addition, the winch controls are integrated into the electrical system, placing the controls where the operator needs them.
Ergonomics were considered in the design of this vehicle. Its radical styling shows Yamaha's passion for motorsports. The front suspension design allows for an extremely low hood line for excellent visibility on the trail. This means you can tackle any terrain or obstacle with confidence.
The YXZ1000R SS SE 2022 is equipped with top-of-the-line FOX 2.5 Podium RC2 shocks. All four corners are fully adjustable – spring preload, cross adjustment, rebound and high and low speed compression damping. All this with a massive 16.2 inches of front travel and 17.0 inches of rear travel that gives it exceptional ride quality, adaptability and handling.
In conclusion, Yamaha once again offers us a great selection for all off-road recreational vehicle enthusiasts. The quality of its ORVs and its enviable reputation are unquestionable.
To see all the new models , visit Yamaha website.