Whatever our interests, we like to own things that stand out from the crowd. We like them to reflect our personality, and that's just fine. Recreational vehicle manufacturers have understood this concept well, and they integrate it well into what they offer us.
Arctic Cat's auto quad utility division is well-diversified enough to meet everyone's needs. The name "Prowler" needs no introduction at this manufacturer. The more erudite know that it was even used in snowmobiling in the not-too-distant past. It's a name that sticks with them; we can't blame them for exploiting it.
A bit of history…
On the snowmobile side, the name Prowler first appeared in 1990. However, Arctic Cat offered its first side-by-side, the Prowler, in 2005. This utility model has a large rear-mounted box similar to a pickup truck bed.
Let's face it, this Thief River Falls-based manufacturer's side-by-side vehicle is dedicated to functional, practical tasks. You have to be aware that its sporting attributes are virtually non-existent.
2022: a breath of fresh air!
Let's not forget that Arctic Cat spanked the 2022 vintage in its side-by-side utility vehicle category. It refreshed its Prowler range, and frankly, it was about time! The body lines have been considerably softened, much to our delight.  What's more, an improved suspension, revised transmission and refreshed colors marked this turning point.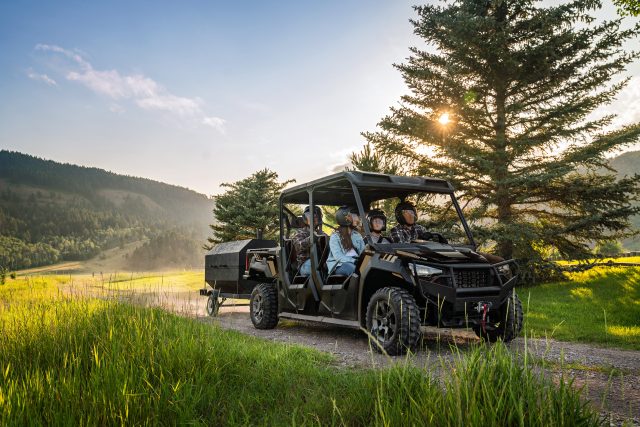 2023 marks the return of the Pro Ranch edition!
As mentioned at the outset, we like editions that stand out from the crowd. Arctic Cat announces the return of its Prowler Pro Ranch Edition side-by-side.
Its Motorization:
It's powered by a robust 50 hp motor that's been finely tuned to deliver optimum power, smooth operation and minimum noise. Whether you're navigating rough trails or a demanding construction site, this reliable engine ensures that the job gets done efficiently.
At the heart of the Prowler Pro is the industry's quietest engine (58 db), a 50 hp, 812cc EFI engine that's as reliable as it is capable of handling a workload. Noise and vibration are all mitigated by well-tuned engine mounts and an isolated exhaust system. I'm sold on this engine because it's so quiet, an advantage in itself.
This vehicle's engine design was created with you in mind. Enjoy the sights and sounds of your ride without worrying about the noise of your vehicle. How quiet is the Prowler Pro Ranch Edition? It lets you hear the people next to you and the world around you, thanks to decibel-reducing features.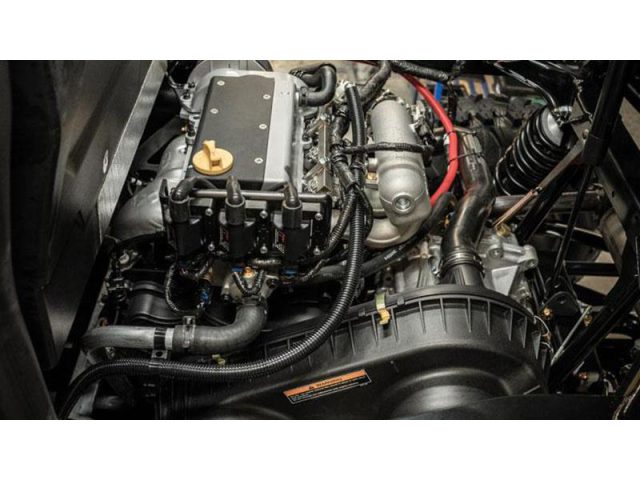 When you have to carry passengers, the discretion of the motorization is welcome when you have travelers with you, especially children. And as a hunter, who wouldn't want to stealthily roam your hunting grounds? Game will be easier to reach with this unobtrusive, hushed side-by-side.
Arctic Cat has done its homework with a design that includes optimized engine mounting, a precision-tuned exhaust system, a vibration-reducing frame and a sound-absorbing intake design. 
Suspension – 10″ front and 9.5″ rear suspension travel:
The original ride quality of the Prowler Pro suspension has been designed with a lift kit to achieve a high ground clearance (12.5 inches) that will allow you to navigate rough trails with ease. In loaded and unloaded riding conditions, this side-by-side handles more aggressive terrain more easily with less bounce and increased control, giving you a better overall ride.
More storage space than you can imagine!
No need to select the items you need to carry, leaving the superfluous behind. The Prowler Pro Ranch Edition has room for everything you need, with plenty of built-in storage space. When you're at work or hunting, you don't travel alone: your gear has to go with you!
Designers have created plenty of space with features such as: 17.95 cu. ft. of storage, 14.72 cu. ft. of trunk space, several in-cabin storage compartments, a spacious glove box, behind-the-seat storage. On top of that, a customizable modular design lets you remove and stow the passenger seats, all so you can make the most of every square foot of this side-by-side.
1000 lb load capacity in its rear body:
Whatever your cargo, the Prowler Pro handles it with ease. Rocks, mulch and anything else you can carry – just shovel 1,000 lbs into the back and put it down without a care in the world.
Designed to get the job done with ease – 900 kg towing capacity:
This side-by-side should be able to take on big challenges. That's why the Prowler Pro Ranch Edition is designed to tow a ton, so you can haul more equipment and move more obstacles.
An array of accessories beyond your expectations:
This new addition to the Prowler Pro range boasts a 4,500 lb weight. WARN® winch, top-of-the-line front and rear bumpers for added protection and durability, and over 50 bespoke accessories offer customization for any job.
Room for everyone:
The Prowler Pro Ranch Edition offers room to spare with options for three or six passengers. It includes pre-installed electrical wiring, a standard 75-amp alternator and a formed ROPS that allows easy installation of cab components for a clean, seamless finish.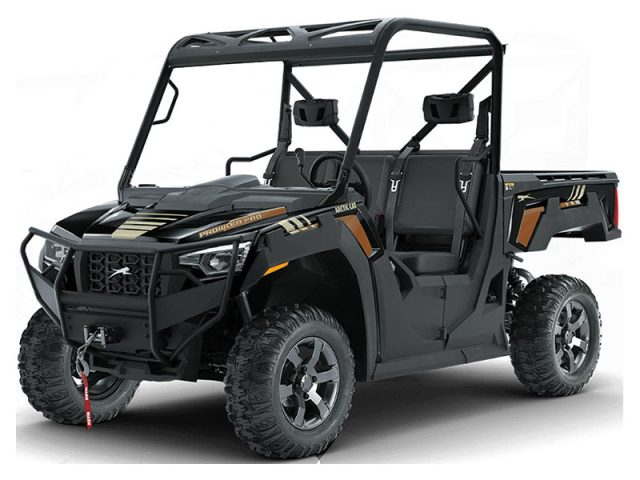 An aesthetic that will charm the cowboy in you!
The Prowler Pro Ranch Edition is available in black and a bronze graphics package. It offers a rich, luxurious look.
In conclusion, there's no doubt that the Arctic Cat Pro Ranch Limited Edition has all the advantages you want from a utility vehicle. It will be an ally you won't want to do without.
For more information, visit this link.
Continue reading our latest Arctic Cat articles: