We're so lucky here in Quebec. Splendid landscapes, lakes and rivers galore, but above all, four seasons. Sometimes, all four in the same day. People spend a fortune in some parts of the world to experience a different climate. Here, it's free.
Although it doesn't get unanimous approval… we're pampered. For us quad riders, it's paradise. While some people like to ride in winter, others prefer summer. Each season brings its own opportunities for adventure. Which is my favorite? For me, that's not such a simple question to answer.
Spring, back to basics
And mud, lots of mud. After winter, life returns to normal. As we enter the forest, an intoxicating smell of freshness invades us.  For trail riders, this is not the ideal season. Many federated trails are closed (so as not to damage them).
Those who don't want to get dirty shouldn't do so. The melting snow could play tricks on you. In the morning, the snow is hard.  In the afternoon, beware of those who stray from the beaten track. The snow takes the form of large salts and will make you lose all traction. You'll suddenly feel the need for a winch.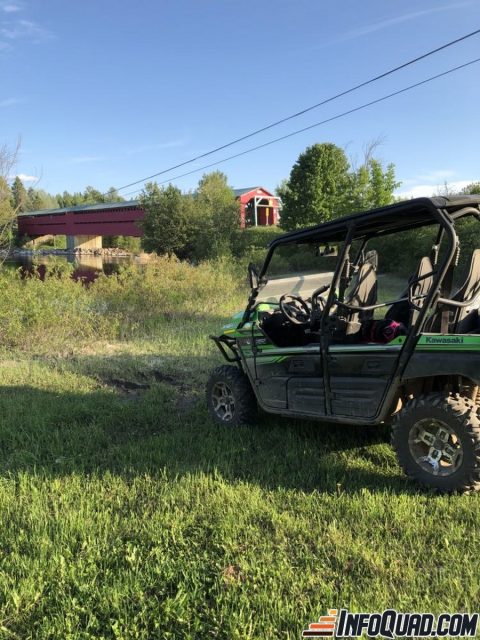 The season of choice for mud lovers
Mud lovers are in for a treat. Overflowing streams, lots of puddles and lots of mud.  Enough to awaken your inner child.
Then, even if it's getting hot, warm, waterproof clothing is a must. A stop at a maple grove to sweeten the taste buds will create fond memories. They say spring is the season to clean up, and I agree! Especially after a quad outing.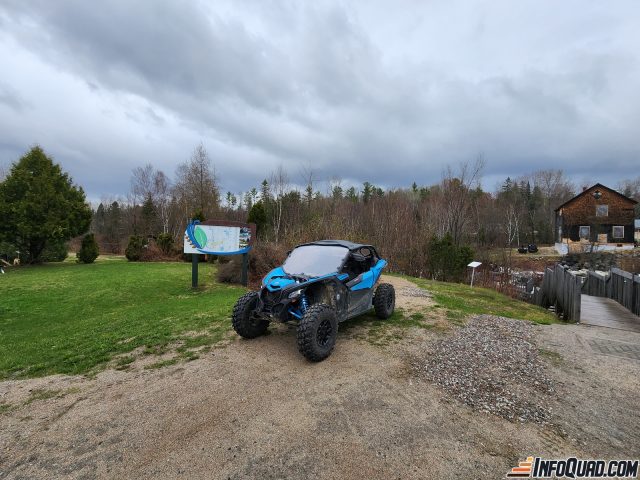 Summer is a time of discovery.
And dust. Many people around me don't go hiking in summer. They say that the trails are too choppy and that riding in a cloud of sand particles doesn't interest them. Well, as for the churning, I have a prejudice: you don't buy a quad or autoquad thinking you're in a limousine. It's part of the fun of being shaken up a bit. But each to his own style and preferences.
When it comes to dust, a few tricks can make the experience more pleasant. Opt for a hike after rainy days. Good glasses are not an option, but a necessity. (Mandatory at all times on federated trails) Avoid riding in groups. If you do, be sure to keep a good distance between you.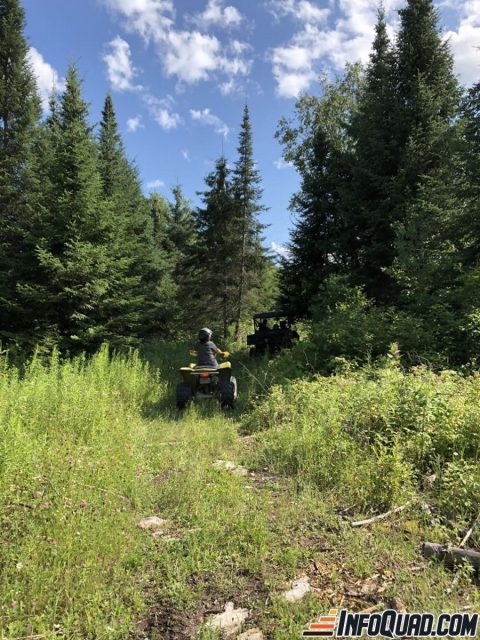 The perfect season to explore new horizons!
Summer is the ideal season for exploring new horizons. Getting lost in winter or having a mechanical breakdown in an unfamiliar place can quickly become a nightmare. Quad biking for anglers, swimmers and campers gives you access to places not accessible to the average person. National parks, ZECS and outfitters, to name but a few, are a wealth to be discovered. This proximity to nature is one of ATVing's greatest assets.
Autumn, the call of the mountains
For landscape lovers, autumn will be your season of choice. There's something very special about riding on a carpet of leaves. Hiking in mountainous terrain is particularly enchanting.
A few years ago, in autumn, we took a group out to Montagne du Diable at Tremblant in the Laurentians. The sun's reflections on the escarpments were spectacular. Children and adults alike were amazed. We stopped at the summit for a good meal, and above all, to enjoy the moment.
This season can play tricks on you. When you set off in the morning, the temperature can be deceptive. It's important to remember to pack warm clothes. In the afternoon, the mercury drops rapidly. Heat gives way to cool. Unfortunately for those who forget this detail.
Trail Closures
A bit like springtime, some trail sections are closed. This time, it's for hunting.  Landowners are often hunters. It's important to respect rights of way. It's partly thanks to these that we have exceptional trails. More importantly, it's for your own safety.
For buyers, it's time to store your new toys, tools and equipment for the coming season. Retailers want to make room for new models. It's up to you to sniff out the opportunity. Well, things have changed a bit since COVID, but the market is slowly returning to normal. As the Cowboys Fringants so aptly put it: "October will blow by like a gust of wind".
Winter, when the cold is no obstacle.
In December, a beautiful white coat sets in and the mercury becomes your enemy. Many quad riders opt for studded tires. Especially if you're riding on federated trails. When the hills become icy, you may wish you'd taken this option. You may find that different surfaces require different tires.
When there's a lot of snow and traffic, the roulières will give you a hard time. You're no longer guiding the vehicle, the trail is guiding you. The best scenario is to ride just after the resurfacer has passed. As a result, you'll have the best surface of the year. It's a bit like riding on a cloud.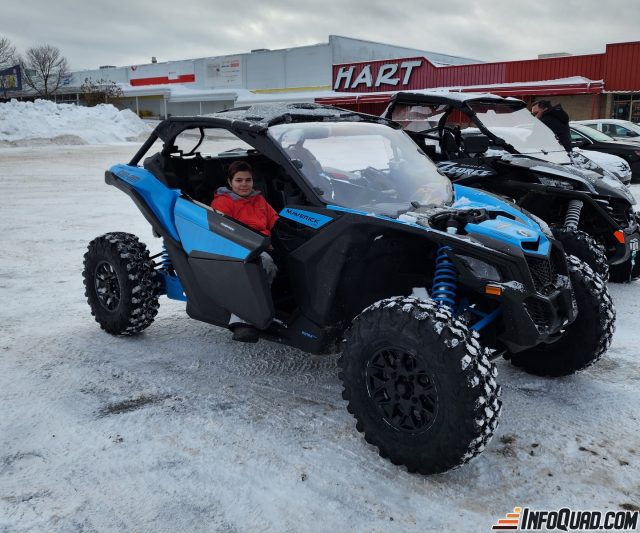 The season for extreme thrill-seekers
Lovers of extreme sensations, your turn has come. It's easy to get carried away. From curve to curve, from one skid to the next, it's always important to remember that you're not alone. Accidents happen so quickly. It's not unusual to ride for several hours without meeting anyone. A stop at a hut with a still-warm wood-burning stove will remind you that you're not alone.
I have the privilege of living on the shore of a lake. When winter comes, we open a trail. It's our place to let off steam without endangering anyone. So, if you want to unleash your inner beast, it's best to do it on private land, a frozen lake or some other controlled area to limit the risks.
The autoquad has become very popular in recent years. The difference on a quad bike in winter is that you'll be moving around a lot more than when you're sitting behind the wheel of a car. By moving, you warm up a little more. However, the industry has adapted to every need. From heated grips to heated enclosed cabins, there's something to keep you warm.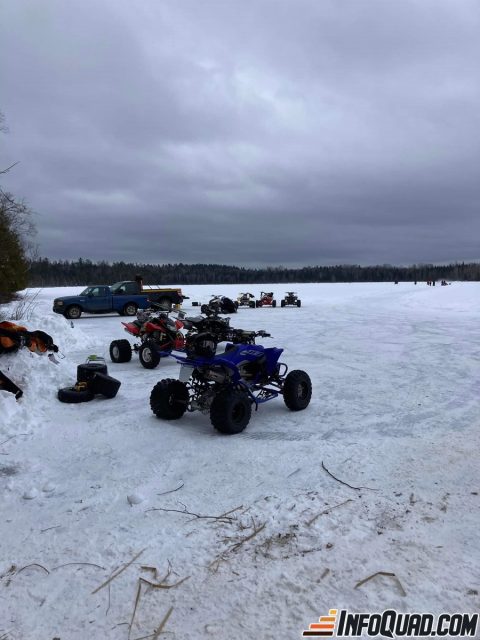 My favorite season,
For me, the best season is the present moment. No matter what time of year you like to ride, the most important thing is to have fun. On the other hand, a ride can become unpleasant if you're not organized accordingly. When you ride with a clear understanding of what you're doing, the sport you love takes on a whole new meaning.
Get started! Create your own memories, alone or with friends and family. Every outing brings its own set of anecdotes that will be talked about for years to come.
Here are our most recent articles: