What is a particle separator? Do I need one?
Particle separators first saw the light of day in military applications, more specifically helicopters. Subsequently, this technology was used in civil engineering tractors, excavators and so on. In short, anything that had to work in the dust.
Today, a company called S&B Filters has adapted this technology to side-by-side vehicles (SXS), as well as a host of pickup trucks.
There's even a dedicated fresh-air system for the helmets of Trophy Truck and SXS drivers who race in the desert (BAJA 1000, KING OF THE HAMMERS ETC.).
Before we get started, here are some photos of different versions of the system in question.
Under-wing unit (Polaris Pro XP only)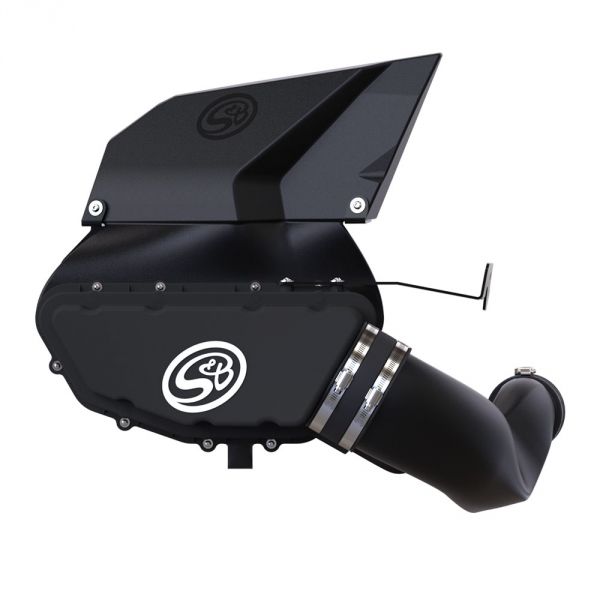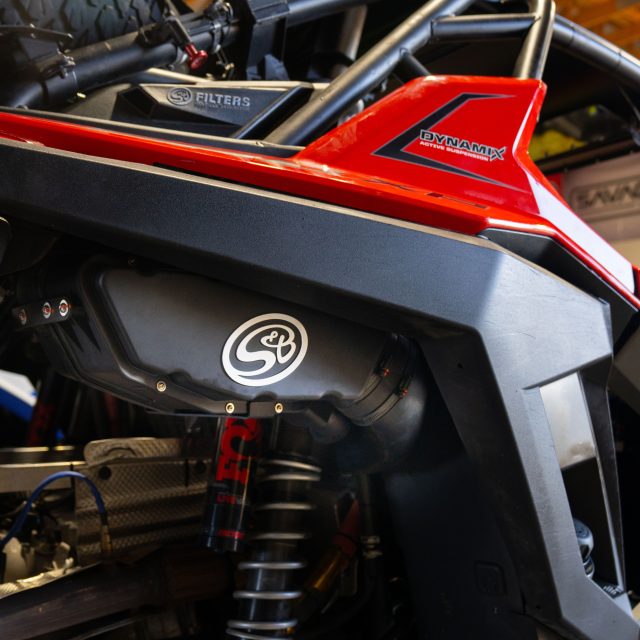 Cage-mounted unit (all other models)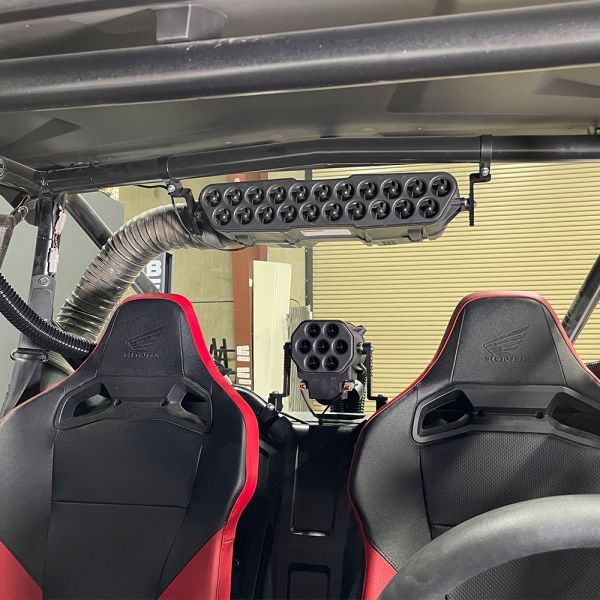 Pilot filtration unit (Helmet with fresh air intake)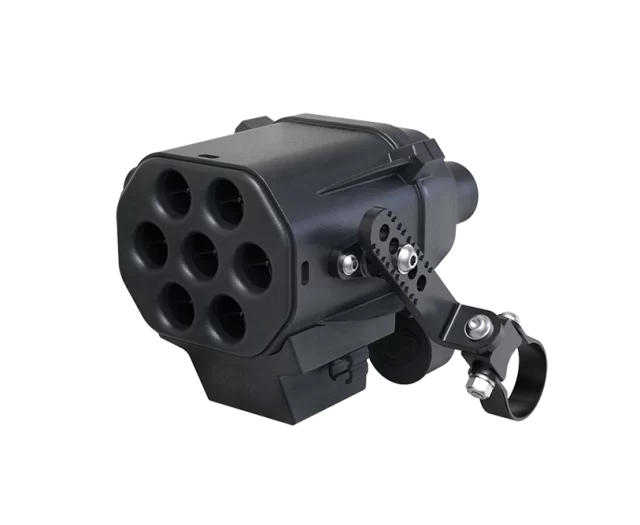 "But you still haven't told us what a particle separator is."
 I'm getting there…
A particle separator is an air treatment system. In fact, it's a device which, according to S&B Filters, ejects over 94% of the dust contained in the air the engine draws in to operate.
"What does that mean?"
In other words, an air filter that draws in only 6% of the residual dust in the air, after filtering it through the particle separator, eliminates 94%. As a result, it stays cleaner longer.
The filter won't become sand-laden after 2-3 rides in dusty terrain. As is the case with ZEC and federated trails, which are often made of fine sand and dust that manages to seep in everywhere. This means less airbox and filter maintenance.
On most SXS models, the air filter is easily accessible. Others are not. That's when you have to be patient and get out the tools to access it to clean the filter.
Besides, do you really want to check your air filter when you're out riding? Do you know for sure that your filter will fill up quickly because you're the last to follow behind by 4-5 SXS? 
The answer is NO.
Now, with turbocharged engines sucking very hard, a clogged air filter can crush itself due to the engine's strong suction. Trust me, you don't want that to happen to you on a trail far from civilization.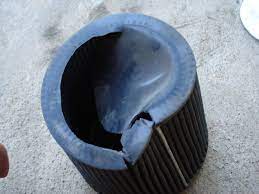 "But how does this system work?" 
First, the air is drawn in through the intake pipe. It is then directed into the PARTICLE SEPARATOR, where the magic happens.
The air passes through a multitude of holes, each containing a fin. This creates a vortex. This process separates dust, sand, water and snow from the fresh air. A fan then draws in this dust and discharges it to the ground via a small outlet beneath the particle separator.
The contaminant-free fresh air enters the airbox, where the filter is located, and then the engine.
Here are some pictures of the airborne dust separation process.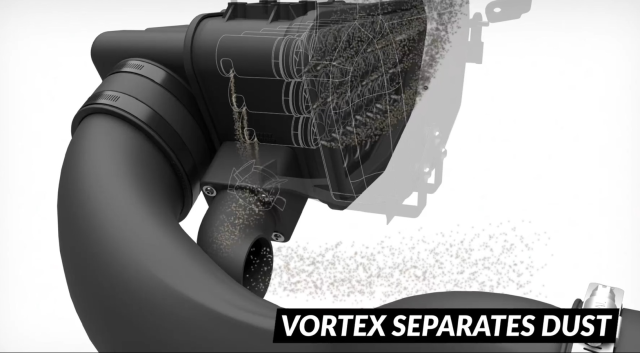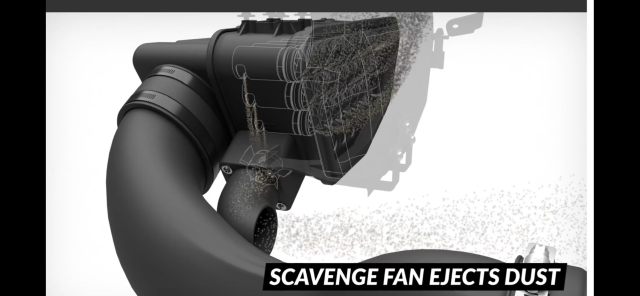 "But it's got to be noisy if there's a fan, does it always have to chirp?"
 No, S&B Filters has thought of everything, which is why the system is equipped with a variable-speed fan.
When off, the fan runs very slowly, at 20% of its capacity. At this point, the sound is barely perceptible. When you speed up, the fan does the same. 
"Does it really work?
 The answer: YES!!!
My SXS, a Polaris Pro XP 2021 Turbo, is equipped with a particle separator.
Today, I'm at over 4000KM and I still have the original air filter. It's exceptionally clean. Even after more than 4000 KM.
In fact, I'm a bit of a liar! I recently replaced it with an oversized S&B filter. 
"But, why did you replace it if your particle separator is supposed to be doing a flawless job?"
Because I'm like a little guy! Every time something new comes out for my machine, I want it (I think a lot of people have this "disease").
On a more serious note, I replaced it because, according to the manufacturer, this oversized filter offers 9.57% more airflow than the original. It filters 99.99% of contaminants VS 99.97%. It has a 30.37% greater dust retention capacity than the original filter. And best of all, it's washable 10 times, so no more buying new filters for a long time and throwing them away.
What does "retention capacity" mean? 
It means that the original filter can hold 630.5 grams of dust. The S&B filter can hold 822.0 grams, so if you don't have a particle separator, their filter will last you longer before needing to be cleaned. 
"How do I clean it?"
It's simple: first, you dust the air filter box and the inside of it, then you remove your air filter. Shake it against the floor to shake off the dust. Then, from the inside out, using an air nozzle, you blow out the finer dust that has embedded itself in the filter. (No more than 30 PSI and the nozzle an inch from the filter. Otherwise, it will be damaged, then plug your nose and put on protective goggles).
And, if you're a real maniac like me, take the garden hose. Go from the inside to the outside, top to bottom, and run the water through the filter. This will remove the fine dust. Finish by passing the water jet through the outside of the filter.
The filter should then be left to air-dry for a few hours. We want the water to evaporate before reinstalling and starting the engine. I like to do this on sunny summer days, as it dries faster.
Here are the steps in pictures…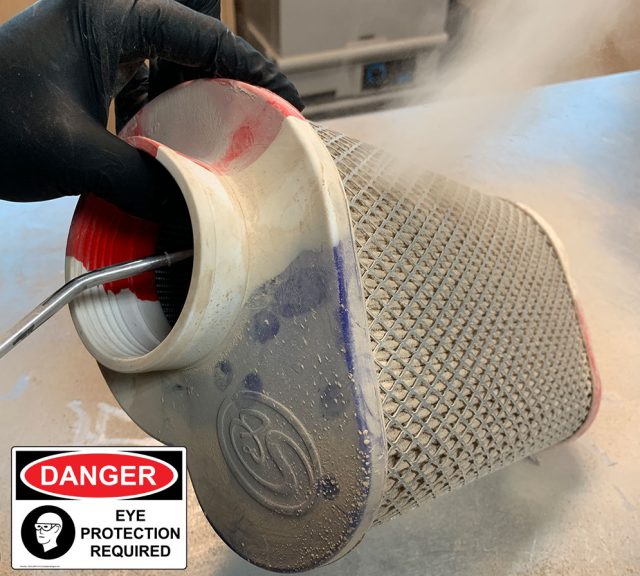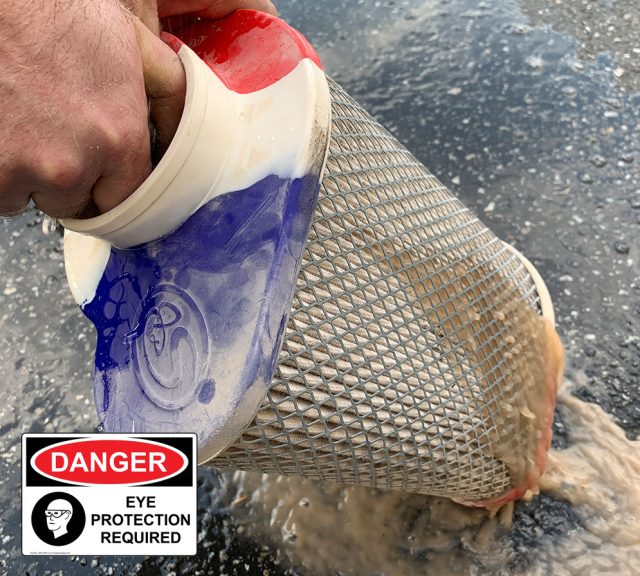 "How much does a particle separator cost?"
For my RZR PRO XP 2021 Turbo model, we're talking $499 US. You can calculate with the exchange rate (35%) plus or minus, it comes to $675 Canadian. Don't forget to add taxes and the oversized air filter is about $75 US.
I've seen that the air filter is available from Canadian retailers for about $90. Polaris offers the particle separator in its accessories catalogue. 
"Does it fit on all SXS models?"
 No, not all, but most sport and utility models are available.
Polaris RZR Pro XP, RZR XP 1000 turbo and non-turbo
Polaris RZR XP 900/ S 1000
Polaris Ranger and General
Can-Am Maverick, Trail, Sport, Turbo and X3
Kawasaki KRX 1000
Textron Wildcat XX
Yamaha YXZ 1000R
Honda Talon
You can visit the S&B Filters website for available applications. 
"That's all well and good, but do I really need one?"
That depends on the individual, but I'd say yes. If you ride every chance you get, if ZECs and federated trails are your playground, GO!
You save ($$$) on the purchase of an air filter; you don't always have to check and clean the air filter on your multi-day Riding trips.
Summer is for riding, not cleaning!
You've got winter tracks on your SXS and the airbox is always filling up with snow. Here's the solution. What's more, many manufacturers require a particle separator to be installed when using tracks in winter. 
S&B Filters is a well-respected company!
Recently, I noticed that the seal on my particle separator wasn't watertight. I called S&B Filters and they told me that a new version of my model was now available.
That's all well and good, but I don't feel like paying for your new version!
S&B replied: "No, the replacement is free, and all our models come with a 1 MILLION MILE LIMITED warranty.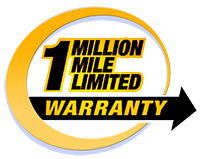 This means that if, in the future, your unit fails or a model is upgraded due to an engineering defect or simply because it doesn't meet the posted performance standards, they'll replace your old model with the new version, free of charge. 
Wow, I'm impressed, kudos to you.
Actually, it's not free right away… You have to buy the new version and return the old one (shipping paid by S&B). When they receive your unit, they credit your purchase. Still, it's great! What company does this today? Not many, I can tell you.
On that note, visit the S&B Filters web page to learn more. 
Check out their YouTube videos of system testing, you'll be pleasantly surprised. 
YouTube keywords: S&B Particle Separator – Technology Inspired by Military Aircraft
YouTube keywords: S&B Particle Separator 2
Enjoy the rest of the summer.
Continue reading our latest articles: