In Quebec, we have a multitude of places where we can purchase our equipment, parts, or leisure vehicles. I like encouraging local businesses as much as possible, whether for groceries or my quad. In my area, we do not have many choices for ATV shops, which means I had to do some research to find one. Since the purchase of my recent vehicle, I have subscribed to a Facebook page for Can-Am owners, and it is on there that I first heard the name Eskape.
You know as well as I do, whichever type of vehicle you ride with, whether it be a snowmobile, ATV, side-by-side, or motocross, we need all sorts of items regularly for our maintenance, modifications or simply for aesthetic improvements. Since I contacted them relatively frequently, I am beginning to know each part advisor who works there.
I gladly took advantage of my visit to the Eskape Mudfest to catch up with the owner Jimmy Bérard for an interview.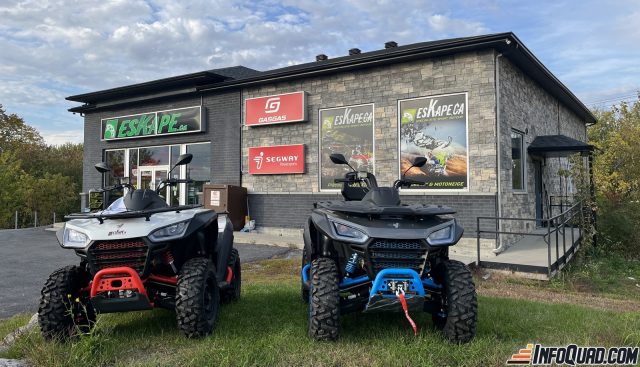 You may be wondering where the idea for the business name came from. The word escape means to break free from confinement or control. This is exactly what our multiple types of machines allow us to do so frequently. With the speed at which our lives go, it's important to take the time to get away from our daily routines. Jimmy thought it would be quite fitting but decided to modify the C for a K to make it original and different.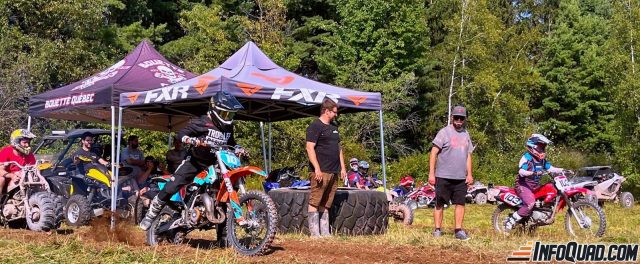 Eskape: a story that started at a very young age
Mr. Bérard, Jimmy's father, purchased the land where the Eskape.ca Mudfest event is held, around 1985. He also mentioned during my interview with his son that they had around 1000 acres! They built a sugar shack; I was able to find it during my ride in the woods on their land. I made this discovery by chance as there are so many tracks that I ran out of time to do my exploration of the area.
What had to happen, happened. Jimmy, his brother Sam and his cousin Kevin discovered their love for all sorts of vehicles in their childhood. Having the opportunity to own a large space, where they could practice riding their ATVs and motocross bikes. It's not very surprising that he decided to become an owner of a business in this field at the young age of 17 or 18 years old. He then chose a school career path allowing him to accomplish his dream. At 26 years old, he opened his first branch in Chambly, which has now been running for 10 years. 7 years later, the Granby branch was born.
I questioned him if he had any intention of opening a third location, but he advised me it wasn't in his plans for his company. It's an enormous management task and he prefers concentrating on the development of his two branches. Which alone, covers all of the south shore of Montreal. It was the initial goal. Now they can even deliver your order no matter where you live on the planet!
Eskape: your specialist for all types of off-road vehicles
During my interview with Jimmy, he tells me "We want to find the shoe that fits each customer's needs". I really liked this sentence because it is the feeling I have when I contact them. They are available for all our needs, whether it be ATV, side-by-side, motocross, or snowmobile. They have a few employees, each with their own expertise and that is one of their specialties.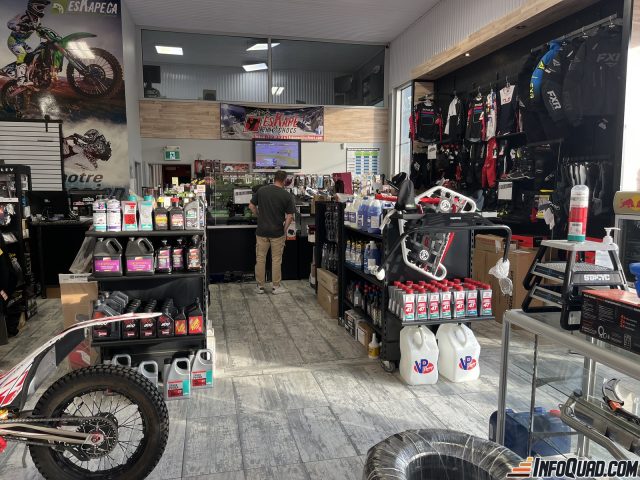 First, they have Joey, a drag race specialist. They also have Yannick who knows the inside and out of the mud field of things. Marc-André is a motocross expert, who also has a great sense of the technical aspect of things. Finally, they have Fred, who is an excellent generalist. We cannot forget that at their Granby shop, they have Jeremie, their mechanic that can meet all of the maintenance and/or repair needs.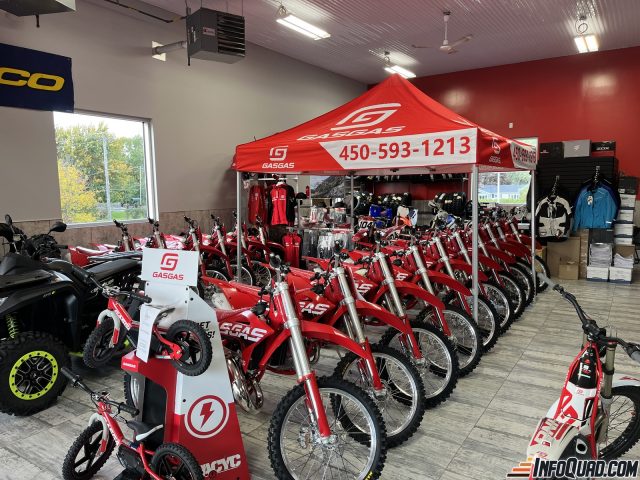 At their Granby branch, they hold their used inventory as well as their Segway brand stock. Segway manufactures ATVs as well as side-by-sides and Jimmy mentions that they will soon make a hybrid model that should be quite interesting. They also carry Stark brand electric motocross. While at their Chambly store, they almost exclusively carry their GASGAS unit inventory.
Whether you are an ATV or snowmobile fan, the Eskape team has the desire to take the time to give you good service, and good advice and to provide you with high-quality products. Choose your preferred means of communication, they will take the time to assist you with whatever your needs are.
More relevant links to read: