To off-road and quad enthusiasts, this article is dedicated. If you own an RZR Pro XP Walker Evans, a HONDA Talon Fox 2.0, the Fox 2.0 or 2.5 QS3 models, or if you're following the development of the Can-Am X3, this article will provide you with relevant information.
We look at one key aspect: dual-spring suspension. From performance on rough terrain to overall solidity, we'll explore it all.
This article will shed some light on the potential risks of sand and mud entering these complex mechanisms. Here's my advice on how to preserve your suspension and extend the life of your quad.
Dual-Rate Suspensions: An Unrecognized Defect Affecting SXSs
All these SXSs share one thing in common: a suspension with two springs. You may not know it yet, but this type of suspension has one major flaw. Yes, it wears out the shock absorber body at breakneck speed!
The black plastic divider between the two springs fills with sand and mud. As a result, it acts like coarse sandpaper on the soft aluminum of the shock absorber body. Don't worry, I'll tell you more about it later in the article.
Analysis of the 3 Types of Suspension Fitted to our SXS
Dual-Rate Suspension: Performance and Comfort in one SXS
This shock absorber uses a combination of two full-size springs. The first is smaller at the top, with less resistance to compression. The second is larger at the bottom, with a higher compression index.
More and more SXSs are coming with this suspension as standard. In my opinion, it's the most efficient and comfortable.
This type of suspension gives you the best of both worlds. In other words, a smooth ride at low and medium speeds over small obstacles. At the same time, it provides a firmer suspension for high-speed handling over large obstacles.
At low speeds, the small spring does the damping work. When demand is greater, the black plastic slider abuts the fixed ring. It then transfers the work to the main spring, which offers greater size and strength.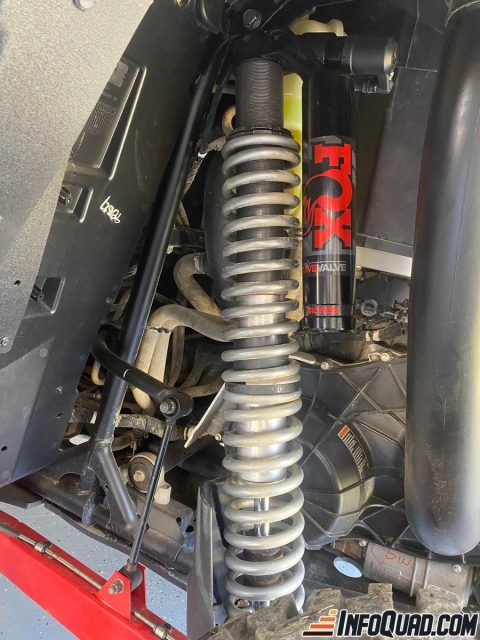 Tender Spring / Support Spring: Key Role in Maintaining Pressure
The tender spring is always fully compressed. In fact, its purpose is to maintain pressure on the main spring when the latter is fully extended. Fortunately, it plays no role in comfort. Note that this type of suspension also features a black plastic divider. This allows sand and mud to get between the two and wear out the shock absorber body.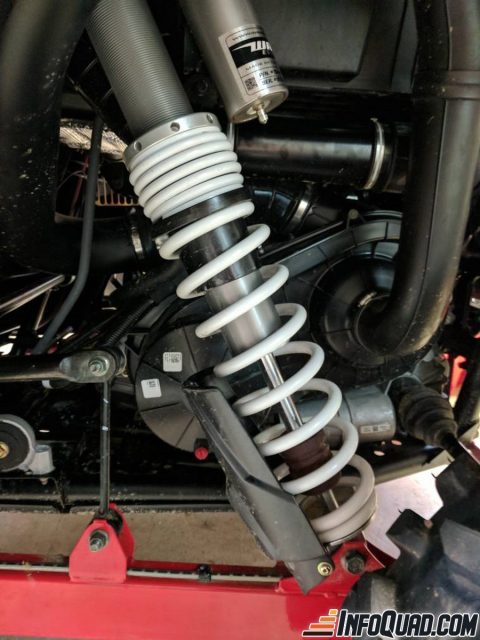 Standard/ Single Suspension: One Spring, No Splitter
This is a single-spring shock absorber, with no black plastic divider or stop ring. This suspension avoids the problems encountered by the other 2 types mentioned above.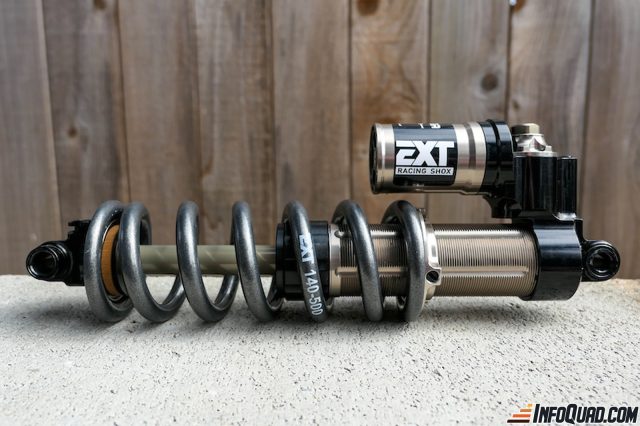 Consequence: Premature and Fast Wear of the Shock Absorber Body
As I briefly explained above, sand and mud get between the divider and the shock absorber body.
The damper body is made of aluminum, a soft, lightweight metal. As for the divider, it's made of UHMWP. If you prefer, Ultra-High-Molecular-Weight Polyethylene.
Don't worry, UHMWP is very hard-wearing, but this is not the case for aluminum, which is sensitive to abrasion. As a result, sand and mud get between the two. This, combined with the shock absorber's back-and-forth movements, will quickly "sandblast" your shock absorber.
Here are a few images showing the effects of sandblasting on your machine.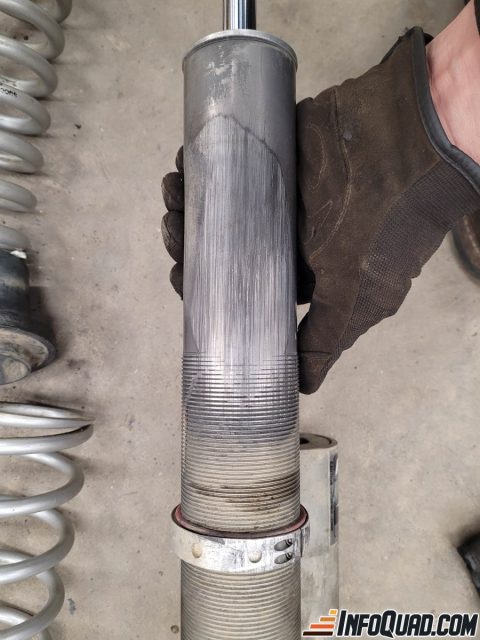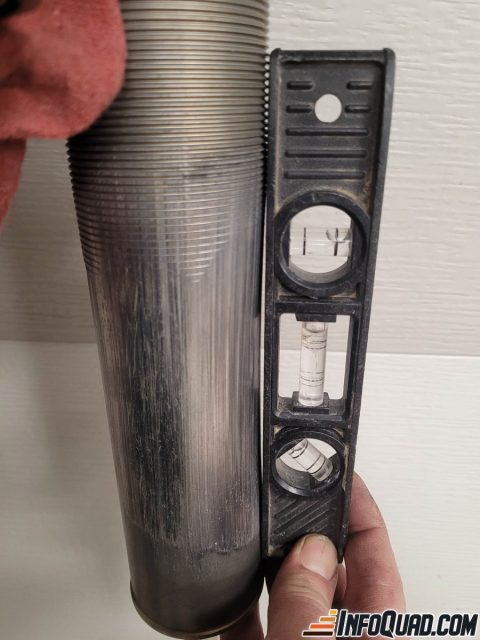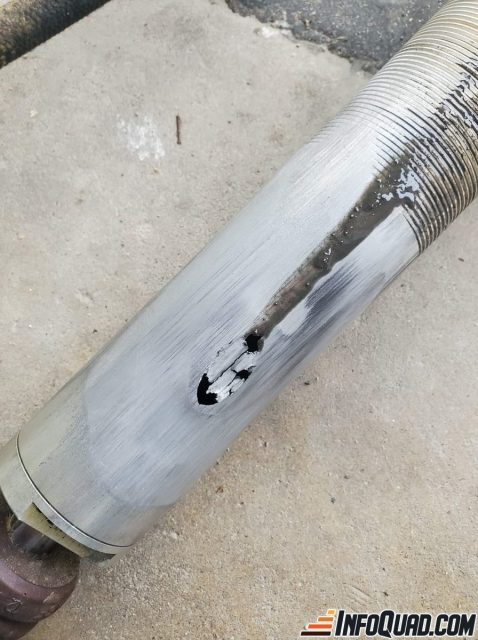 Wear that can quickly escalate
As you can see, it starts with a simple abrasion. It quickly reduces the thickness of the shock absorber tube. Eventually, it will pierce the tube completely.
I don't need to tell you that as wear progresses, the body of your shock absorbers will become weaker and weaker. Unfortunately, this will increase the risk of breakage following a hard impact or jump.
Fortunately, there is a Solution to this Unwanted Wear and Tear
Armor Suspensions, in the USA, has used 22 gauge 304 stainless steel to create a sleeve that fits over the shock absorber body. The sleeve is simply slipped over the shock absorber. It is held in place by a layer of 3M adhesive.
Made-to-Measure
Everything is 100% tailor-made for its intended application. For example, a Walker Evans shock absorber will not have the same kit as a FOX shock absorber.
Most FOX shock absorber dividers are too tight to allow the sheath to be added. Therefore, the dividers must be turned and machined from the inside to allow installation.
This is a simple operation that Canadian distributor and installer Suspension Outaouais will perform for you during installation.
Suspension Outaouais takes charge of the problem
In fact, following the product's popularity and the headache this problem was causing SXS owners, Suspension Outaouais became an Armor Suspension distributor.
Located in Gatineau, Jonathan Houle is a seasoned professional in the repair, adjustment and modification of suspensions dedicated to motorsports such as SXS, quads, motorcycles and snowmobiles.
I was lucky enough to meet Jonathan while he was installing a kit on my SXS. This operation, which involved no machining of the dividers, was completed in just over two hours to adjust the rear shocks.
See the Difference for Yourself
This series of images illustrates the progression of my shock absorbers from decline to renovation. All in the blink of an eye. Recognizing the first signs of wear, I opted for affordable preventive action instead of waiting for exorbitant repair costs. Find out how I took the initiative to extend the life of my shock absorbers. And save money in the long run.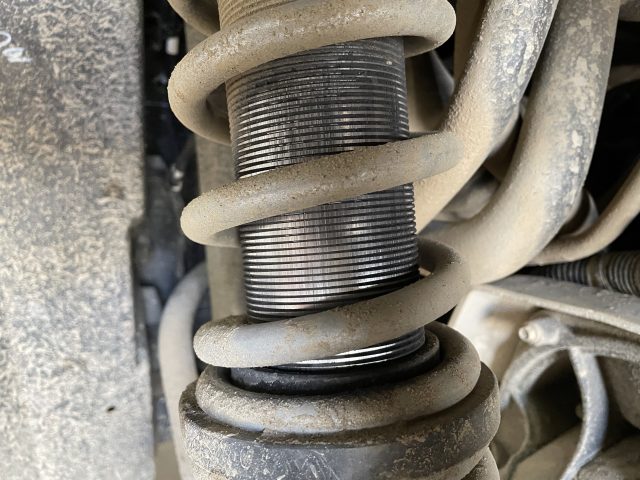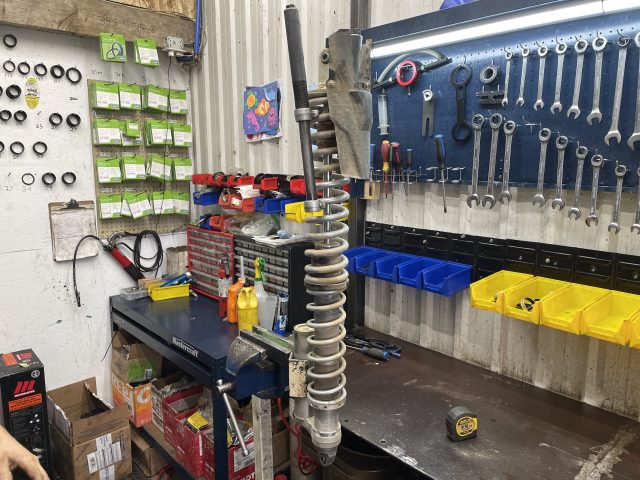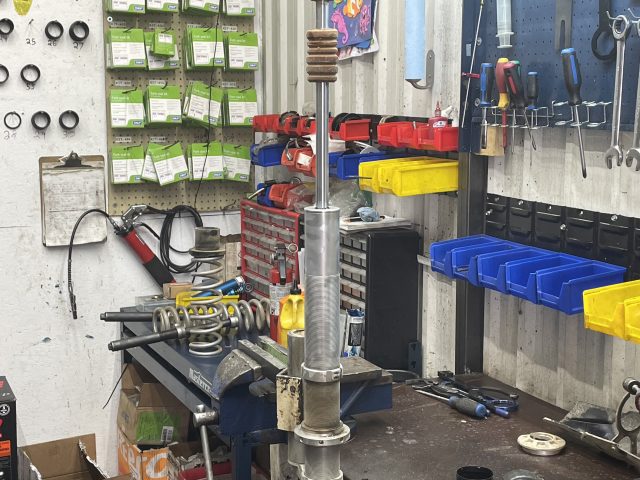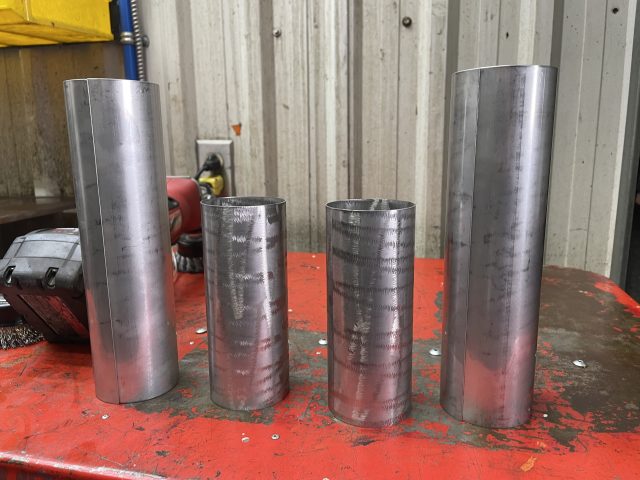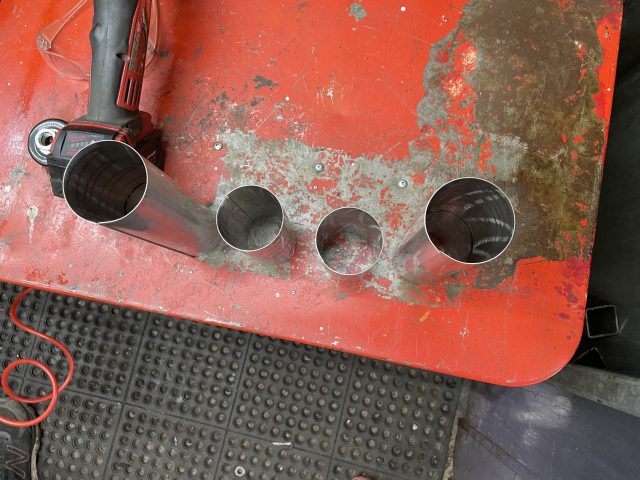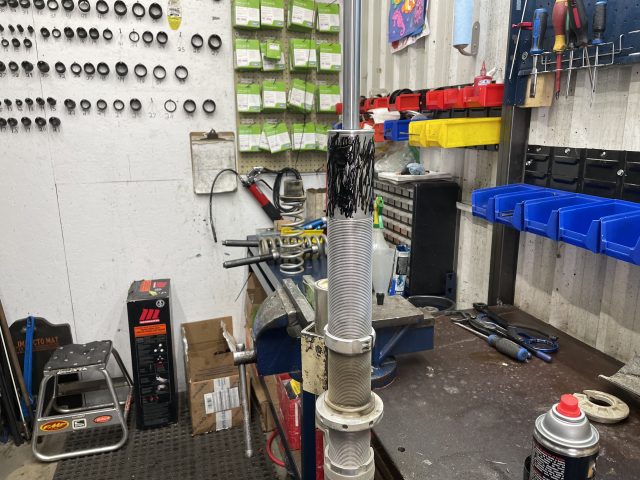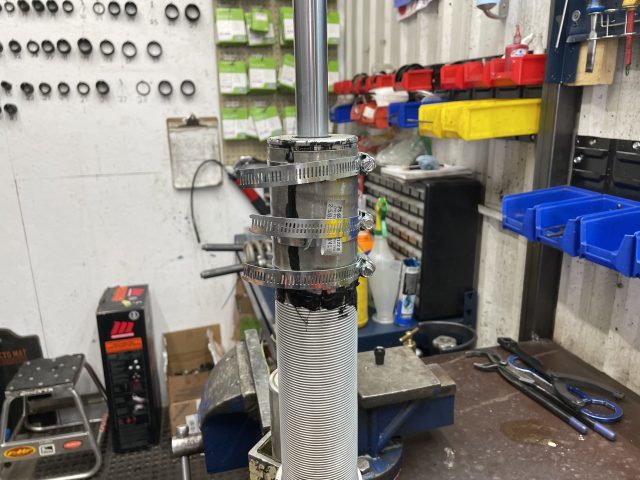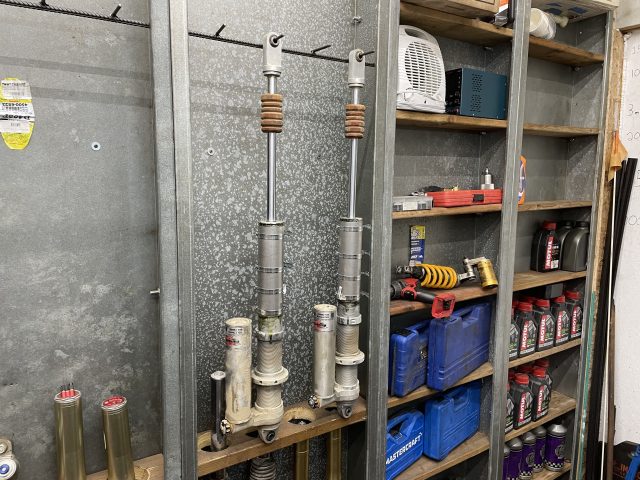 Finished Job in Pictures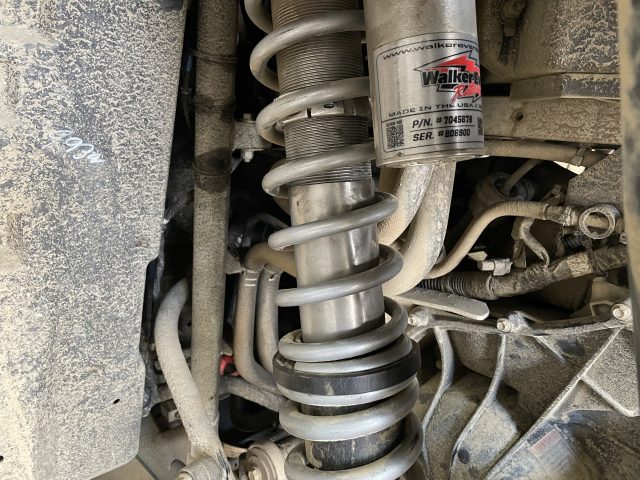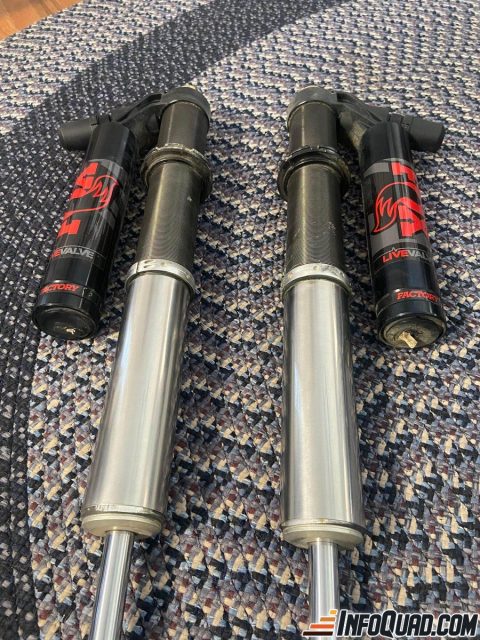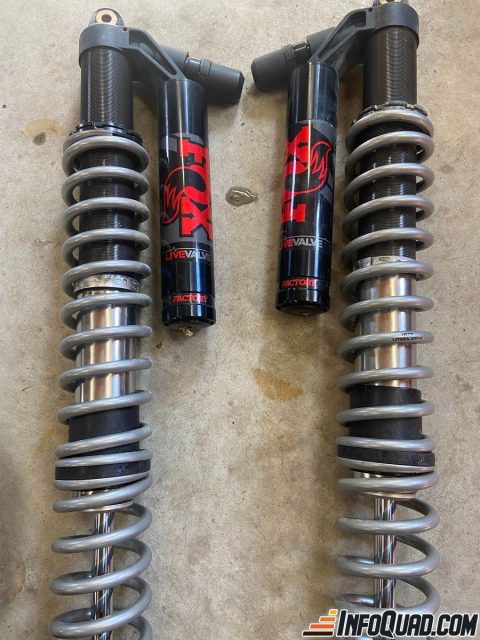 At what cost?
The general estimate for the purchase of a rear kit depends on the model of SXS you own. Currently, the cost is around $200, but bear in mind that this may vary according to the exchange rate in effect at the time of purchase.
As far as installation is concerned, the price depends on how you present your shock absorbers: individually or with the complete SXS. In my case, the whole process took about 2 hours. Jonathan had to remove the shocks from the vehicle for the adjustment.
Overall, this process is quick and simple, although specialized tools such as a spring compressor are required for shock absorber disassembly.
My Opinion on this Investment
To this day, considering the price to protect my shocks, I'm satisfied with the product and the protection it provides. Especially when you consider that a complete new shock absorber with reservoirs, without springs and labor, costs around $1179.99 for an RZR PRO XP 2021.
All in All…
After reading this article, I'm sure you'll be motivated to inspect your shocks. Don't hesitate to contact Jonathan at Suspension Outaouais to set up an appointment and take care of all your suspension needs.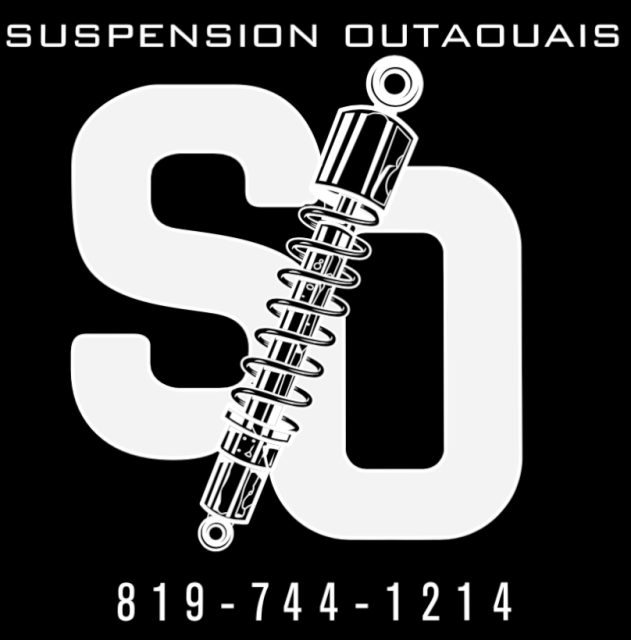 On that note, enjoy the season.
Continue reading our latest articles: