During the last few days, I had the chance to take possession of a 2022 Villain. Indeed, in collaboration with Segway Powersports Canada, I will be able to ride this machine as part of a long-term test.
I must say that I was looking forward to this moment with great impatience. If you look at the pictures, you will see that the unit I have right now is 72 inches wide. Our partner is waiting for 64 inch models and we should be able to make a switch in the next few months.
Of course, my testing will be off the federated trails. I will concentrate my experiment on public lands such as the ZECs. I will also ride in New Brunswick where the rules are different.
The Villains currently on the road in Canada all have a 1000cc twin-cylinder engine developing 105 hp. This is very respectable for a naturally aspirated engine. Those looking for more power will be happy to learn that a hybrid engine will be available soon. It will develop 220 hp for the 72-inch model and 197 hp in the 64-inch model. We'll have to wait a little longer before we can try these hybrid models.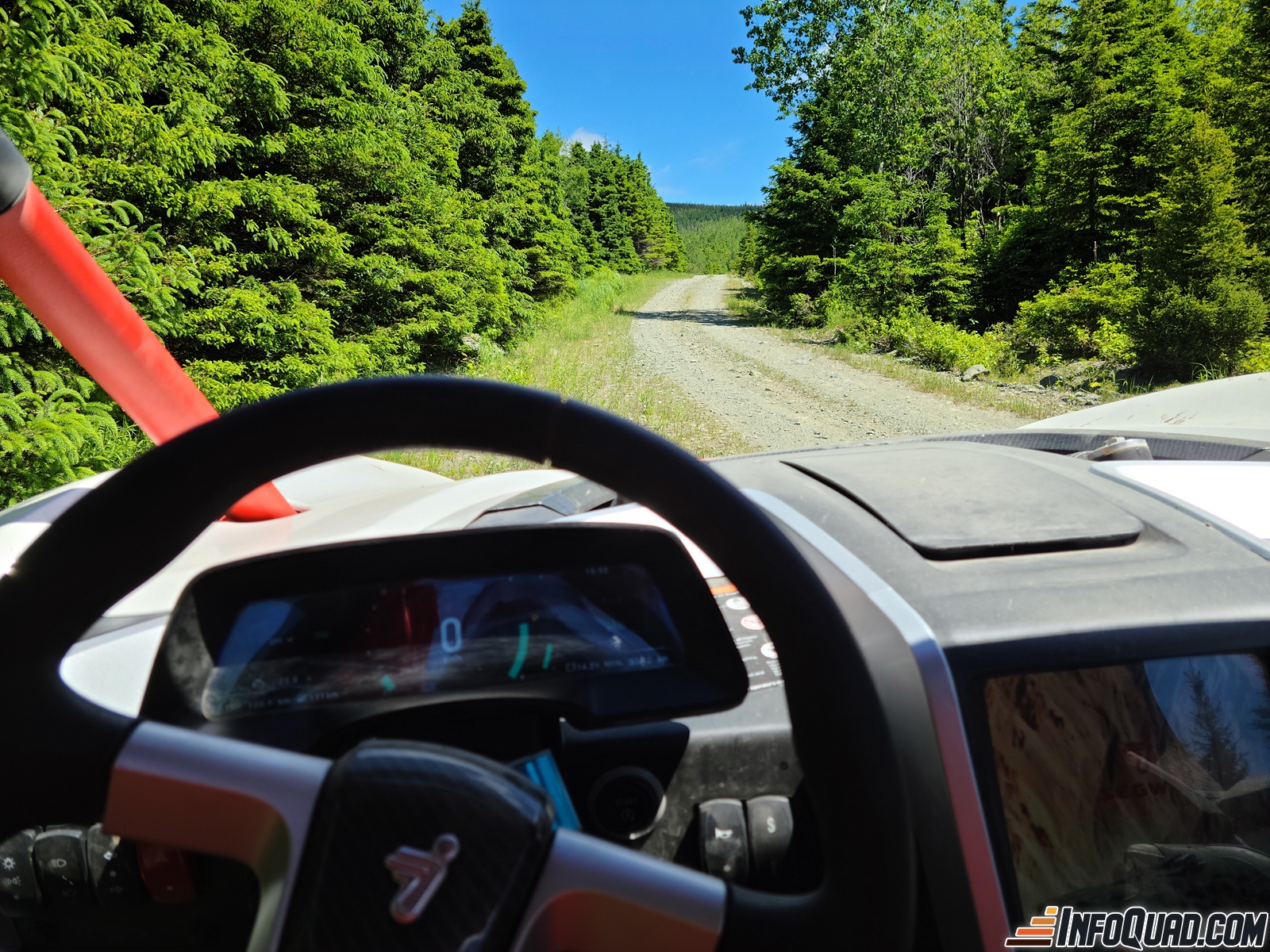 The look of the Villain is very racy with its fluid lines. The front of this model is very well executed and gives it a lot of character. We can't miss the big shocks with reservoirs. The front suspension has a travel of 40 cm (15.6 in.) and the rear suspension has a travel of 45 cm (17.7 in.).
A quick glance around the cockpit is enough to see how serious Segway Powersports is about comfort and ergonomics. It's easy to find your way around. Moreover, the belts are 4-point models. I have to admit that this is the first time I've tried them and they are very easy to adjust, put on and take off. Until now, the ones I tried required patience to find the right fit…
My first impressions
My trial was mainly done in forest roads. I was part of a group so I did not operate the machine at its maximum. However, I pushed a few points during my ride.
As soon as I got into the seat, I immediately found my way around. The indicators and control buttons are well laid out. The starts are straightforward without being excessive. However, when the vehicle reaches 50 km/h, you can feel that it is in its performance range.
Pick-up is good almost everywhere on the power band. At low speeds, you can feel a little hesitation, but it's not major. I'll push my test further at this level before coming to a final verdict.
The suspension works very well. It's certain that on forest roads, you can't test a suspension like this one to the fullest. There too, additional tests will be required. However, in the context of this first contact, the suspension makes the vehicle very comfortable to drive.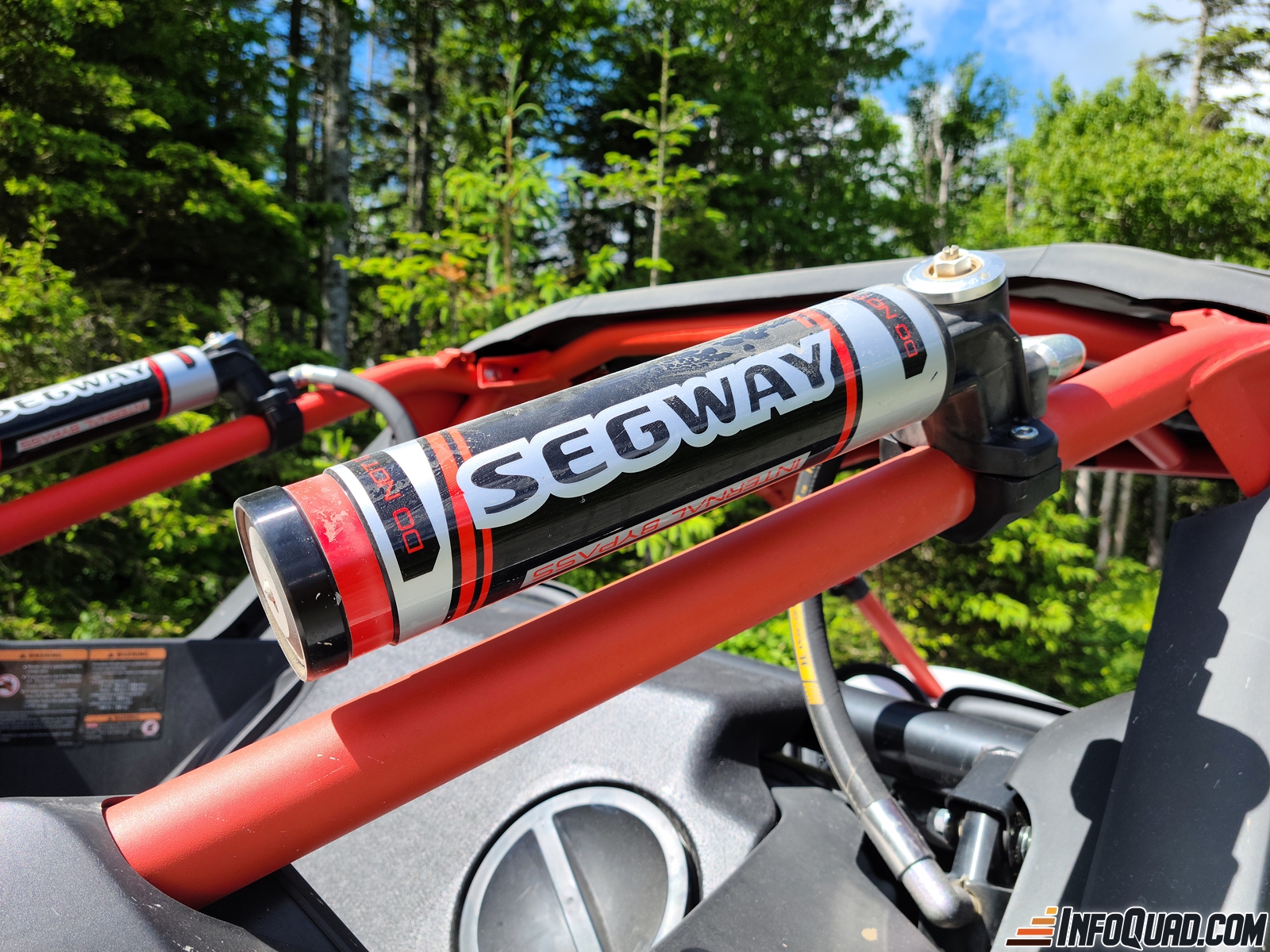 One thing that puzzled me at first was the audible warning that often sounded when I left the vehicle. Sometimes it would go off and other times it wouldn't. After a while, I realized that this signal was to let the driver know that the parking brake was not engaged. Lesson well learned, believe me!
Over the next few weeks, I will continue this test and you can read a more extensive report.
By then, we may have the chance to meet on the trails!
Hope to see you there!