For the second consecutive year, I decided to plan my Gaspésie tour with a few friends. This year, we set off with 9 vehicles, including 3 ATVs, making a total of 14 participants.
My expedition-filled trips with overnight stays this year were anything but tranquil. My journeys were preceded by events that complicated the planning, and even the majestic Gaspésie wasn't exempt from these challenges.
An Unexpected Twist Just Days Before Departure
Indeed, just three days before the scheduled departure, my plans were thrown into disarray by a major breakdown in my SXS. The water pump suddenly stopped functioning, leading to a cascade of issues.
With only 20 hours to spare, I found myself in a race against time to repair the damages. Extremely frustrating, just hours before heading to Gaspésie, I had to come to terms with the reality that my SXS wouldn't be joining the trip.
This marked the beginning of a true battle to find a solution. Fortunately, thanks to the swift intervention of my dealer, Bernier Sport, I managed to secure an unexpected lifeline: a Commander XT 700 cc. This last-minute rescue became my ticket to the adventure in the Gaspé Peninsula. In upcoming articles, I'll share my experience aboard this vehicle, which, I must admit, pleasantly surprised me.
Indelible Memories: Unforgettable Moments from My 2023 Quad Journey Through Gaspésie
In the realm of quad expeditions, each outing brings its share of unexpected turns. My story illustrates the challenges I had to overcome, the unforeseen support I received, and the unforgettable moments I experienced during my journey through Gaspésie.
Here's a summary of the days that composed my 2023 Gaspésie tour.
Day 1—Amqui to Carleton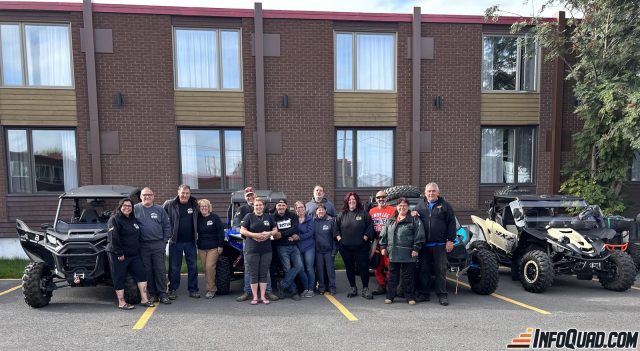 My Gaspésie tour kicked off on Sunday, August 6th, under cloudy skies. We covered the trails from Amqui to Carleton, passing by Philomène Falls and the Saint-Alexandre salmon ladder on the way to our lunch at Relais Sainte-Marguerite.
In the afternoon, we traversed Z.E.C. Casault, followed by the wind farm before descending towards Nouvelle. We concluded the day at Carleton's Motel L'Abri, having covered a total of 230 km on our quads. The day culminated with a dinner at Pub St. Joseph.
Day 2—Carleton to Chandler
For this second day, after a satisfying breakfast at Pub St. Joseph, we headed to the summit of Calvaire. Fortunately, we were blessed with a mostly cloudy sky that still allowed for a spectacular view.
Lunch took place in the vicinity of the Bonaventure footbridge. The day's conclusion came under the rain around 3 p.m., soaking us as we arrived at Motel Fraser. This was just the beginning; the weather forecast for our tour looked rather grim for the upcoming days.
Dinner was enjoyed at Chandler's Sieur de Pabos restaurant at Motel Fraser.
The day's journey covered 230 km.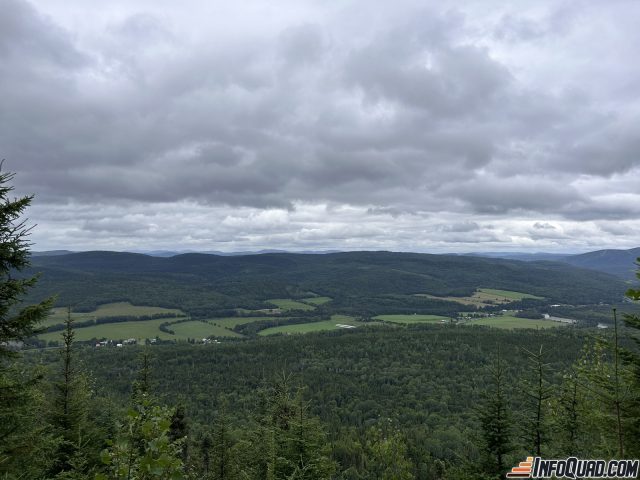 Day 3—Chandler to Percé
After a meal at Motel Fraser's Sieur de Pabos restaurant, we hit the road as planned despite the heavy rain. Our destination: Percé, marking our shortest day.
The originally planned lunch by a beautiful river between Chandler and Percé was swapped for a meal at Grande Rivière's Coq d'Or due to the weather. Given the conditions, we opted for a dry option. This offered the group a chance to warm up a bit between our riding segments.
In the afternoon, we encountered truly memorable conditions. We experienced no less than 100 mm of rainfall pouring down on us. This transformed the trails into improvised rivers. Believe me, water was in no short supply!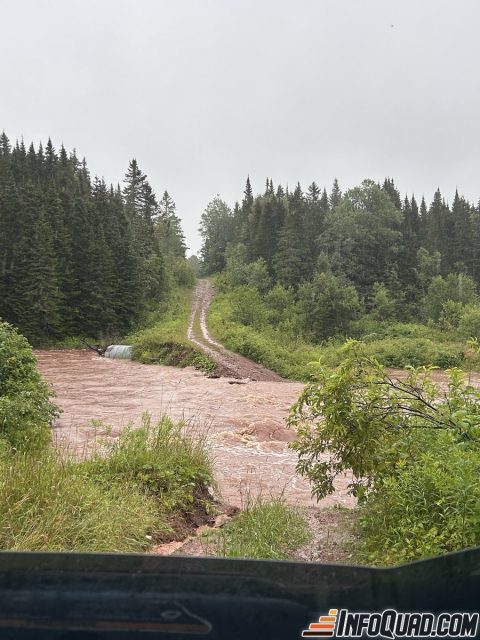 We finally reached Percé's Hotel Riotel around 4 p.m. After being thoroughly soaked, a warm shower was much appreciated. Our dinner took place at Restaurant Paqbo on-site.
It was a soggy 160 km journey in total!
Rest Day in our Gaspésie Quad Tour—Percé
Similar to my previous tour, I scheduled a rest day in Percé. It was well-timed; we needed to dry out after the previous day's downpour! This allowed us a chance to have a relaxing day, with many taking the opportunity to explore the boutiques in Percé. Those who know me know that this day included an ice cream treat!
Later in the day, the group gathered for dinner at Maison du Pêcheur. All in all, it was a pleasant day in Percé, despite occasional light rain. We were ready to hit the road again!
Day 4—Percé to Grande Vallée
On this day, I was concerned about trail damage due to heavy rainfall. After breakfast at Riotel's Restaurant Paqbo, we set out for Grande Vallée at around 7:30 a.m.
Thankfully, it was more of an unnecessary worry! The trails had developed some ruts due to the heavy downpours, but there was nothing major that hindered our progress.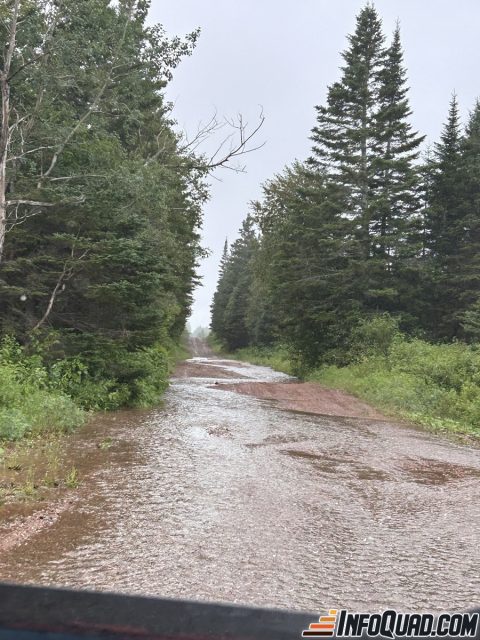 Once again, we encountered substantial rain between Gaspé and Grande Vallée. This time, the temperature was not warm (around 14 or 16 degrees Celsius), resembling an autumn day!
Lunch was at Relais des Trois Fourches, sheltered from the elements. Again, we arrived soaking wet around 6 p.m. at Motel Grande-Vallée. Covering 250 km, we enjoyed dinner at the hotel.
Day 5—Grande Vallée to St-Octave
If there was a day when I hoped for sunshine, this was it. My wish was granted! Following breakfast at Motel Grande-Vallée, we set off under the intermittent sun. We enjoyed clear skies between Mont Louis and Rivière à Claude. This change in weather allowed us to fully appreciate Gaspésie's finest attractions, including the summit of Mont Saint-Pierre.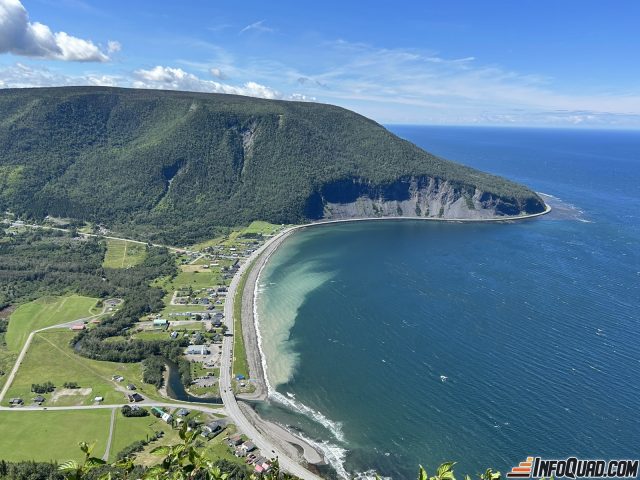 Lunch was at Mont Saint-Pierre's cafeteria.
Towards the end of the day, we had to alter our initial route plans. Several fallen trees blocked the trail. Thus, we had to return to TQ-30 to complete our day's journey.
We arrived at Saint-Octave's Auberge Village Grande Nature around 6:45 p.m. Dinner was enjoyed on-site. Another 250 km was added to the tally.
Day 6—St-Octave to Amqui
Our respite from reign was short-lived! Upon waking on our last day, a drizzle had already made an appearance.
After breakfast at Auberge Village Grande Nature, we hit the road towards Cap-Chat. Then, we continued to St-Adelme for lunch at Relais St-Adelme.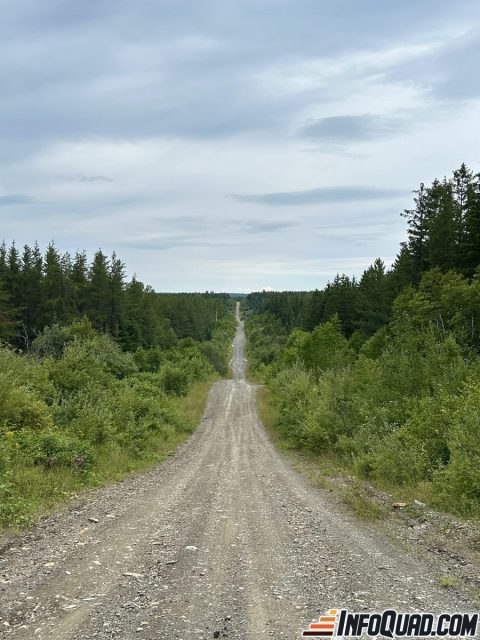 In the afternoon, we headed to Amqui to conclude this memorable week, despite the rain.
We covered 230 km.
We enjoyed a group dinner for the last time during our stay at Selectotel's Pastali restaurant.
Memories Despite the Rain: The 2023 Edition of My Gaspésie Tour Will Endure
If my 2022 Gaspésie tour was a rarity, blessed with constant sunshine and not a drop of rain, this year was marked by showers. Indeed, we only had a single day of fair weather, with the rest being overcast.
However, despite the weather conditions, the group cherishes fond memories of the 2023 edition of my tour. As for the prospect of repeating this experience in 2024, I am still in a reflective phase. Undeniably, this ride offers a breathtaking experience.
In terms of costs, which include accommodation, fuel, and round-trip transportation from Quebec, budgeting between $3200 to $3500 is necessary. Although not an insignificant expense, the experience is worth every penny. It's a week that leaves unforgettable memories.
Acknowledgments
In concluding this article, I must express my gratitude to my dealer, Bernier Sport, for generously lending the Commander 700 cc. This gracious contribution ensured my tour's realization despite the breakdown of my XRC just before departure.
Looking forward to reconnecting soon for new adventures!
Continue reading our latest articles: