In the fall of 2021, a brand new team of six trainers, provincial agents of the Fédération Québécoise des Clubs Quads, worked to produce a new training course for club trail agents (level 1). Based on satisfaction surveys completed by previous ATO candidates and feedback from the clubs, the content, presentation and teaching methods were reviewed.
The presentation slideshow has been updated to the 2021 era. The content was naturally adapted to the new Off-Road Vehicle Act and based on works from the Ministère des Transports du Québec, the FQCQ and the direct experience of the trainers. The visual elements were enhanced with sample documents that could be used by an ASS as well as photos of real situations experienced on the trails. Finally, the Federation made the technological switch from face-to-face training to distance learning.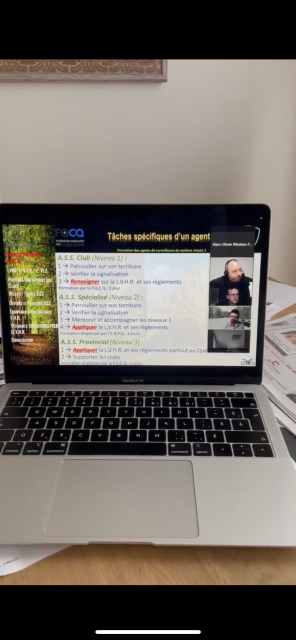 This technological approach will undoubtedly result in substantial savings in travel, accommodation and living expenses for the clubs, but also for the Federation. In the past, trainers and candidates had to travel to central locations to meet and receive training.
The first one-day training session was held entirely online on Saturday, November 13. For the occasion, eight aspiring trail supervisors were welcomed into the FQCQ's ZOOM virtual classroom. According to the comments collected at the end of the day, the experience was greatly appreciated and went smoothly for both the trainers and the candidates.
As for the trainers, the team is made up of six provincial officers from various backgrounds who have experience in several fields such as: trail patrol officers, former president and/or director of a club's board of directors, director of club officers, ATV driving instructor, primary, secondary and college education, transportation logistics, fire department, federal and provincial public service as well as the health care network.
The trainings scheduled for this fall ended on November 27th. If you have volunteers who are interested in investing their time in the prevention and safety of your trails, a call for applications should be held in early 2022 in anticipation of a new training block in the spring of 2022. Trainings are generally offered on Saturdays between 8:00 am and 5:00 pm.