The call of nature and wide-open spaces is constantly felt when we're quads enthusiasts. Whether we're alone or in a group on our Riding outings, it's vital to bring along a few essentials to avoid turning a dream outing into a nightmare.
We can never be too far-sighted, and we need to consider everything as a possibility, and in particular, take steps to prepare for its eventuality. That's why we've put together a list of accessories and tools that will come in handy when the unexpected happens.
Remember, obstacles are a daily part of quad biking, and if you're well prepared, you'll be able to enjoy your Riding with complete peace of mind. Apart from your personal protective equipment, here's what you should carry with you.
1- Drill and Puncture Repair Kit: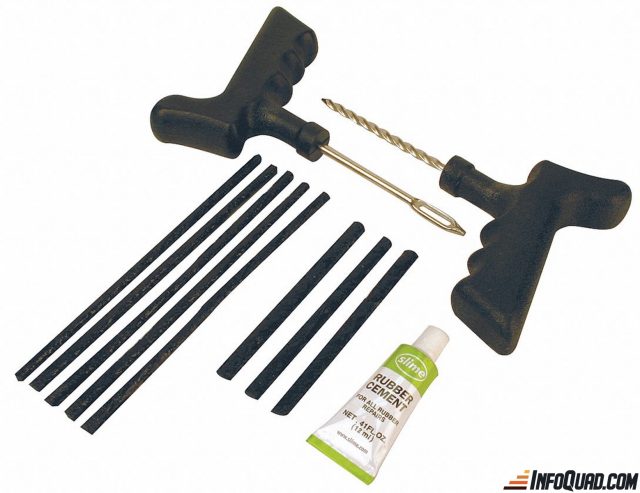 Who hasn't found a nail or screw stuck in one of their vehicle's tires? The tire doesn't deflate, or deflates very slowly, because the object, firmly wedged in, acts like a plug. In other cases, the culprit may simply be a sharp material or rock lying on the ground. Regardless of the type of aggressor, the result will be the same, and you'll be obliged to plug the hole in your tire.
The puncture repair kit can be used to patch punctures caused by the intrusion of objects into a tire. However, it can only be used on tubeless tires.
The kit includes a reamer to clean out the hole, a needle and a few sections of tar-coated rope. Use the reamer to clean and slightly enlarge the hole. Pass a section of rope through the eye of the needle and apply a generous amount of the rubber cement supplied to the tool and rope. The glue will lubricate and seal the hole as the tool is inserted. Once the tool has been inserted, remove it with a quick, sharp pull.
Only a small part of the cord will protrude from the tire. You can then either cut off the excess cord or let it wear away.
2- Portable Compressor: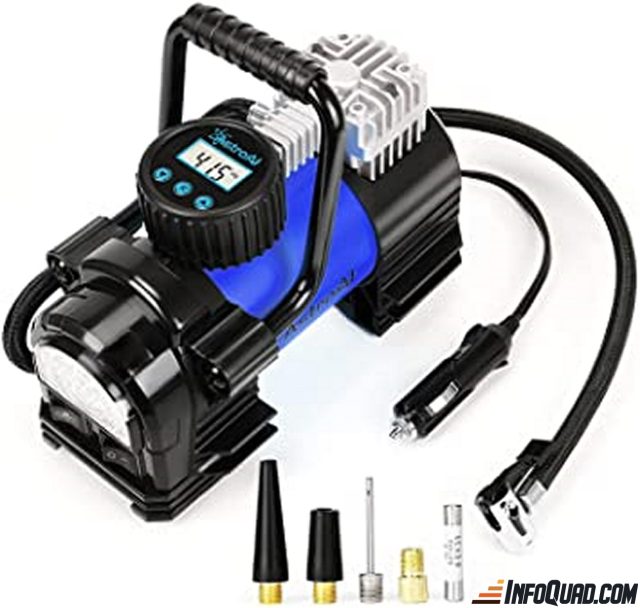 Directly linked to the puncture repair kit, a mini portable compressor is a must when a puncture is plugged. In this case, simply inflate the tire and make sure there are no leaks. The easiest way to do this is to spray soapy water (or saliva) over the area of damage. Make sure your tire is inflated to the manufacturer's specifications.
3- Towing Strap: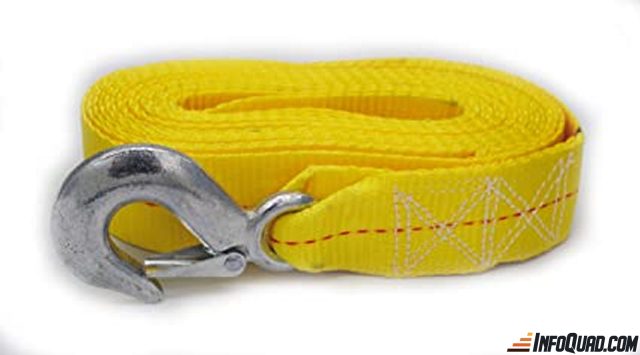 Regardless of the make of your vehicle, you're not immune to mechanical breakdowns that, under certain circumstances, can't be repaired on the spot. In this situation, you'll have no choice but to be towed. A strap with hooks at its ends will be a great help in getting you to the place where you can make a permanent repair.
4- Kinetic Rope: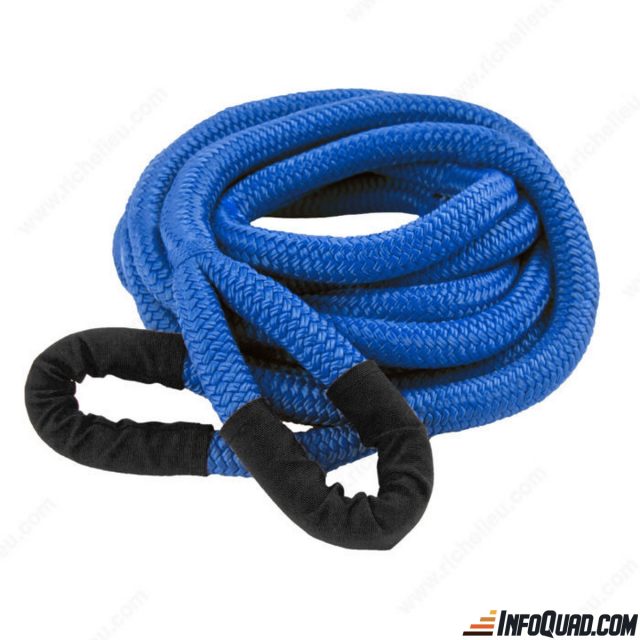 We all have a nylon or steel rope to get us out of the way if our vehicle gets stuck in mud, sand or snow, but at the risk of damaging certain mechanical components. The disadvantage of these cables is that they are static and do not absorb energy. As a result, stress is absorbed entirely by the anchor points, which can deform or even break. The logical alternative is a kinetic rope that can absorb some of this energy.
The principle is quite simple: this rope will stretch up to 30% of its length when you attempt to tow another vehicle. This will then create a rebound effect as the rope tries to regain its initial length, like a rubber band. This will generate enough energy to pull the bogged-down vehicle with ease. However, you need to hold on tight to your handlebars or steering wheel, as this energy is generated very quickly.
5- Replacement Belt: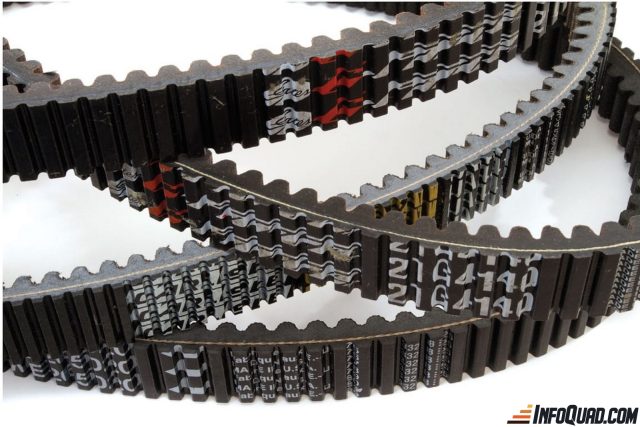 These days, the vast majority of quads and SxS vehicles have a CVT clutch. At some point, you'll need to replace it. So be prepared to carry an extra belt. If you're unfamiliar with this operation, have your owner's manual on hand to consult the steps for replacement.
6- Spark Plug: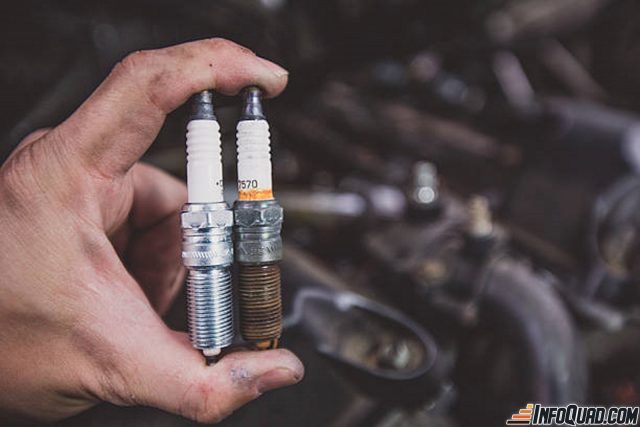 It's not often that we replace spark plugs on modern vehicles, but have this vital part on hand. It's easy to fit and can be replaced in no time.
7- First Aid Kit: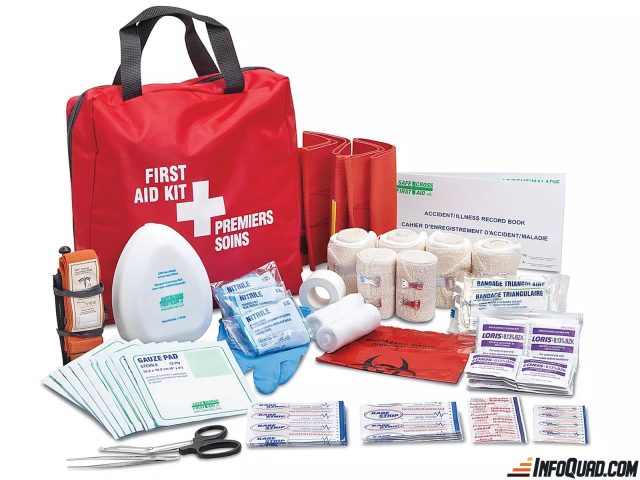 Your equipment isn't complete without a first-aid kit. Accidents can happen, and even if you dress head-to-toe in protective clothing, injuries can still occur when you least expect it. This kit can also include UV and mosquito repellent lotion.
8- Tools of all kinds: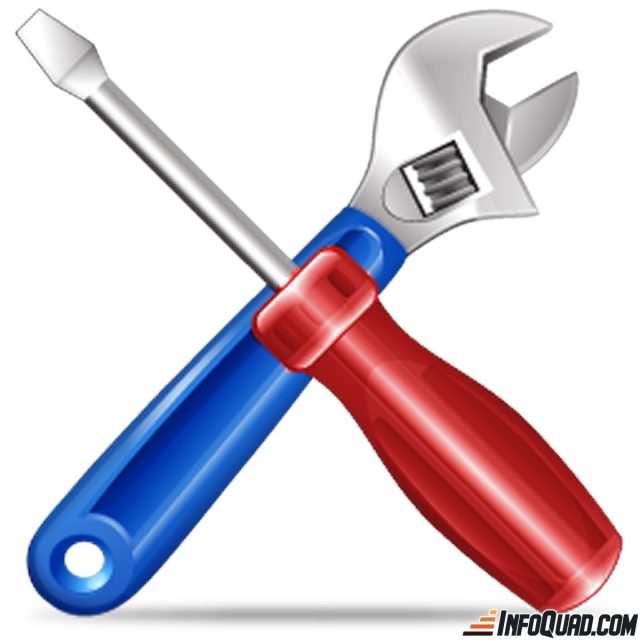 A preventive maintenance check and an examination of its parts before setting out on a Riding trip is the best protection you can get. However, in the unlikely event of an accident or mechanical breakdown, you'd do well to have the following items in your gear:
Pliers,
Matches/lighter,
Duct tape,
Air pressure gauge,
Swiss Army knife,
Booster cable or small portable charge
Wrench,
Screwdriver with interchangeable head,
Tie rap,
Flashlight,
Axe, portable shears.
9- Forest Survival Kit: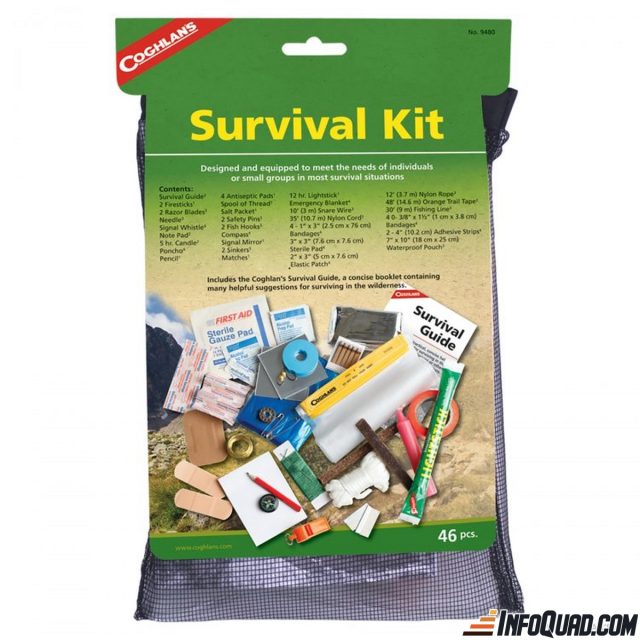 In addition to being dressed for the weather, when you go Riding, you should minimally have in your possession certain accessories essential to your survival.
This type of kit generally contains drinking water, a fire starter, a wood chopper, a compass, an isothermal blanket and so on. There's nothing to stop you from customizing your kit to suit the current season, for example, by adding batteries for the flashlight, allergy medication, additional painkillers, etc.
Tip: Check out outdoor stores, which carry complete kits in a storage bag at a fraction of the price.
10- Extra Gas Can: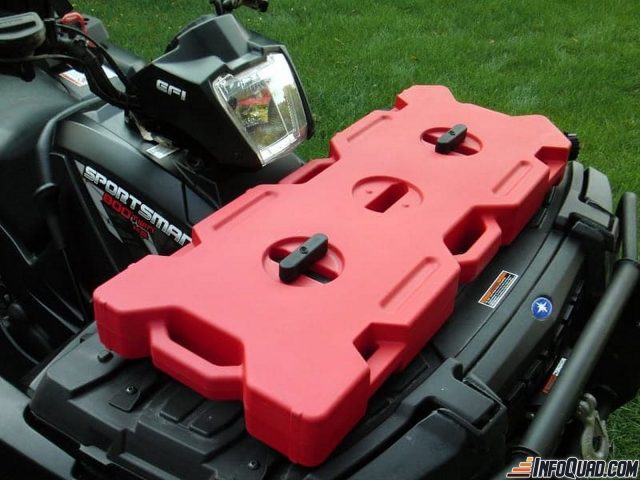 You won't find a gas station in the middle of the trail or anywhere else, so you can't fill up when you run out. Even when you think you're only doing a short ride, and especially on an unfamiliar trail, carry an extra full gas can and keep it in your ATV compartment.
In conclusion, there's no reason why you shouldn't add a few extra items, such as a change of clothes, to your Riding. The weather can change over the course of a day, and a pair of socks, a warm sweater or gloves will be welcome when the need arises. Above all, don't forget to bring your cell phone with you to notify emergency services in the event of an accident. What's more, your cell phone will be an invaluable aid in locating you with the IQuad Mobile application.
Continue reading with those articles: