The weather outside was gloomy when we woke up for the second day in a row. We weren't able to fully appreciate the unique scenery offered by the municipality of Mont-St-Pierre.
On the morning of Day 6, departure was set for 09:00. We were able to prepare quietly. This also allowed one of the participants to have his quad repaired. Gaspésie roads can be cruel to our vehicles, as we had seen the day before. In any case, everything was back to normal before the start. Everyone was ready!
After breakfast at the Motel Mont-St-Pierre restaurant, we picked up our lunch and finalized our preparations for departure. On schedule, we left Mont-St-Pierre for Village Grande Nature Chic-Chocs, south of Cap-Chat.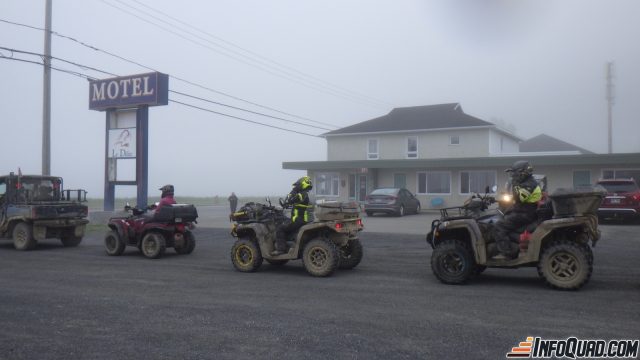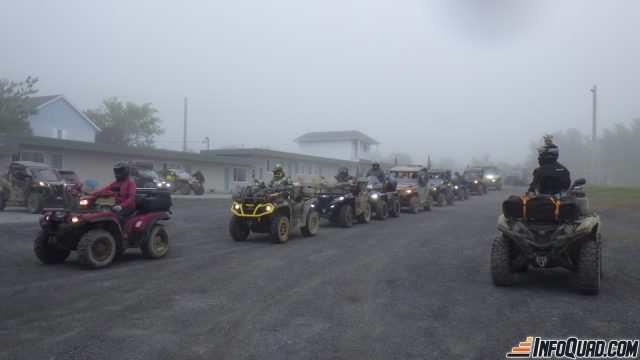 A journey in the mist!
The trail immediately takes us up in altitude, and we find ourselves in the mountains' mist. As we move away from the river, the mist dissipates but remains omnipresent. Our group threaded its way up and down the mountains. Unfortunately, there was no point in stopping at any of the viewpoints, as the fog jealously hid the unique scenery this part of the country offers.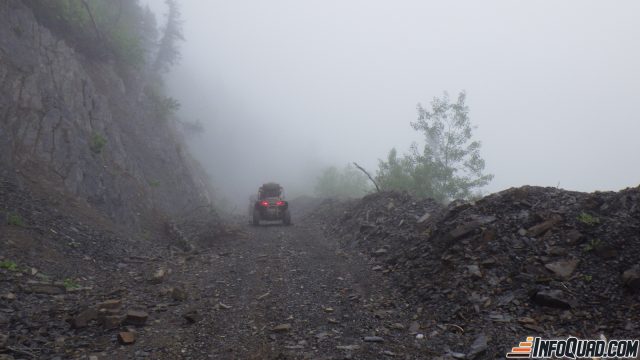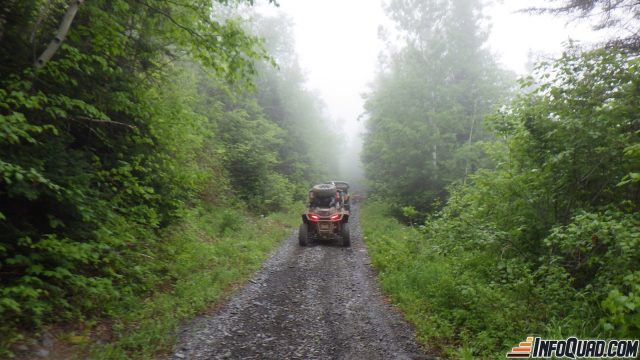 What's special about this part of the Gaspé Peninsula is that the trail takes us up into the mountains and then back down to the municipalities along the St. Lawrence River.
In the middle of our morning journey, we take a break to stretch our legs and chat with the other participants.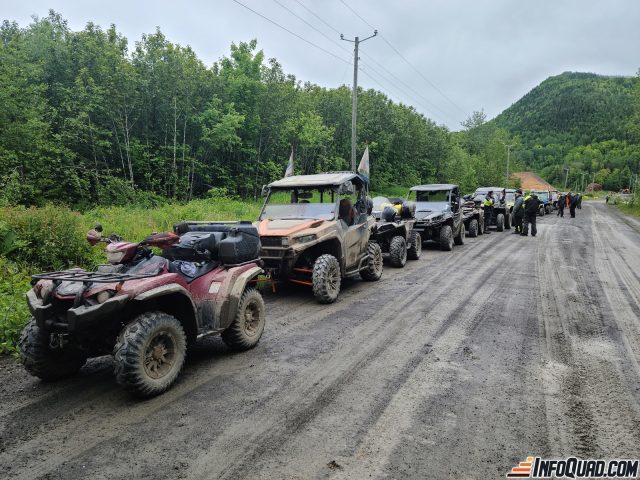 The second half of our morning is uneventful. We arrive at lunchtime near a lake in the Tourelle sector. This is where we stopped for lunch.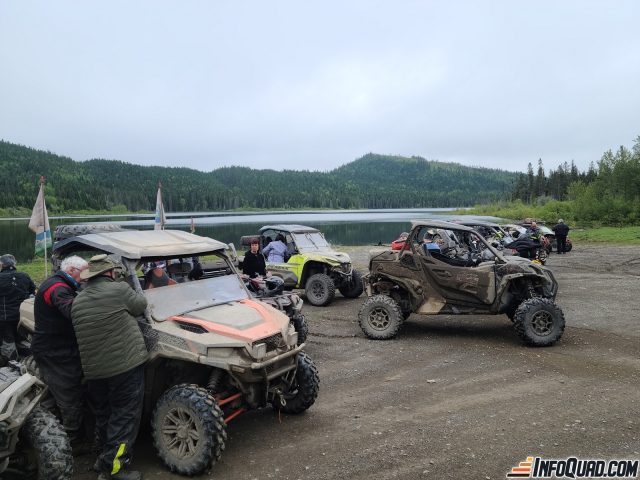 A nice change of program!
The afternoon itinerary was about 30 km long, and we were ahead of schedule. We didn't stop at any of the viewpoints in the morning. No worries, our guide had prepared a little detour for us in the afternoon. Our original route took us through Cap-Seize. We ended up going further north.
Everyone was delighted with this change of plans. Although the total distance was only ten kilometres longer, the trail was very interesting. We were treated to water holes, a bit of mud, narrower segments, small climbs and descents…
In short, something for every quad enthusiast!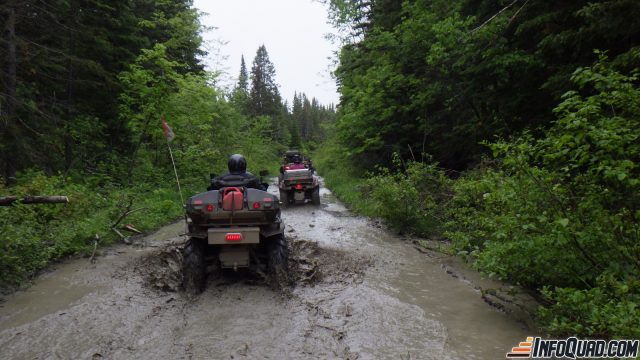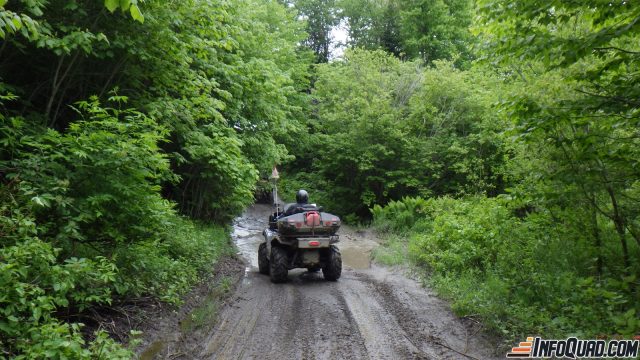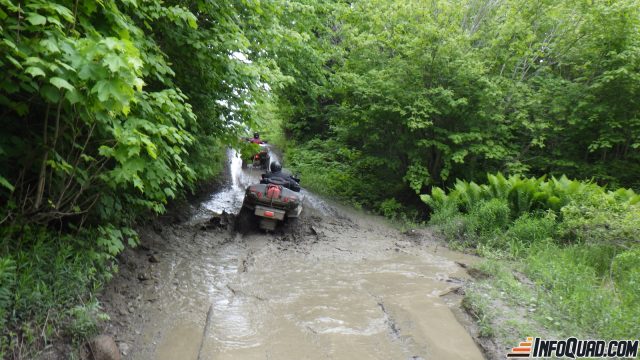 A peaceful end to the day
The rest of the journey was a formality. We arrived at our destination mid-afternoon of this day 6.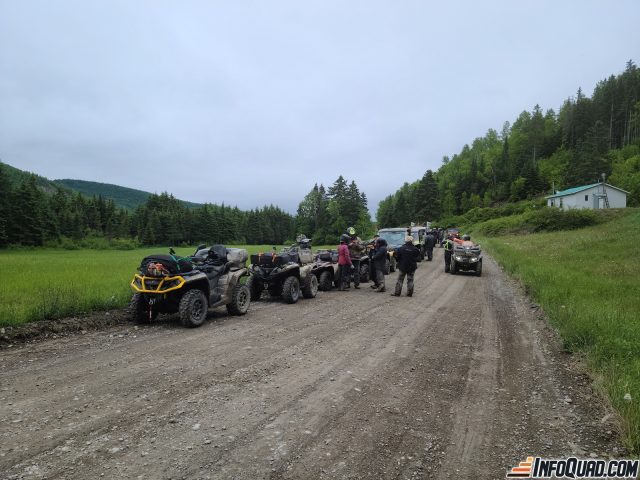 Tomorrow is the last day of this beautiful trip. We'll be making our way back to Amqui. The sun will be out in full force to round off this wonderful adventure.
Until tomorrow!
The rest of the Gaspésie Quad Tour described daily here: