We love the long rides on our vehicles as well as the utility they sometimes provide. However, we also have to give them some care.
These small attentions will give them several advantages. First, you will keep your quad in a condition that will give it a better resale value when the opportunity arises. Secondly, you will be able to notice certain anomalies that will lead to possible repairs. Finally, you will make sure that your vehicle will be in perfect working order and will avoid a breakdown during a ride.
It is certainly not a question here of making extensive mechanical repairs. We'll simply list a few things you can do with basic knowledge and tools. Why not also take the opportunity to ask for help from a friend or family member who has the same affection for the quad as you do. These are frequently quality moments of sharing knowledge with friends.
1- Washing
Even if we are aware that our vehicles are used in environments where it will certainly be soiled, a thorough washing is necessary. The use of a pressure washer will have the advantage of dislodging the dirt and mud in areas that are usually difficult to access. This first step will dislodge the excess so that you can then use a soap that will restore your vehicle's luster and shine.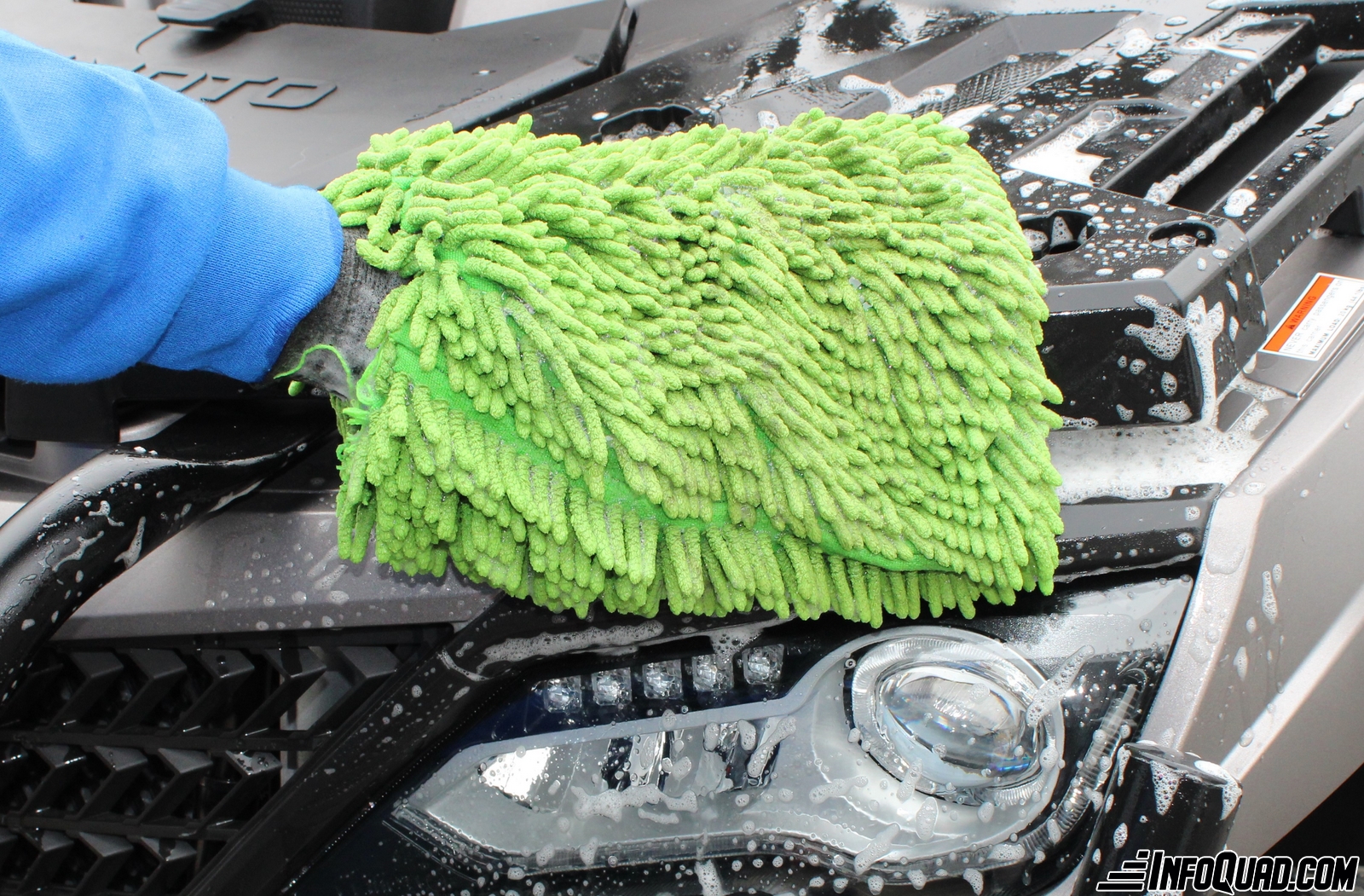 Afterwards, if you want to take the operation to another level, the application of a wax will restore its original appearance. It will also have the advantage of facilitating the subsequent washings, because the dirt will have much more difficulty to adhere to the surfaces.
One of the advantages of this step is that you will be able to perform a more thorough visual inspection of several areas of your vehicle.
2- Radiator
The radiator of your vehicle is an integral part of the components that keep your mechanics running smoothly. A constant circulation of coolant is done when the engine is running. However, your radiator remains a fragile part of your mechanics and requires special care. First, check if it has been punctured by a branch or any other element that may have been in your way.
Then, proceed to its cleaning by simply using a hose and a garden hose gun. Be careful, a pressure washer or mechanical force would have a devastating effect on the integrity of your radiator fins.
Your vehicle's cooling system is critical in keeping your mechanics at an acceptable heat level. Check for possible coolant loss and level. If it is below the minimum level, proceed with an addition using the coolant recommended by the manufacturer.
3- Motor oil
Our modern quads have 4-stroke engines and therefore, an oil base. Check the oil level frequently with the dipstick designed for this purpose easily accessible.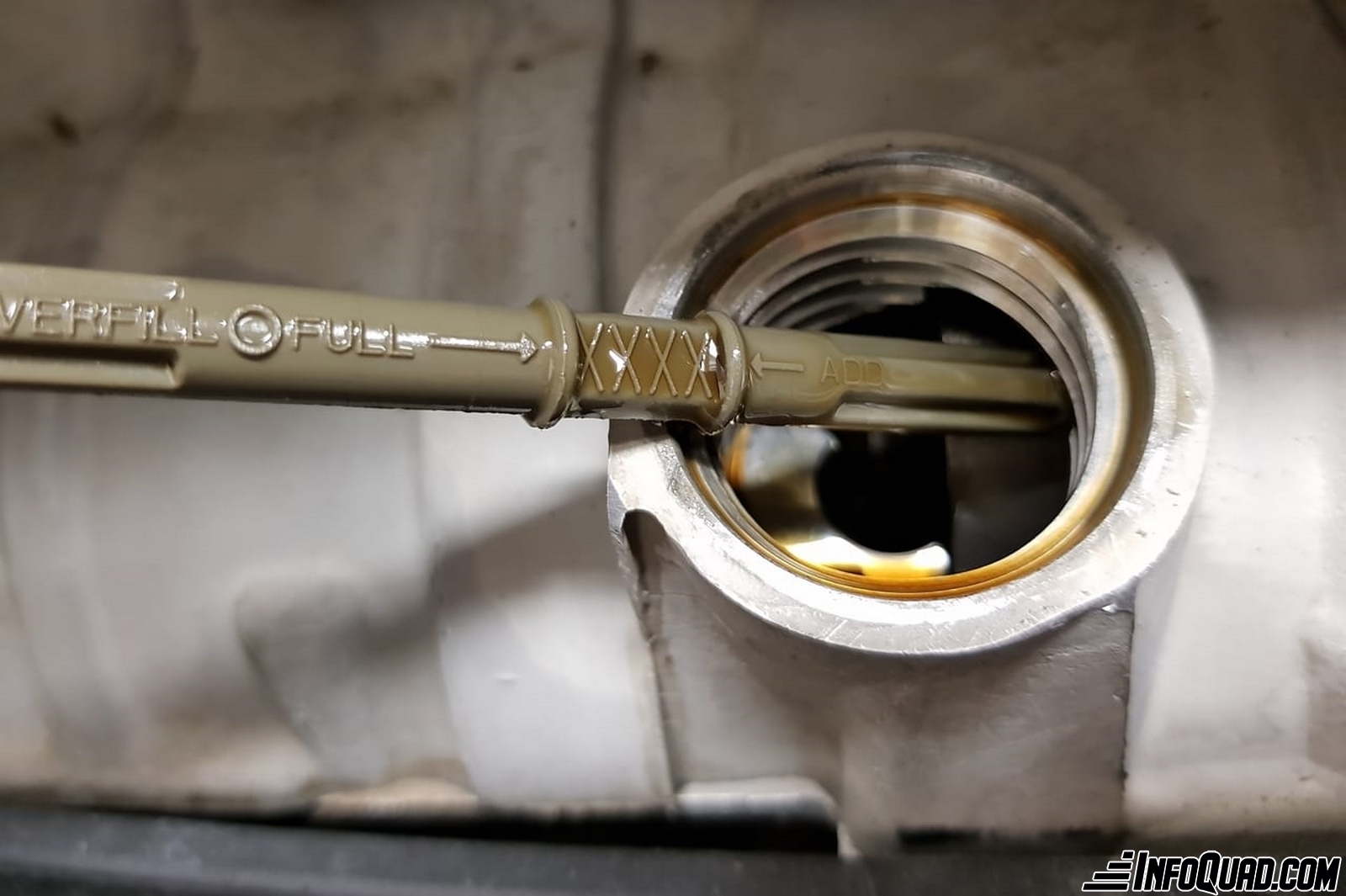 However, if you have reached the replacement frequency stage, perform this operation without delay. Don't neglect the filter replacement as well. Today, many manufacturers offer complete kits (oil, filter, O-rings and washer) depending on your engine. In addition to being economical, this greatly simplifies the operation and you will be sure to use the right components for your vehicle.
4- Tires
A general inspection is recommended, because we must not forget that they are the ones that ensure a good grip according to the types of terrain and environment where we use our quads.
Pay special attention to the center tread, because if it shows signs of excessive wear, it won't have what it takes to get you out of a muddy hole. In this particular case, it will not only make you say words that I won't mention here, but it will also get you some satire from your fellow riders. This spring inspection may make you question the possibility of a replacement in the not too distant future.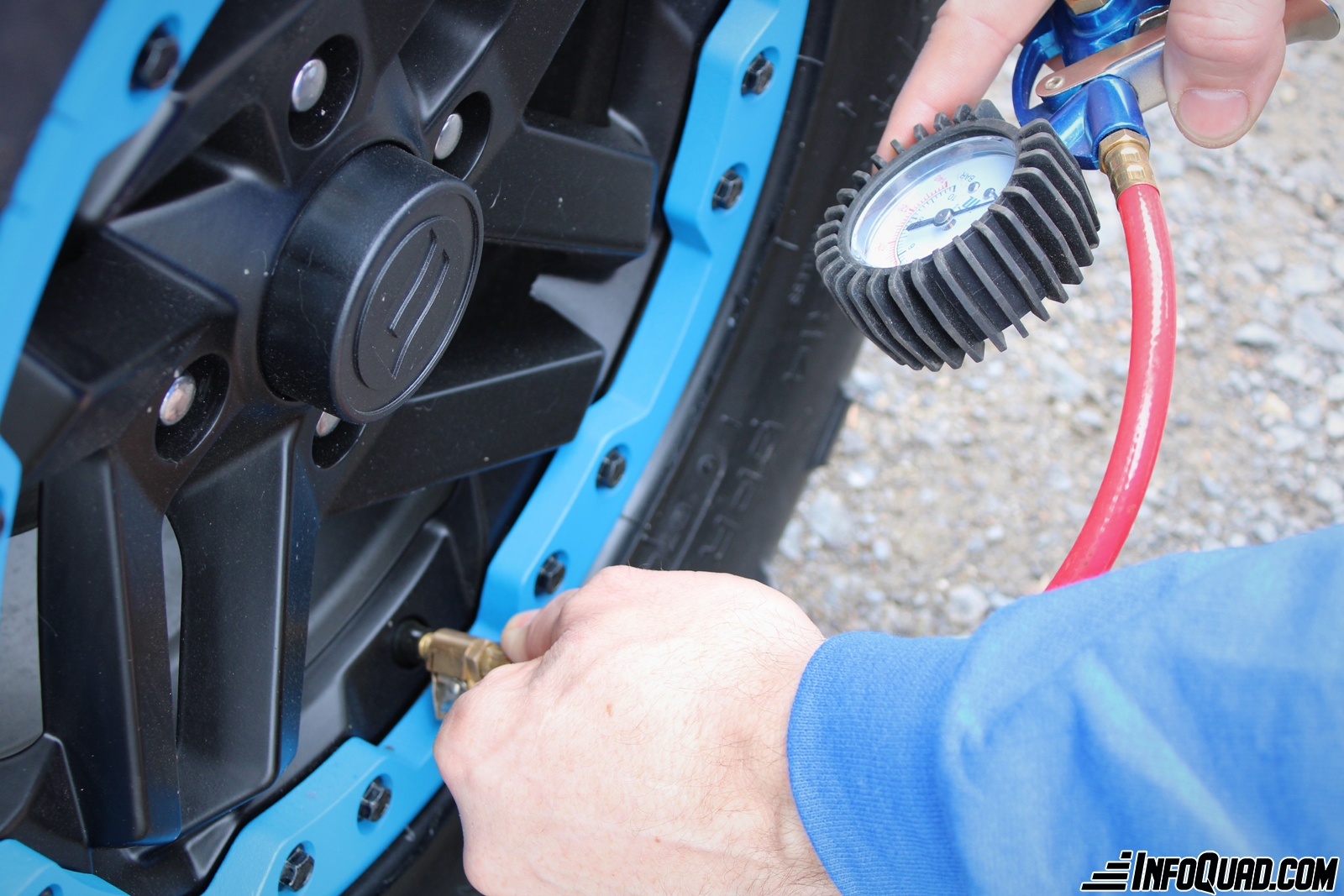 Also check your tire pressure with a low pressure tire gauge. Refer to your owner's manual for the manufacturer's recommendations.
5- Shock absorbers
To begin, a visual inspection of your shocks will give you a good indication of their wear. In the case of hydraulic shocks, look for the presence of wet areas that could result in a leak.
Place your vehicle on a flat surface and pay particular attention to whether it is vertical. If you detect that one end is sagging, the shock absorber is at the end of its life.
Finally, put your weight on the front and rear bumpers. In these cases, if you notice that a successive rebound is detected, you should consider a possible replacement.
6- Air filter
One of the most important things to keep your ATV running smoothly is the way your air filter keeps the air clean in the heart of your machine.
Most likely, your ATV was equipped from the factory with a multi-layer foam air filter, although some still use a paper filter. No matter what you use, it is important to take care of it.
The foam filter can be washed by hand with hot soapy water, but may require a chemical formula to break down the oil on the filter without destroying the glue that holds it together. Do not twist your foam filter, as you will damage it. Let it air dry for a few hours. Then, coat it with an oil that will keep dust, sand and other particles out of your engine.
The paper filter, on the other hand, can simply be hit or blown out with a light blast of compressed air to remove most debris.
7- Brakes
For your safety and the safety of others, a visual inspection of the brake bands is recommended to check their thickness. If it is difficult for you to do this, remove your wheels one at a time to get an accurate picture of their overall wear. Consider that new bands are 1/4 inch thick in your inspection. However, if you feel that a replacement is imminent and you don't feel comfortable doing this, refer to your trusted mechanic.
There should also be an adequate supply of brake oil. Refer to your owner's manual for the proper grade.

8- Headlights, bulbs
You'll want to be seen when you're driving around and there's nothing more frustrating than having a burnt out bulb. Check your headlights, tail lights and brake lights. While you're at it, check your kill switch as well.
9- Grease/Lubrication
Your vehicle has several moving components that require lubrication. The steering ball joints and suspension arms need frequent lubrication to keep them moving smoothly.
At this point, take a few minutes to check your ball joints for looseness and your wheel bearings. Lift the front of your vehicle and grab the tire at the 12:00 and 5:00 positions. Then tilt the tire in and out. If you feel any play, you may have a bad wheel bearing, a bad ball joint or both. If this occurs, a repair should be made immediately.

10- Axle joints
If your vehicle is equipped with universal joint guards, remove them to facilitate your inspection. Is there any grease present? If so, the replacement of a CV joint boot will have to be done if you consider that your axle is salvageable. If not, a complete replacement of your dial will unfortunately have to be performed.
11- The exhaust system
Check the exhaust for signs of leaks (blackening around the gaskets). -Make sure that the springs holding the connection points have tension and are not rusted.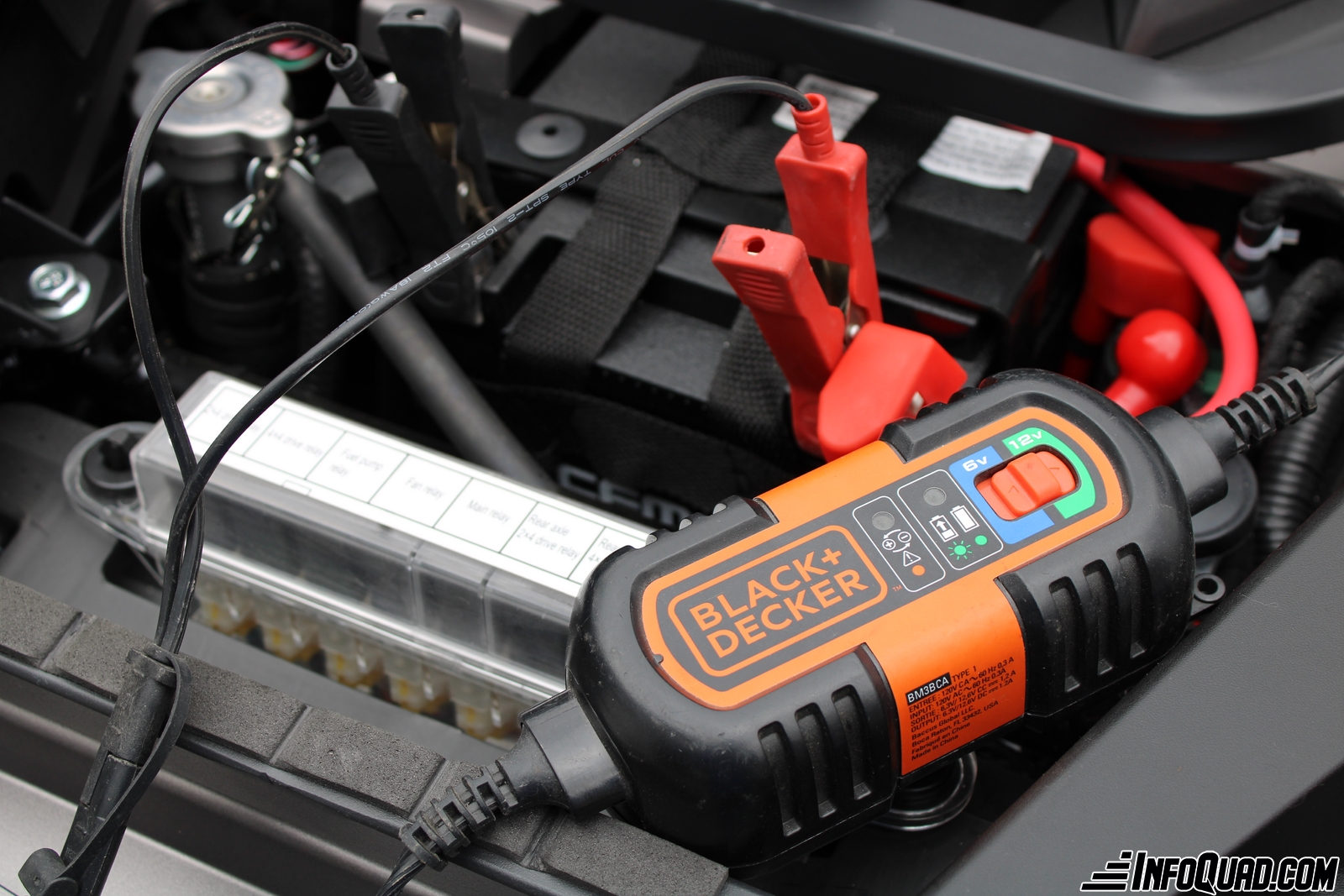 12- Battery
If you have stored your vehicle for a long period of time, your battery will probably need a recharge to ensure an efficient start if you have not made use of a smart trickle charger.
In conclusion, you will see that it is possible to perform a few checks on your vehicle with few tools and only basic knowledge. Moreover, this exercise will allow you to familiarize yourself with your quad and its components.